Boom Picks
"We Will Choke You": How Indian Women Face Fatal Threats on Facebook While Trolls Roam Free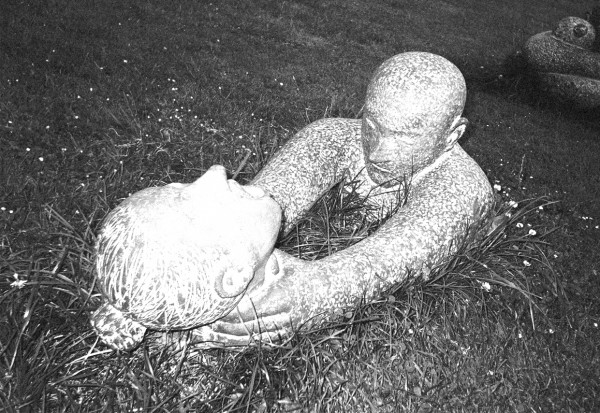 Image of strangling statues in Prague, taken by Flickr user David Sim, mixed by author. CC BY-2.0
When Global Voices contributor Inji Pennu set out to write about Preetha G Nair, the feminist activist who briefly lost access to her Facebook account after facing a deluge of misogynistic harassment, she was seeking to support a woman who reminded her very much of herself.
What Inji got instead was much of the same—brutal harassment and threats of violence. One Facebook user threatened to choke her. Two days later, on August 4, Inji's Facebook account was suspended.
An automated message from Facebook told Inji that another user had reported her account for violating the company's Community Standards, alleging that she had used a "fake" name in her profile, even though she does not. The same thing had happened to Preetha just days before. Both suspect that the reports came from trolls seeking to silence them.
Many of the accounts of those who so viciously attacked Inji and Preetha are still online. Some have been suspended, but have responded simply by creating new accounts or group pages.
In a blog post titled "Leaning out from Facebook" Inji writes:
Many of us women are here [on Facebook] to escape from patriarchy forced down upon our throats by marriage, by family, by caste, by religion. We are shunning all this to exist as a human. Yet Facebook is throwing us back into the dark dungeons asking us to stay where we were. Does Facebook think we rightfully belong there?
Facebook, a dangerous space for Indian women
Inji, who has written for Global Voices since 2011, lives in Miami, US, but remains in close contact with friends and family in Kerala, India, her home state, where other targeted women reside.
Several Indian women activists wrote Facebook posts supporting Inji. Many of them were also viciously attacked on Facebook. Some of their Facebook accounts were reported for nudity, which has led to to one additional account suspension so far.Maya Leela's account has been suspended for the past three days.
In her note supporting Inji, Jina Dcruz wrote:
What happens when you complain to Facebook about misogyny and abuse against a woman? The profile of the complainant gets taken down. Inji Pennu s profile is now taken down supposedly for identity verification. Either Facebook is supporting hate mongering and misogyny OR its high time to revise their community standards (Especially for regional language pages) and identity verification practices. I really hope its the latter and they will take action soon!
Frustrated by Facebook's actions, some Indian women supporting Inji and Preetha came together to form a Cause page on Facebook called "Against cyber attacks on women." Within a few hours they had more than 700 likes. Their about section says "This page is to call your attention on increasing cyber attacks on women in Facebook. We demand that Facebook change its lousy policies."
The attack against Preetha and Inji
Preetha Nair, who has 5,000 Facebook friends and 17,000 followers, wrote a Facebook post on July 19 critiquing a misogynistic remark by Kerala-based politician G. Sudhakaran. Shortly afterwards, Preetha became the target of a vicious cyber-bullying campaign that led to her account being suspended by Facebook. The account was soon reactivated, but Preetha was then subjected to another massive online attack, after she spoke out against another politician on July 27.
Soon a fake profile page that called Preetha a prostitute appeared. This is a common intimidation tactic used by bullies targeting women in South Asia, where a reputation for looseness can lead to ostracization of a woman and her family. Many activists reported the fake profile, but it stayed online until August 2.
Impressed by Preetha's guts and grit, Inji contacted Preetha and wrote about her on Global Voices. Shortly after, Preetha's fake profile page disappeared from Facebook. But the trolls then turned to Inji. People began harassing and vowing to hurt her. "I'll choke you on Miami Beach," one Facebook user threatened. And then her account was suspended.
A message from Facebook informed Inji that someone had falsely reported her profile for using a fake name, in violation of Facebook's requirement that users create profiles using their real (or "legal") names. If she wanted to regain access to her account, Facebook said, her only option was to send the company a scan of her ID.
Bullies roam free
Like Preetha, Inji comes from Kerala in southern India. For both women, Facebook had become a space for exchanging ideas and critiques in a way that is not acceptable in public life in their region. But what once felt like a safe space for open expression has rapidly become one of fear and abuse for Inji, Preetha, and others like them.
Preetha and Inji have been left fearful of speaking out and unable to use the platform. And day after day, new Facebook pages emerge, ridiculing them and other women, calling them prostitutes, and threatening to hurt them and their families.
In South Asia, a woman's reputation is strongly linked to her family's standing in society, and an attack on a woman's reputation, especially one of a sexual nature, can lead to irreparable social damage and even shunning of her and her entire family.
How do Facebook's policies really work?
The pinned post on the newly launched Against cyber attacks on women page reads:
When we have to report abuses which are written in regional languages, Facebook seems to behave in complete absurd ways.[…]A page which has abuses showering on a woman and her minor kid in a regional language gets retained by FB policies, but the people who report the page gets banned from using FB. What kind of policies are these?
Although Facebook has taken down many of the posts denigrating Inji, Preetha and others, some of this content remains live, and it is constantly being replenished by trolls.
Facebook's Community Standards on bullying and harassment pledges to "remove content that appears to purposefully target private individuals with the intention of degrading or shaming them." But removing content does not necessarily stop a user from reposting it elsewhere. Facebook says that consequences for multiple violations of Community Standards "vary depending on the severity of the violation and the person's history on Facebook," leaving it unclear how the company handles situations like this one. In contrast, the women targeted here have had their accounts suspended altogether, a much more severe punishment that leaves them unable to speak on the platform.
After Inji's story was published — and her account suspended — she received an email from a person called Varnika Gupta, who said she was with an Indian PR firm called IMAGE Public Relations that handles Facebook's policy communication in India. Gupta asked for Inji's phone number, wanting to offer a statement in response to her story about Preetha.
Inji was hesitant to respond to the email, because there was no way of knowing whether this was a legitimate Facebook employee or contractor.
In our conversations with Facebook, they assured us that they were investigating the matter and confirmed Varnika was a valid Facebook contact.
Facebook's flawed legal name policy
Once a profile has been taken down or suspended by Facebook, a user has to upload copies of one government-issued ID or two non-government issued IDs on to Facebook. Facebook assures users that the uploading process uses encryption and that they delete ID information once verification is complete.
But Inji believes that sending Facebook a scan of her ID could lead to other risks, some of which she is not willing to take. "I feel this is a violation of my privacy," she says. Inji adds:
I have no guarantee of what they will do with this information or whom they might share it with. I also fear that they will reinstate my account using my full name, including my caste name. This could have dangerous implications for my family members in India.
The caste system in India is a deeply-entrenched and prevalent centuries-old system of class hierarchy. Some castes are more vulnerable than others and for members of those groups, revealing caste names could result in greater harm to them and greater impunity for the attacker.
Similarly, before the cyber-bullying campaign, Preetha existed just as Preetha, the way she liked it, and which facilitated her work advocating against the caste system. When a troll reported her account for abusing Facebook's real name policy, Facebook required her to send them a copy of her ID in order to reinstate her account. When she complied, her account once again became active, but this time it had her full legal name on her profile, thereby exposing her caste affiliation. On Facebook she wrote on open letter to Mark Zuckerberg:
When some people, who had disagreement with my political positions, reported my account, I was compelled to start using my casteist patriarchal surname. I believe this is a clear violation of my right to execute my political choice. This type of blocking profile is against the principle of democracy and any values that FB claim it espouses. I request you to allow users to make this a space of political statement too. You sent me the message that "you use real life name, so that friends know who they are connecting with". Do you believe that around 5000 friends+17000 follows connect me without knowing who I am? Do you believe, it is not possible for some senseless people to report against an account having different political opinion? All these cases exist; you are simply deleting people's account on mass reporting.

I got this name at the time of my birth and have been holding this for so many years. But in a democratic space I can use my body, words and name as tools of political activity. If FB finds it difficult to accept, kindly say so, kindly accept that it is an undemocractic, patriarchal, casteist space where regressive rules and laws are followed even today!
Ellery Roberts Biddle contributed to this story.
This article has been republished from globalviocesonline.org.
Do you always want to share the authentic news with your friends?
Subscribed Successfully...
Enter Valid Email Id