Was An Ice Cream Seller In UP Thrashed For Not Chanting 'Jai Shri Ram'?
BOOM reached out to the victim's son, who rubbished any communal angle to the incident.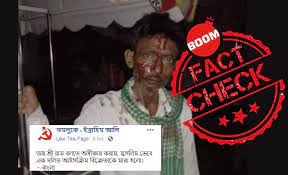 An image of an injured ice-cream seller from Uttar Pradesh's Unnao district, is viral on Facebook with false claims that a Hindu man was mistaken to be a Muslim and beaten up for not chanting 'Jai Shri Ram'.
The posts falsely claim that the man's name is Rakesh and that he bore the brunt of not giving into demands of "Hindu terrorists."
BOOM spoke to Awdhesh Verma, son of the victim - Harishankar Verma, whose photo is being shared with the false claim. A resident of Shuklaganj, Awdhesh Verma, denied any communal angle to the altercation.
The post is viral in Hindi with the caption, "Ice-cream seller Rakesh was beaten up in Gangaghat, Kotwali, by Bhagwa goons who mistook him as a Muslim and forced him to chant Jai Shri Ram." (Translated from Hindi: गंगा घाट कोतवाली क्षेत्र के अंतर्गत कोतवाली के सामने आइसक्रीम बेचने वाले राकेश; को #जयश्रीराम ना कहने पर मुसलमान समझकर भगवागुंडों ने मारा पीटा ।)

The same image is viral in Bengali text with similar fake claims.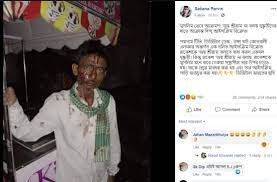 Fact Check
BOOM found that a contact number of the ice-cream vendor was mentioned on the cart.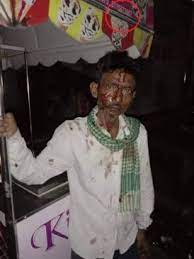 BOOM reached out to the proprietors of King's Ice cream, a local ice-cream brand sold by the victim. Dhiren Yadav, owner of King's Ice-Cream said, "The image has been viral in local UP WhatsApp groups for the past one week. He was not asked to chant 'Jai Shri Ram'. The ice cream seller's name is Harishankar Verma and he is a resident of Shuklaganj, Unnao. Harilal had an altercation with a local goon which resulted in a fist fight. They knew each other and the matter was solved later."
We also spoke to Awadhesh Verma, Harishankar Verma's son, who corroborated the events and rubbished any communal overtone to the incident.
"All these claims are false. My father was returning from his daily business when some local goons roughed him up and beat him up. I wanted to share the incident through WhatsApp and make people aware of the lawlessness prevalent in Gangaghat. However, someone stole the image and changed the incident completely. I have been since then getting calls from a lot of people. And I would like to clarify that I never said that my father was asked to chant 'Jai Shri Ram'."
We also reached out to Shuklaganj police station. Shyam Pal, station head officer, Shuklaganj, said that the matter did not reach the police station and no complaints were filed.
"The incident happened in Gangaghat. It was an internal clash and we were told that it was solved later. No complaints were also filed," Pal said.
Claim Review :
Ice Cream seller beaten up for not chanting Jai Shri Ram
Claimed By :
Facebook posts