Was A 'Terrorist' Nabbed at Dwarka Flyover? Delhi Police Says No
Kashmiri found placing a bag at the Dwarka Flyover was mentally disturbed, not a terrorist, says Delhi Police.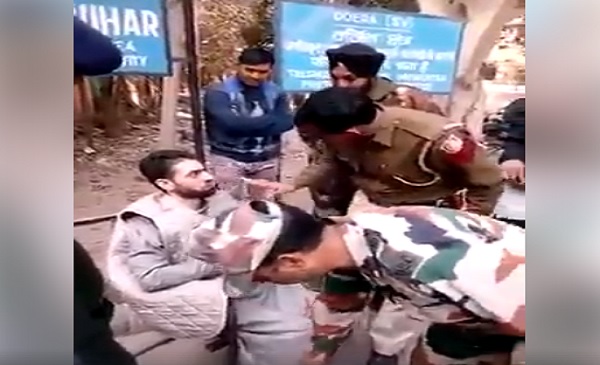 Delhi police has told BOOM that a man detained on suspicion of planting a bomb in a dustbin near the Palam-Dwarka flyover in Delhi on January 11th, is not a terrorist and that he appeared to be mentally disturbed.
Several photos and videos of a man being questioned by defence personnel and policemen have been doing the rounds of social media over the past week with posts claiming that police had foiled a terror plot to bomb the flyover.
In the first video a bomb disposal squad can be seen getting ready while the person shooting the video can be heard saying that a bomb was found.
In the second video, police and military personnel are seen questioning a man who does not appear to be mentally stable.
Hindi news channel ABP News said 23 year old Suhail Bashir Makhdoomi from Sopore, Kashmir was handed over to Delhi police after he was caught by defence personnel in a military cantonment area. Makhdoomi was held as locals saw him place a briefcase near the flyover and flee. ABP News also said that two passports, one from India and the other from Saudi Arabia had been recovered from him.
However, when BOOM spoke to local police, they denied that two passports had been found.
"The police have taken into consideration all aspects and have found out that he is not a terrorist but a traveler," DCP Milind Dumbere told BOOM on Monday.
"The man was mentally disturbed and the bag that he was carrying just had his clothes and other belongings." Dumbere added.
A photograph of Suhail's visa for Saudi Arabia seems to have caused the confusion with many on social media confusing it for a Saudi passport.
News website Kashmir Reader spoke to Suhail's father Bashir Ahmad Makhdoomi, a private school teacher in Kashmir, who said he was shocked to see the news that a suspected terrorist had been caught after leaving a bag in Delhi.
"My son went to Saudi Arabia in August last year through a private company on a two year contract job in medical field as he has done general nursing management in Rajasthan. On 10th of January he called us and told us that he is coming home on vacation," Bashir was quoted as saying.
Bashir also told Kashmir Reader that Delhi police had informed him about taking Suhail into custody and wanted him to come to Delhi so that his son could be released to the family. Bashir also said that an army major in Sopore had told him that Suhail had been robbed by some men in a military zone are.
"I received a call from local police who asked the details about my son and later an army major of the local camp gave me a call and said that your son is safe and has been looted by some men in military zone area and asked me to visit his camp next morning,' Bashir was quoted to have said. BOOM has not independently verified Bashir's account of the incident.
https://www.sharethefacts.co/share/e7712483-5fa2-4203-8354-8662276923b8