Warner And Finch Hold The Keys To The Semi-final Clash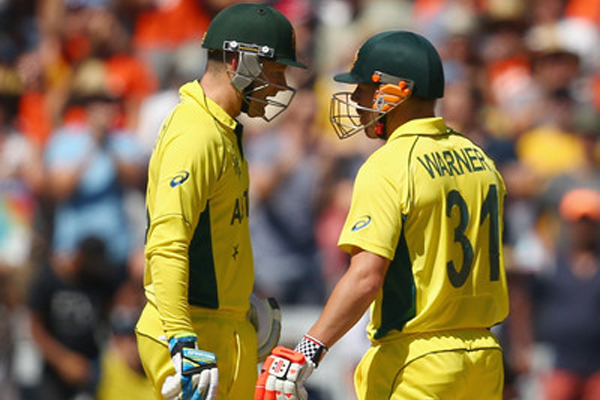 In Thursday's semi-final of the ICC Cricket World Cup 2015 between India and Australia, openers David Warner and Aaron Finch will play a crucial role in deciding the fate of the match.
In this tournament, India's fast bowlers have set the pace by striking early in all matches, bar the contest against Ireland. If Warner and Finch take the attack to the Indian bowlers, then the contest will move into second gear even before the middle-order takes over.
So far, in the World Cup, Warner has struck 288 runs with a best of 178. Finch, on the other hand, has 199 runs with a highest score 135. This means that effectively Warner and Finch have had just one fifty-plus score in six innings. They are, therefore, the key to denting the Indian bowlers' confidence. If they don't score heavily early, the India's bowlers will have some momentum going their way to make regular inroads into the Australian line-up.
Of the rest of the Australian batting order, Glenn Maxwell, Shane Watson and Steven Smith are the most dangerous because they have been far more consistent than the openers. Even captain Michael Clarke has not yet set the tournament on fire.
So, the entire onus in the semi-final at the Sydney Cricket Ground is on the opening pair of Finch and Warner. It therefore promises to be a riveting contest with openers at both ends, and could decide the outcome of this tense clash.