Viral Posts Claiming Kolkata NRS Medical College's Doctor Has Succumbed To Injuries Are False
BOOM spoke to Sourav Datta, a junior doctor from NRS Medical College, who rubbished such rumours doing the rounds.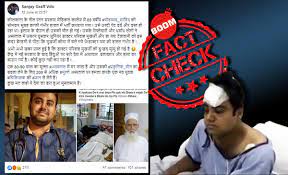 Fake posts are being shared on social media claiming injured junior doctor, Paribaha Mukherjee, of Nil Ratan Sircar (NRS) Medical College has died after succumbing to his injuries. The fake message is viral with a communal narrative to claim how after a septuagenarian of a minority community died a 'natural death', 'his men' came and killed a young doctor.
Mukherjee sustained grievous injuries in the recent clash between doctors and kin of a deceased patient at NRS medical college in West Bengal.

The post has been captioned, "Eighty-five year old Mohammed Shahid was admitted to Kolkata's Nil Ratan Sarkar Medical College on Monday morning. He was seriously ill, vomiting and down with acute stomach ache. He died during the treatment. His relatives and people of his religion barged into the hospital and beat up junior doctors Paribaha Mukherjee and Yash Tekwani so much that Paribaha was in coma and Yash's condition was serious. We have just now received news that Paribaha Mukherjee has passed away. After the new government took over in the Centre, news about torment, rape and murders of Hindus, is commonplace. Nobody is doing anything. An 80-90 year old Mullah dies a natural death in the hospital. But to avenge it 200 Mullahs come and kill a young doctor. Don't say anything, they are the Dara Huwa Muslims."
The post is viral on Facebook with the same communal overtone. The message with the same claim is also being shared on Twitter.
Fact Check
BOOM spoke to Sourav Datta, an NRS Medical College student, who was shocked to hear the news. "No, this is absolutely untrue. Paribaha is recovering well and any news about his death is fake."
BOOM came across a video on social media about an interaction of Paribaha from the hospital. When asked how he was doing, Paribaha said, "I am doing better now."
BOOM also got in touch with the national president of the Indian Medical Association Dr Santanu Sen, who rubbished such rumours doing the rounds on social media. Sen who is also a Rajya Sabha MP from the Trinamool Congress said he visited the hospital on Sunday and met with Paribaha. Sen said, "I went to meet Paribaha in the hospital and spoke to the surgeon treating him as well. By the grace of God, Paribaha is improving now." Sen further urged netizens to not fall for rumours about Paribaha's death. "It is not good how rumours are being spread about Paribaha's death. The communal spin to it is also rubbish."
Dr Sen also rubbished other health rumours regarding Paribaha. "He is suffering from post traumatic shock now. We also pray for Paribaha's speedy recovery."
Furthermore, chief minister Mamata Banerjee, on Monday, while interacting with the junior doctors, urged them to call off the strike so that Banerjee could go and meet Paribaha. She addressed the representatives of junior doctors and said, "I want him to recover fast. Just because you all are not withdrawing the strike, I cannot go and see him. It is hurting my conscience."
India Today on Monday, spoke to Paribaha's cousin Sanjit Chatterjee, who said that Paribaha is recovering fast. " Paribaha is in a stable condition right now. However, damage caused to his frontal lobe might create an issue in the future. I feel this won't be a problem because he has been healing quickly. He was first admitted by his classmate to NRS, but as his situation became terrible he was shifted to IMK, where he was provided further treatment."
WHY ARE WEST BENGAL DOCTORS PROTESTING?
On June 10, family members of 75-year-old Mohammed Sayyed assualted doctors at NRS Medical college alleging medical negligence as the cause of Sayyed's death. Many doctors were injured in the clash that broke out between junior doctors and the deceased's family
Paribaha Mukherjee was one of the doctors critically injured in the clashes.
Following the incident, junior doctors in West Bengal have gone on a strike in the state and mass resignations were submitted by doctors of state run hospitals. The strike snowballed into a state 'cease work' of medical services, with doctors demanding a safer environment to work. The medical fraternity from other states has also shown solidarity with the proesting doctors. You can read more about the strike here.
Claim Review :
NRS Medical College Student Paribaha Mukherjee dead
Claimed By :
FACEBOOK POSTS