Fact Check
Viral Photo Of Petrol Bill Stating 'Don't Vote For Modi' Is Fake
The petrol bill has been edited from a sample bill used by traders of handheld billing machines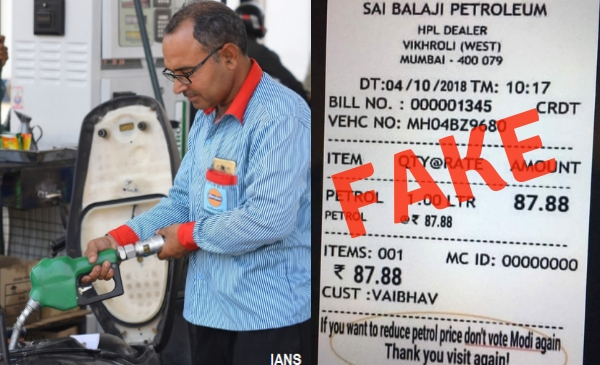 A photo of a receipt purported to be from a petrol bunk in Mumbai with the line, "If you want to reduce petrol price, don't vote Modi again" is fake.
The bill, which is viral on Whatsapp and Facebook, shows the petrol price as Rs 87.88 for a litre and has a message at the bottom asking people not to vote for Prime Minister Narendra Modi if they want lower prices for fuel.
Fact-checking website SMHoaxslayer analysed the image and found that the bill is not only fake but has been taken from a sample image to show how a handheld billing machine works. They further found many discrepancies in the font style and size of the bill, indicating that it was photoshopped.
BOOM also analysed the image and searched for a 'Sai Balaji petroleum' and found a similar image on a website Goldmine Electrosystems Pvt Ltd., manufacturers and sellers of handheld billing machines. These machines found regularly at petrol pumps, toll collection centres and parking lots generate a receipt upon completion of payment.
BOOM found that the website under the section for 'Petrol pump Billing system' has uploaded a sample bill.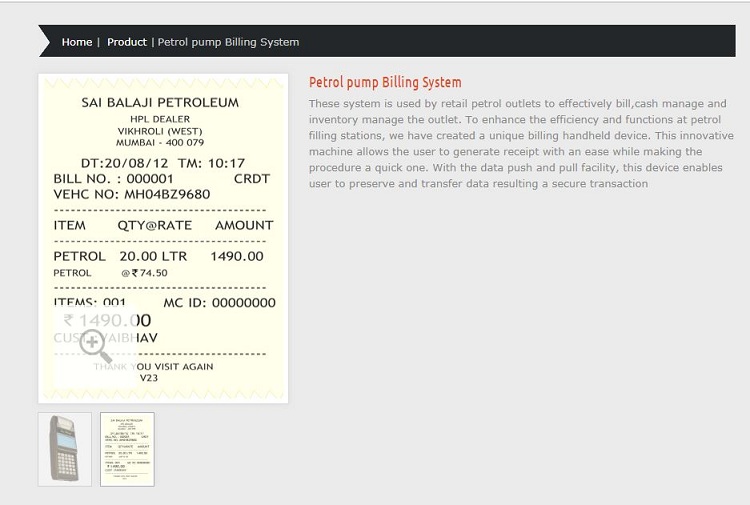 This bill and the fake image have many similarities including the name and location of the petrol pump 'Sai Balaji Petroleum' located in Vikhroli (West), Mumbai.
In fact the vehicle number (MH04BZ9680) and the name of the customer (Vaibhav) in the fake bill and sample bill are the same.
The seller also has other sample bills for pay and park service, cable network providers uploaded on the site with the same name ' Sai Balaji' for all establishments.
The fake bill has changed the date to October 4, 2018 from August 20, 2012, the per litre petrol price to Rs 87.88 from Rs 74.50 mentioned in the bill. These changed details in the fake bill are incidentally where there are discrepancies in font size, alignment and font style. For example the size of the font mentioning the date '04/10/2018′ is smaller than the time '10:17' and the end digits of the bill number '1345' are larger than the initial digits.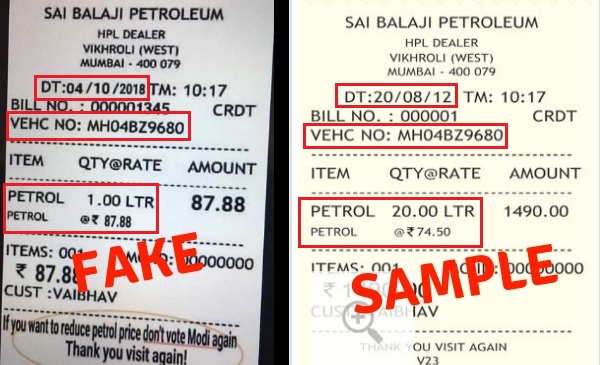 BOOM also looked for details of the vehicle number mentioned in the bill MH04BZ9680 using the national e-registration services run by Ministry of Road Transport and Highway wherein one can find vehicle owner and vehicle make details via SMS. But this yielded no result.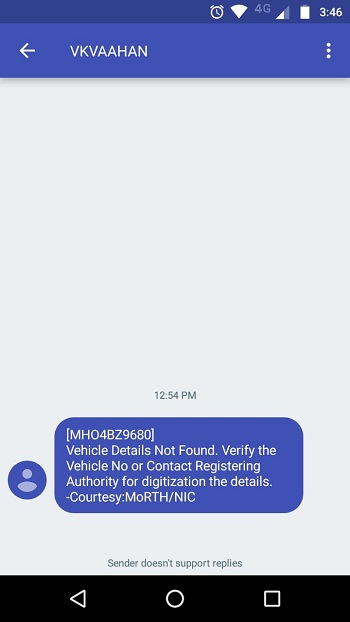 Also, the bill states the petrol pump is a 'HPL' dealer but no such petrol supplier by the name HPL exists.
Claim :
Image Of Petrol Bill Stating 'If You Want To Reduce Petrol Price, Don't Vote Modi Again'
Claimed By :
Social Media
Do you always want to share the authentic news with your friends?
Subscribed Successfully...
Enter Valid Email Id