Viral Graphic Claiming Country-Wide Ban On Alcohol Is Fake
A viral post claiming alcohol will be banned completely all over India in morphed and fake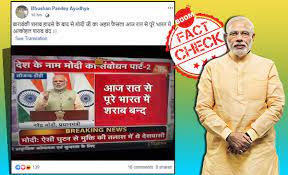 A photo purporting to show a television news graphic about a pan India ban on alcohol, is morphed and fake.
The social media post has used a template of Hindi news channel Aaj Tak along with a photo of Prime Minister Narendra Modi.
A news flash in the viral photo states - "alcohol to be prohibited all over India from tonight" (आज रात से पूरे भारत में शराब बंद).
The post also has a caption which states, 'Modiji takes an important decision after the Barabanki hooch tragedy. Alcohol to be banned all over India from tonight.'
(Hindi: बाराबंकी शराब हादसे के बाद से मोदी जी का अहम फैसला आज रात से पूरे भारत मे अल्कोहल शराब बंद ।)
Illicit liquor claimed 23 lives in Uttar Pradesh's Barabanki on May 28, 2019. Read more it here.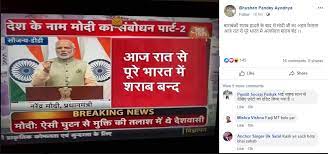 An archived version of the viral post can be accessed here.
The same image has also been shared on Twitter with a similar caption.
Fact Check
BOOM looked for any order banning alcohol pan-India issued by the Central government but found none.
The only news of alcohol ban that came in recent times was that from Mizoram. The nort-eastern state that had once been a complete dry state has gone back to being an alcohol-free state from May 28.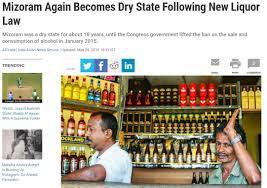 BOOM then looked at the viral post closely and found several red flags.
We ran a reverse image search on Modi's image and found that it was taken from a two year old speech on new year's eve in 2016.
Below is the video of the Modi's 'address to the nation' published on December 31, 2016.
Next, we compared the fonts of the news flash and the tickers and found that the news flash was much brighter when compared to the tickers on the screen.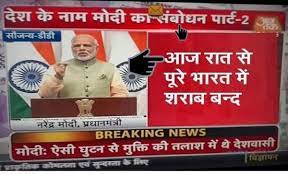 A portion of the digital clock in the top right corner has been covered by the photoshopped text.
Claim Review :
Alcohol to be banned all over India
Claimed By :
Facebook pages and Twitter handles