Fact Check
Video Of Woman Paraded Naked In Bihar: Fake RSS-Dalit Christian Spin Goes Viral
A horrific video of a mob parading a woman naked in Bihar is shared with a false claim that RSS youth attacked a Dalit Christian woman.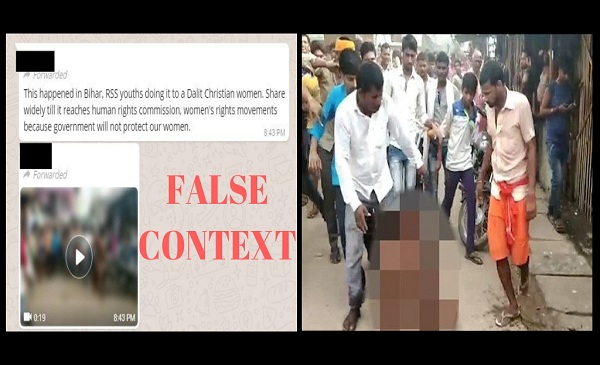 A disturbing video showing a heinous assault by a mob strip and parade a woman naked in Bihar's Bhojpur district is being shared on WhatsAppp and social media with the false claim that RSS youth attacked a Dalit Christian woman.
The video shows a hapless woman walk naked in full public view while a mob of men and young boys chase her jeering, kicking and slapping her from time to time while recording the shameful act on their mobile phones.
While the video is true the context being ascribed to it is false with a sinister communal spin that members of the Rashtriya Swayamsevak Sangh (RSS) were involved.
BOOM has decided not to embed the video in the story on account of the disturbing nature of content and out of respect for the woman's privacy.
The incident depicted in the video happened on August 20, 2018 and was triggered by the death of a 19-year old boy Bimlesh Sao, whose body was found on a railway track at Bihiya town, some 25 km from Ara, district headquarters of Bhojpur, according to The Hindu. Some news reports refer to the boy as Vimalesh Sah.
A mob from the deceased's village in Damodarpur took to vandalizing and burning local shops following his death. They alleged that the youth was strangled and later thrown on the railway tracks as a cover-up. The mob also alleged that a few houses near the railway tracks were involved in prostitution and alleged that locals living there were involved in the boy's death as he reportedly had given information on a sex racket to the police.
Taking the law into their own hands, the irate mob vandalized and set on fire the houses near the railway tracks. They then dragged a woman living there out on to the street, assaulted, disrobed and paraded her.
The identity of the woman in the video is not known. Her current condition is not known though news reports at the time said she was taken to a hospital and was under police protection.
15 people who were a part of the mob were arrested after police identified them from video footage, news reports said.
Eight police personnel, including the Bihiya police station in-charge, were suspended for dereliction of duty, the Indian Express reported.
Bhojpur Superintendent of Police Awkash Kumar was not immediately reachable when contacted by BOOM. We will update the story upon receiving a response.
Claim :
RSS Youth Attacked A Dalit Christian Woman
Claimed By :
Social Media
Do you always want to share the authentic news with your friends?
Subscribed Successfully...
Enter Valid Email Id