Video Of Mob In UP Lynching Man Accused Of Hacking Wife Goes Viral
Fatehpur police told BOOM that the man was lynched by relatives of his wife, for murdering her.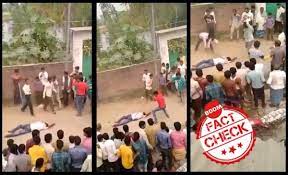 A video from Uttar Pradesh of a mob attacking and beating a man who allegedly murdering his wife is viral on social media. BOOM spoke to Fatehpur district police who confirmed that the video is from Ghazipur and the accused was beaten by the relatives of his wife, who he hacked to death.
The disturbing video shows a group of men beating an unconscious man with sticks and kicking him while the gathered crowd watches. The video is being shared on Facebook and Twitter with the caption in Hindi that translates to, "This crowd is not from Taliban or Afghanistan or Pakistan, but from India in Fatehpur in Uttar Pradesh. Here, the rule of the land is not from constitution but in the hands of the crowd. Accused of murdering his wife, he was beaten to death."

(Original text in Hindi - "ये तालिबानी भीड़ या अफ़ग़ानिस्तान या #पाकिस्तान की नही है ये #भीड़Indiaउत्तरप्रदेश के #फ़तेहपुर की है और यहाँ संविधान का नही #भीड़ का #क़ानून चलता है।पत्नी के हत्या।आरोपी को पीट-पीट कर #मार डाला।ये जो तमाशा देख रहे हरामखोरदोगलेभड़वेकुत्ते सबसे बड़े हिजड़े है)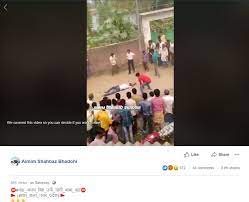 We contacted Fatehpur district police who confirmed that the video is from Ghazipur in Uttar Pradesh. According to Shripal Yadav, Circle officer, Jafarganj the incident is from October 30 and the man killed by the mob has been identified Naseer Qureshi. Yadav said, Qureshi a resident of Chattisgarh was visiting his wife in Ghazipur where they had an argument. "In a fit of rage, Qureshi hacked his wife Afsari to death and also injured her mother and sister who were trying to rescue her." He added while Qureshi tried to escape, the neighbours, most of them relatives of Afsari, heard the commotion and nabbed him.
"The people beating him up are relatives of Qureshi's wife. After an FIR was registered, we identified the accused from a video of the incident and arrested five people on November 2. The arrested accused are - Abdullah Qureshi, Osama Qureshi, Shanawaz Qureshi, Salman Qureshi and Rafiq Qureshi," Yadav said.
He added that all the accused are uncles and cousins of Afsari. "All the families lived close to each other and reacted as soon as they heard the noise from the victim's house. They attacked him with bricks, sticks and stones leading to his death. They have booked under the relevant sections of the IPC,"he said.
Fatehpur police also tweeted a press note confirming the details of the case.