Video Of Crowd Thrashing Drunk Constable Shared As BJP Supporters Assaulting Cop
No, this video does not show BJP supporters assaulting a cop in Uttar Pradesh.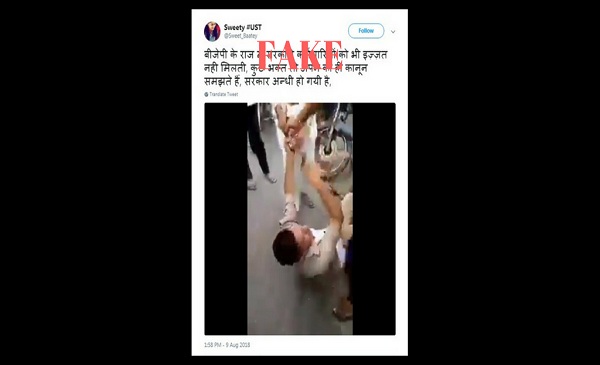 CLAIM: This is a video showing Bharatiya Janata Party supporters thrash a cop in Uttar Pradesh
RATING: False
FACT: The constable seen in the video was thrashed after his car hit two motorbikes and he tried to flee. The constable was allegedly inebriated according to news reports.
A video showing an angry crowd thrash a policeman was shared on Twitter with the false context that Bharatiya Janata Party (BJP) supporters had assaulted the cop.
The clip shows a hapless policeman, whose shirt is torn, plead with the crowd as they forcibly remove his belt and begin to hit him.
A Twitter handle called @Sweet_Baatey shared the video with text in Hindi that roughly translates as, " In BJP ruled states, (even) government officials do not get any respect. A few Bhakts believe that they are a law unto themselves. The government has gone blind." (click here to view an archived version of the tweet)
बीजेपी के राज मे सरकारी कर्मचारियों को भी इज़्ज़त नही मिलती, कुछ भक्त तो अपने को ही कानून समझते हैं, सरकार अन्धी हो गयी है, pic.twitter.com/NiJBumMS78

— Sweety #UST (@Sweet_Baatey) August 9, 2018
The video posted on August 9, 2018 has got over 760 retweets and over 500 Likes. It was viewed nearly 8,500 times at the time of writing this story.
BOOM traced the video to various news reports in English and Hindi which stated the incident took place on August 6 at Chola Road in Sikandrabad area of Bulandshahr district of Uttar Pradesh. Constable Manoj Kumar from Noida was on Kanwar Yatra duty in Bulandshahr. While returning from duty in the afternoon, the constable allegedly in an inebriated state, rammed his car into two bikes and following which he drove his car into a tree. A crowd that had gathered from nearby Prangarh village seeing the constable's condition got infuriated and began to assault him. He was later handed over to local police. An FIR was filed at Sikandrabad police station, according to news reports. Meanwhile the said constable has been suspended.
Policeman thrashed by locals after his car rammed into two motorcycles in Bulandshahr. Inquiry has been ordered against the policeman Manoj who was reportedly drunk. (8.8.18) pic.twitter.com/QJmTAv4qaS

— ANI UP (@ANINewsUP) August 9, 2018
Click here to read Patrika's story.