Fact Check
Video Of Activist Trupti Desai Felicitated Being Shared With Misleading Sabarimala Caption
A video of activist Trupti Desai being felicitated after the Sabarimala verdict is being shared with a mischievous caption on social media.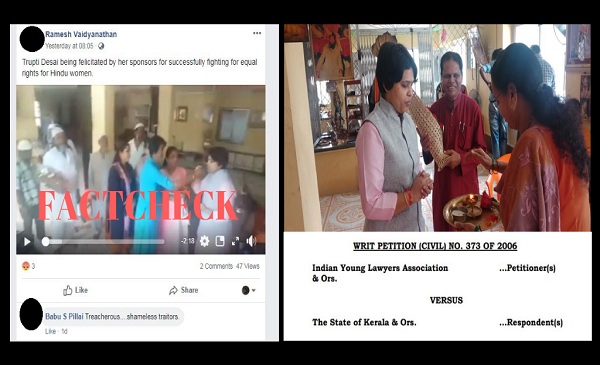 A video showing gender equality activist Trupti Desai being felicitated by a group of people including Muslims is being shared online with a misleading caption that Muslims were behind the petition to scrap the centuries old diktat barring women of menstruating age from entering the Sabarimala Ayyappa Temple in Kerala.
The 2 minutes and 18 seconds-clip shows a few people greeting Desai on September 28, 2018 just hours after India's Supreme Court passed a judgment allowing the entry of women across ages to the Sabarimala temple, by a 4:1 majority verdict, in a closely watched high-profile case.
The video is being shared on WhatsApp and Facebook with malicious captions that insinuate that Muslims were stealthy supporting Desai in the Sabarimala case.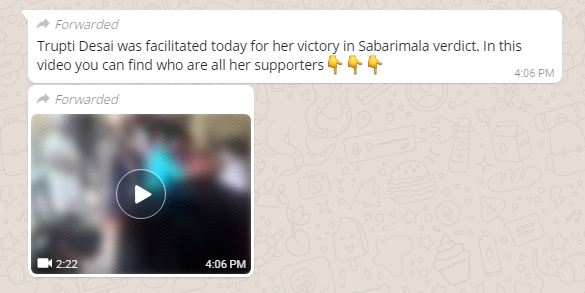 But BOOM found that in 2006 the Young Indian Lawyers' Association led by their general secretary Bhakti Pasrija moved a Public Interest Litigation (PIL) challenging the ancient diktat. Pasrija was not immediately reachable for a comment. (Click here to read the judgement)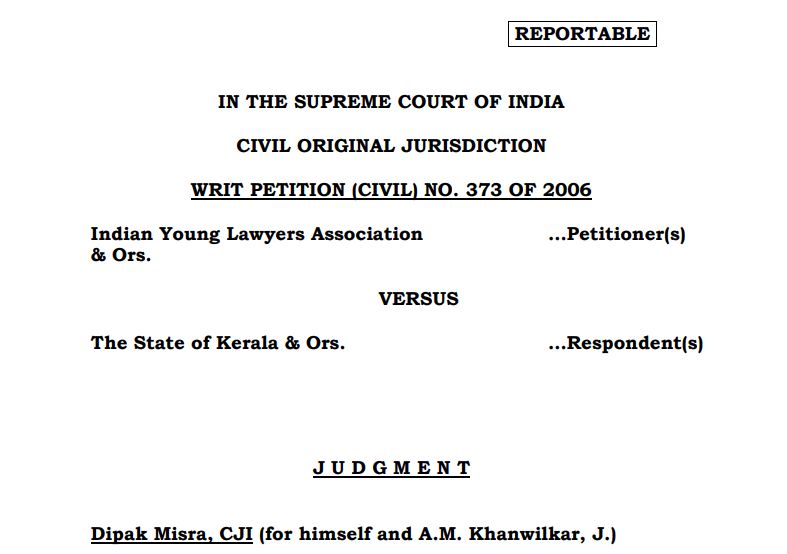 While Trupti Desai has been the face of the fight of the growing campaign for gender equality in religious places and has dealt with violence and abuse from religious leaders and women, she has never approached the courts or petitioned for the cause.
Trupti Desai is the founder of Bhumata Brigade, a Pune based social justice organisation, and has been one of the few women at the forefront of the fight to let women enter places of worship. She shot to fame in 2016 for leading a group of women into Shani Shingnapur - a religious shrine in Maharashtra dedicated to the Hindu god Shani, which bans the entry of women. This was followed by her entering the sanctum sanctorum of Trimbakeshwar temple in Nashik and then visiting Haji Ali Dargah in Mumbai.
BOOM also reached out to Desai to clarify the identity of the people in the video. Desai said that organisations across three religions - Hinduism, Islam and Christianity - had come to visit her after the Sabarimala verdict.
"Many local news channels and organisations came and congratulated me after the Sabarimala verdict. While I have not been a petitioner, many groups have supported me for being vocal about these issues and helping change mindsets by taking action like entering temples,"Desai told BOOM.
She added that the Christian organisation from Goa and Maharashtra had also come to visit her. "In the group in the video are Sangita Pappani - a Christian who works for the upliftment of minority Christians in Pune, Manisha Tilekar a Hindu and a member Bhumata Brigade and Chandrakanta Kudalkar who works with women from across all religions. The group also included members of the Republican Sena a group that works for Scheduled Castes and Scheduled Tribes. On the same day, members of a Muslim group Zamzam-e -Khidmat that works for all religions also visited me and congratulated me,"she said.
BOOM was also able to access other photos and another video of the same day showing members of different faiths approaching Desai one by one and felicitating her with flowers, sweets and garlands.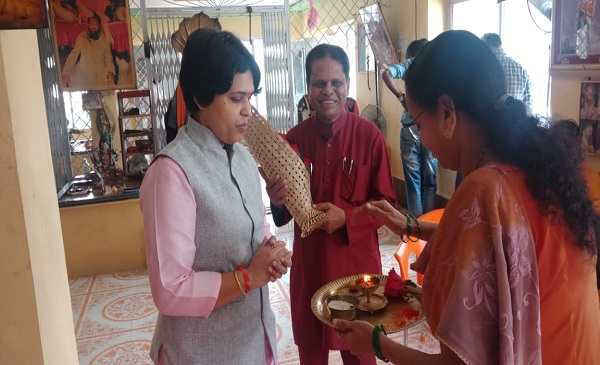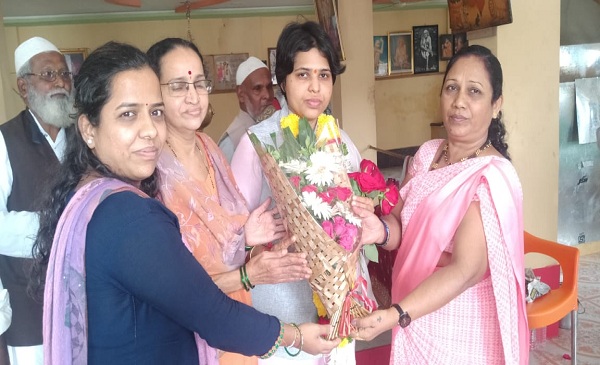 [video width="640" height="368" mp4="https://www.boomlive.in/wp-content/uploads/2018/10/WhatsApp-Video-2018-10-01-at-10.04.49-AM.mp4"][/video]
Claim :
Trupti Desai Facilitated By Muslims For Her Victory In Sabarimala Verdict
Claimed By :
Facebook User
Do you always want to share the authentic news with your friends?
Subscribed Successfully...
Enter Valid Email Id