Video Of A Sand Bed At Kerala's Ponnani Beach Shared As Ram Setu Bridge
No, this viral video shared by many including actor Paresh Rawal is not of the Ram Setu bridge.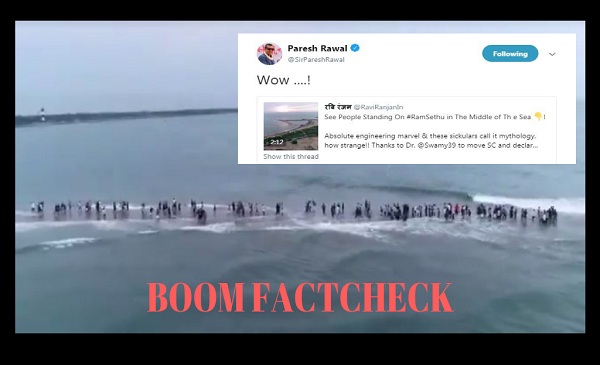 CLAIM: A video showing people walking on a strip of land with the sea on either sides is viral on social media with many claiming it is the Ram Setu, a bridge which is said to have been built by Hindu deity Ram to go to Lanka and fight another deity Ravana.
RATING: False
FACT: The natural phenomena shown in the viral video is a sand bed created at Ponnani beach in the northern district of Malappuram, Kerala.
A Twitter user named Ravi Ranjan also tweeted the video. His tweet received about 3,500 Likes and close to 1,800 retweets at the time of writing this story.
See People Standing On #RamSethu in The Middle of Th e Sea 👇!

Absolute engineering marvel & these sickulars call it mythology, how strange!! Thanks to Dr. @Swamy39 to move SC and declaring it as a National Heritage site!

Jai Shri Ram ! pic.twitter.com/30bnNGF9zS

— रवि रंजन (@RaviRanjanIn) October 3, 2018
Ranjan's tweet was retweeted by actor Paresh Rawal.
Wow ....! https://t.co/nNP1pBqgMq

— Paresh Rawal (@SirPareshRawal) October 5, 2018
Ram Setu also known as Adam's Bridge globally is located between Pamban Island or Rameswaram Island in Tamil Nadu and Mannar Island in Sri Lanka. The stretch leading into the sea has been mired in controversy with many believing that Hindu god Ram built the bridge to reach Lanka while scientists call it a natural phenomena of a chain of limestone shoals. The area is of great religious significance in Hinduism.
The video of Ponnani beach is now going viral with the same inaccurate context on Facebook.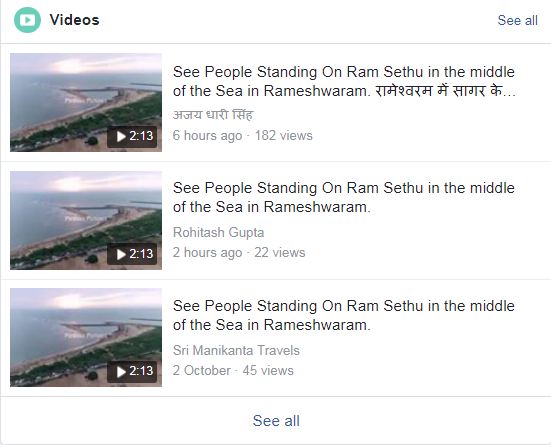 The 2 minutes-13-seconds video has a watermark with the artist's number and phone name, Abhilash Viswa. BOOM contacted Viswa, a wedding photographer, who said that video was shot at Ponnani beach in Malappuram district in Kerala.
"The video has been shot in my hometown Ponnani in September. After the flood water receded, a strip of land appeared naturally in the sea in Ponnani beach," Viswa told BOOM.
"This strip, which leads into the sea is just accumulation of sand, but people are able to walk on it. Everybody is amazed by this phenomena and hence I made this video to record it."
"I would like to make it clear that is not Ram Setu but a piece of land in the sea in Kerala." Viswa also posted on his Facebook account clarifying the same.
BOOM also contacted Anwar Sadath, Tehsildar (Revenue office), Ponnani Taluk who along with the revenue department and Malappuram district collector's office conducted a survey of the stretch.
Sadath informed BOOM that the stretch was not solid land but a sand bed.
"We inspected the area and found that during the recent Kerala floods, sand from the Bharathapuzha river in the sea at Ponnani beach. Since there was massive floods and heavy rains, there has been heavy accumulation of sand for a certain stretch which is leading into the sea,"Sadath said.
He added that the phenomena is not new and happens every year. "Every year a certain amount of sand collects at that spot but it is not so much that people can walk on it, This year due to the floods more amount of sand got collected. It has already started washing away and will be gone in a month or two."
News outlets have reported about the sand bed forming at the Ponnani beach and that Kerala police have cautioned tourists to not walk on it. (Read about it here )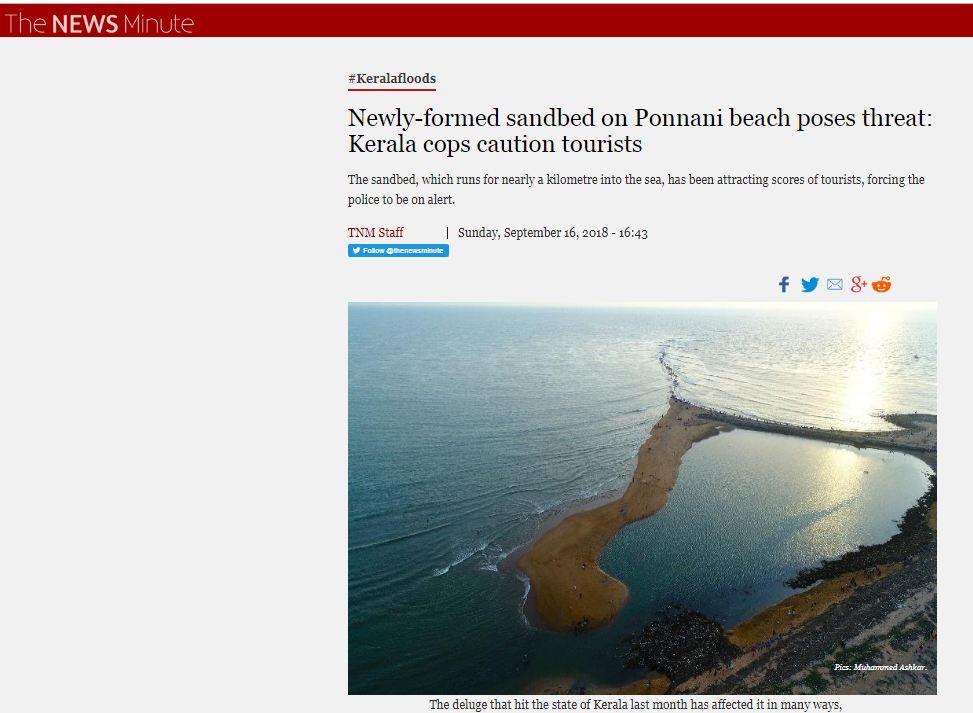 https://youtu.be/oBzcaAo6pEY