Video Of A Man Beating His Infant Daughter In Saudi Arabia Viral With False Claim
BOOM found that the man in the video is a Palestinian living in Saudi Arabia and was arrested after the clip went viral.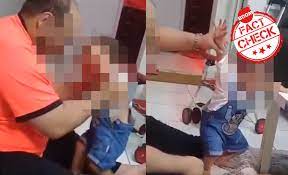 A disturbing video from Saudi Arabia where a man can be seen beating an infant child while trying to make her stand, is being shared with a false claim that is from India.
BOOM received the video on its WhatsApp helpline (7700906111) from a reader asking about its veracity.
The Hindi text accompanying the video claims: '"No group or number in your phone should be left, send this video to everyone. He is Shakeel Ahmed Ansari, a teacher from DPS school Rajbag in Valsad. Share it more and more so that the school and the teacher both will be dismissed. Making things viral creates a difference. Indifferent people should keep their mouths shut."
(Translated from Hindi: आप के whatsapp पे जितने भी नंबर एवं ग्रुप हैं एक भी छूटने नही चाहिए, ये वीडियो सबको भेजिए ये वलसाड के DPS SCHOOL Rajbag का टीचर शकील अहमद अंसारी है इसको इतना शेयर करो की ये टीचर और स्कूल दोनों बंद हो जाए । वीडियो
वायरल होने से काफी फ़र्क पड़ता है ओर कार्यवाही होती है जिसे दया न आये वो अपना मुंह (टाइपिंग) बंद रखे ।)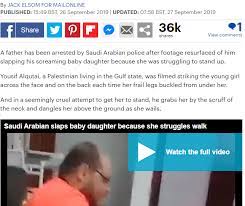 This is not the first time DPS Rajbag, an actual school in Jammu, has been linked to child abuse videos from elsewhere. BOOM has previously reported how two schools in India, RM VM in Valsad (Gujarat) and DPS Rajbag have been targeted by fake news.
Also Read: How Fake News Ruined A School In Gujarat
BOOM is not including the video as it depicts graphic violence against a minor.

A verified Twitter handle Payal Rohatgi & team also tweeted the video. It has also been shared by non-verified handles on Twitter. Archived version are available here, here, and here respectively.
Fact-Check
BOOM ran a reverse image search of one of the key frames extracted from the video. We found that there were several Twitter handles that had tweeted the same video in Arabic and were claiming that the video was of a man living in Saudi Arabia.
We, then, searched keywords such as "Arabic man beating an infant" and found several news articles on the incident. The Daily Mail reported: "Yousif Alqutai, a Palestinian living in the Gulf state, was filmed striking the young girl across the face and on the back each time her frail legs buckled from under her."
The man was arrested by Riyadh police soon after the video went viral on social media a spokesperson from the police department told a media organization Saudi Gazette. The incident appears to have taken place in the third week of September.
Several Twitter users have tagged UNICEF after the video surfaced in Saudi Arabia asking to take action against the man as the Gulf News reported about the incident.

Taking the video into consideration, Spokesman for the Ministry of Labor and Social Development (MLSD) Khaled Abalkhail had tweeted about the incident.
Fake news' impact on educational institutions
BOOM has tracked several such videos on social media over a period of time, attacking educational institutions such as RM VM school Valsad, Gujrat, and DPS Rajbag, Jammu. We have done a ground report podcast on the fake news impacting these institutions, you can view the podcast episode below.
Claim Review :
Shakeel Ahmed, a teacher from DPS Rajbag in Valsad, thrashing toddler
Claimed By :
Twitter handles and WhatsApp