Video Of A Brazilian Gangster Dressed As A Woman Used To Spread A Hoax In Kerala
BOOM found that the video was of a Brazilian gangster caught by prison authorities trying to escape pretending to be his daughter.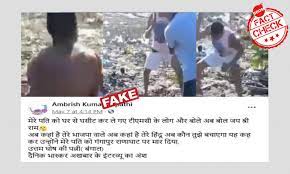 A video of a Brazilian inmate who tried to escape prison dressed as a woman is being shared online with a false claim that the Kerala Police issued a warning about letting in strangers from outside the state who might be criminals.
The Malayalam caption accompanying the video online translates to the following.
"People from North India in Kerala selling woolen cloths. Don't allow them inside the house. Message from interstate police."
(Original message - കമ്പിളി വില്‍ക്കാനായി കേരളത്തില്‍ വന്ന north Indians ആണ് ഈഫോട്ടോയില്‍ കാണുന്ന ആരേയും യാതൊരു കാരണവശാലും വീട്ടില്‍ കയറ്റരുത് കൊടും കുറ്റവാളികളാണ്
Important message from inter state police ഈ message എല്ലാവരും പരമാവധി family groupil forward. ചെയ്യുക….)
Click here to view an archive.
Viral on Facebook
We searched with the same caption on Facebook and found that the post was viral.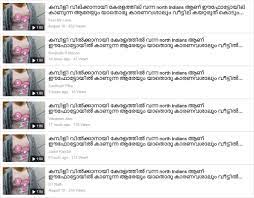 We also received the same message on our WhatsApp helpline number (7700906111) inquiring of it was true.

FACT-CHECK
The video is that of a Brazilian inmate who was caught trying to escape from prison by pretending to be his teenage daughter when she visited him behind bars.
The viral video exactly matches the video that is circulating with the false claim. In the 1.05 seconds video one can hear the man speaking in Portuguese.
The man in the video is a Rio de Janeiro based drug trafficker Clauvino da Silva who was serving a 73-year sentence for his involvement in the Red Command drug faction.
Silva had tried to escape prison dressed wearing a silicon girl's mask and long dark-haired wig in the hope of convincing guards he was in fact his 19-year-old daughter heading home after visiting hours reported The Guardian on August 5, 2019.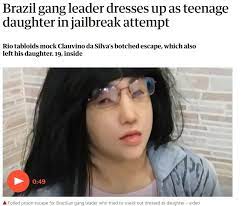 When Silva requested the return of his daughter's ID card at the prison entrance, officers saw through his disguise and asked him to strip in front of the cameras reported The Guardian.
Officials released the video which has since gone viral in Brazil and around the world in part because of the creepy face mask.
But in a tragic turn, Silva was later found dead in his cell by prison officers, and according to state prison service he had appeared to have taken his own life reported The Guardian on August 6, 2019.
Additionally we did not find any news reports that had mentioned about any such warning issued by the Kerala police.
Claim Review :
Kerala Police Issued Warning Not To Allow North Indians Selling Clothes In The House As They Are Criminals
Claimed By :
Facebook Posts