Fact Check
UP Police's Warning Against Child Kidnapping Rumours Edited And Shared To Spread Panic
BOOM reached out to Additional SP (City) Gorakhpur Dr Kaustubh, who said the actual message was to warn and make people aware about such rumours.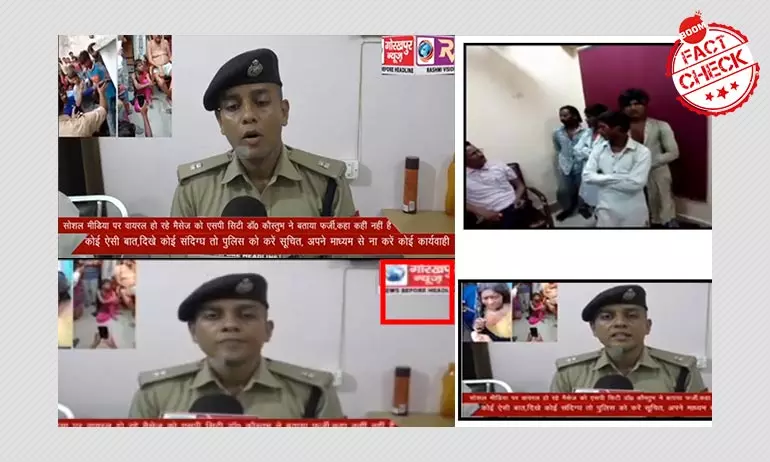 A clipped and edited video of a senior Uttar Pradesh police official asking people not to believe messages about illegal organ traders and child kidnappers is being used to spread child kidnapping rumours on WhatsApp. The edited video has a voice over claiming to be Gorahkhpur police 'informing people about child kidnapping gangs'.
The one minute long video shows a news bulletin where additional Superintendent of police (SP) Gorakhpur, Dr. Kaustubh is seen interacting with the press. The original audio of Kaustubh warning against believing in rumours has been replaced with voiceover in Hindi about 'more than 500 organ traders disguised as beggars are on the prowl'.
BOOM reached out to Dr Kaustubh, additional SP (city), Gorakhpur, who rubbished sharing any such message about organ traders attacking people.
Here is the viral edited video -
https://www.boomlive.in/wp-content/uploads/2019/09/WhatsApp-Video-2019-09-17-at-2.29.37-PM.mp4
The minute long edited video shows a man in civil clothes asking people to be aware of the miscreants in one panel, with scenes from Kaustubh's address to the media playing simultaneously.
It also shows old footage of people assualted by locals who suspected them to be child kidnappers.

The overlaid audio in Hindi narrates, "Don't say that there is no one in the house, come later, or leave. If you have a dog, set him on them and do not open the main door. Stay alert and take care of children in the house. News coming in from Bargadwa (Gorakhpur) suggests that more than 500 people, disguised as beggars, have set out. They cull out organs from anyone whom they meet on the street. Only 6 - 7 people have been arrested. They have confessed that more than 500 people are on the prowl. So folks, forward the message to everyone and stay safe. More than 15 - 20 people are there in groups, including kids. They come late in the night and if you hear voices of children crying, do not open the door. This message should spread all over. Issued in public interest – Gorakhpur Police." The message in the viral video has been falsely ascribed to the Gorakhpur Police.
The same edited clip is viral on Facebook with a caption in Hindi, which translates to, 'Many people dressed as beggars are out to kidnap children. Please be alert and keep your children safe too. Because even in our area many people have been caught like you see in this video' (In Hindi - "ऐसा भिकारी बनकर बहुत लोग निकले हैं बच्चों को पकड़ने के लिए कृपया आप सावधान रहें और अपने बच्चे को भी सावधान रखे क्योंकि हमारे इलाके में अभी बहुत सारे आदमी पकड़ा गए हैं जैसे कि यह वीडियो देख रहे हैं|)
BOOM found that this was not the only instance where Kaustubh's address to the media, has been edited and clipped to spread misinformation. We found one such video on YouTube with the caption, "Pakda gaya kidney chor." The overlaid audio is same in the viral video and the video on YouTube.
Fact Check
BOOM analysed the viral video and noticed the audio to be out of sync with the video of Kaustubh speaking. Furthermore, at the 32 second mark, while the police officer stops speaking, the voice over continues to narrate the viral message.
We also saw the logo of a news channel - Gorakhpur News - on the top right corner of the video. A search showed results for the original news report aired Gorakhpur News on August 24, 2019.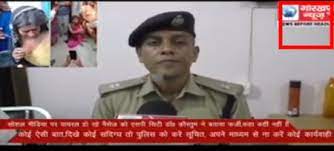 The news report featured Kaustubh debunking a set of viral messages about child kidnappers viral as a "warning from the Gorakhpur police."
In the news report, Kaustubh says, "There is a message that is viral on social media about illegal organ traders and child abductors on the prowl and the same has been ascribed to Gorakhpur Police. This is a rumour and there is no such group doing the rounds in the city. If there is any individual or incident that raise suspicion, we request citizens to inform the police at the earliest."
BOOM also reached out to Kaustubh, who said, "The clipped video is absolutely false and misleading. I was addressing the media on how these rumours on social media are fake and people should come to the police."
Claim :
Gorakhpur Police warns that child kidnappers disguised as beggars are in the city
Claimed By :
YouTube Video
Do you always want to share the authentic news with your friends?
Subscribed Successfully...
Enter Valid Email Id