Trump's New Travel Ban Order: Old Wine In New Bottle?
Civil rights activists say the revised order continues to remain regressive and discriminatory despite changes and will aid ISIS propaganda against the State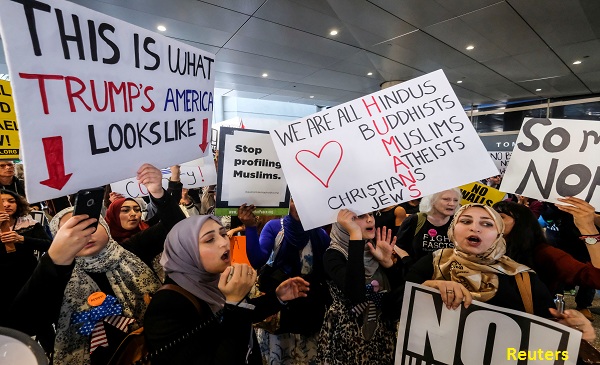 Demonstrators against the immigration rules implemented by U.S. President Donald Trump's administration, rally at Los Angeles international airport in Los Angeles. REUTERS
After widespread dissent and being blocked by the courts, President Donald Trump has unveiled his revised executive order that bans travellers from certain Islamic nations and puts a temporary stop on movement of refugees for a period of 90 days. While some of the irritants in the earlier order have been softened or done away with, in a bid to make it more difficult to be legally challenged, legal experts do not expect lawsuits to cease.
The first order on January 27th was a ban on 'immigrants and non-immigrants' from 7 Muslim majority countries – Iraq, Syria, Iran, Sudan, Libya, Somalia and Yemen for 90 days. It also put on halt refugee processing for four months and an indefinite ban on Syrian refugees. This had led to many green card holders and people with approved refugee status of nationalities from the listed countries being blocked at various airports, leading to chaos and cries of discrimination against the Muslims.
Trump's second order which shall come into effect on March 16th has come as a relief to travellers from Iraq and people who have already been issued a visa. Iraq has been taken off the list of 7 countries citing tighter visa screening and the country agreeing to collaborate on combating Islamic state militancy. Moreover, the indefinite barring of Syrian refugees has been reversed to a 120 days ban. The order clarifies that green card holders, permanent residents and people already issued permit for business and academic purposes would not be barred.
In comparison to the first order, the second one has provided more clarity and justifications for the move. It cites security threats from nationals of the listed countries, objects any religious discrimination behind the move and provides waivers on the travel ban on humanitarian grounds as per the discretion of the consular officer. This order comes to the rescue of around 60,000 people whose visas stood revoked under the first order of travel ban.
However, rival Democrats and civil liberty activists still consider the revision insufficient in reviving the American spirit. Nancy Pelosi, a democratic leader, said, "The Trump administration's repackaging has done nothing to change the immoral, unconstitutional and dangerous goals of their Muslim and refugee ban." Chuck Schumer, another democrat, stated that, "Despite the administration's changes, this dangerous executive order makes us less safe, not more, it is mean-spirited, and un-American. It must be repealed."
"The only way to actually fix the Muslim ban is not to have a Muslim ban. Instead, President Trump has recommitted himself to religious discrimination, and he can expect continued disapproval from both the courts and the people," said Omar Jadwat, director of the ACLU's Immigrants' Rights Project to The Washington Post.
This report by Alex Nowrasteh for CATO, a public policy research organization points out how the assertions by the Trump administration about the six banned nations are not backed by any published facts or numbers. Nowrasteh compiled a list of foreign-born people who committed or were convicted of attempting to commit a terrorist attack on U.S. soil from 1975 through 2015.
Nowrasteh says that Trump's excecutive order is based on a flawed list prepared by Senator Jeff Sessions that claims all 580 convictions since 9/11 were 'terrorism-related' with at least 380 of them as immigrants. But on closer analysis, it is found to be untrue. Only 40, or 6.8% of the total 580 convictions were for terrorist attacks planned on U.S. soil. Also, 241 convictions or 42% were not even for terrorism offenses.
Nowrasteh writes, "Many of the investigations started based on a terrorism tip like, for instance, the suspect wanting to buy a rocket-propelled grenade launcher. However the tip turned out to be groundless and the legal saga ended with only a mundane conviction of receiving stolen cereal. According to Sessions' list, that cereal thief is a terrorist."
Also none of the seven nations have contributed to any of the deaths that have occurred due to such terror acts while Saudi Arabia (2369), Egypt (162), Lebanon (158), UAE (314) and Pakistan (2) have been excluded from the travel ban. This despite the fact, that the most recent act of terrorism at San Bernardino that killed 14 US citizens were conducted by a Saudi national Tashfeen Malik who also held a Pakistani passport and her U.S. born husband of Pakistani origin.
The report also points out that the seven countries temporarily banned under this executive order represent a small per cent of all green cards and entries into the U.S. Less than 5% of all green cards issued in 2015 were to nationals from these seven countries. Non-immigrant entries from these countries amounted to 0.11 per cent of all entries.
But will these new restrictions tighten the national security apparatus and make America more safe. Critics of the latest travel ban move are skeptical of this claim as they feel that the existing laws were strong enough to prevent acts of terror without discriminating and impacting genuine refugees fleeing cruel regimes in some of these countries. If anything, they fear that this order will strengthen the propaganda capacity of the dreaded ISIS who will not have to work harder in misguiding Muslims already present within the country to revolt against the state.