Tigers On The Prowl In Madhya Pradesh? Old Images Recycled To Create A Scare
BOOM reached out to LP Arya, Range Officer of Madhav National Park, who dismissed the rumours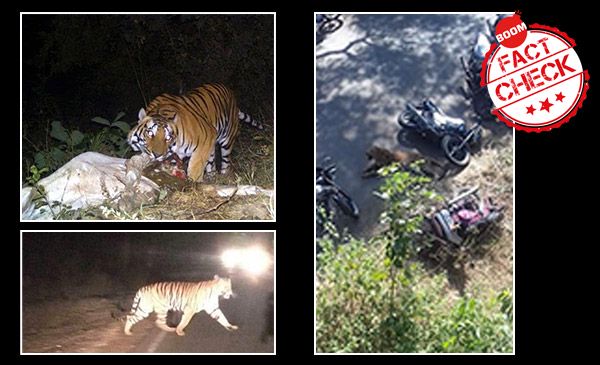 A set of several unrelated images of a tiger and a leopard on the prowl are viral on social media with false claims that the animals were spotted near the national park area of Shivpuri, Madhya Pradesh.
The posts feature images of a tiger crossing the road at night and another where a tiger can be seen devouring a cow. Another image is of a leopard photographed from a nearby tree, sitting amidst motorbikes lying on the ground. In the next image, men can be seen taking shelter on a tree, possibly to save themselves from the leopard.
"Do not go towards Shivpuri on the bike. Two tigers have escaped from the national park and they are attacking and injuring people crossing that area. They have killed three," the text of the viral post claims.
(Original text in Hindi :शिवपुरी कोई भी बाइक से न जाए अभी नेशनल पार्क से छूटे दो शेर आने जाने वालों को किया जख्मी 3 लोगों को मारा )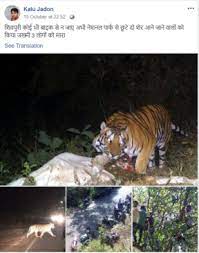 The posts are viral on Facebook with the same caption.
The Madhav National park is located in Shivpuri district of Gwalior. The national park is known for its Indian leopards, apart from other mammals.
Fact Check
BOOM ran a reverse image search on all the images and found that they are old and unrelated. We also reached out to LP Arya, Range Officer, Madhav National Park to know if tigers have escaped from its premises recently. He said, "The national park doesn't have any tigers. There are leopards, but no such incident has happened in the last few years."
Image 1
The graphic image of a tiger eating its kill is originally from Shajapur, Madhya Pradesh. It was in a news report of Hindustan Times, titled 'Animal that killed cow in MP's Shajapur dist was tiger' on January, 2016.
Image 2
The photograph of a tiger crossing the road, as head lights of a vehicle flash in the background, is originally from Tadoba, Maharashtra. It was tweeted, along with two other images capturing the tiger's walk over the motorable road on February, last year.
Image 3 and 4
Photographs of a leopard perched on a concrete road, amidst motorbikes, is from Maharashtra's Chiplun district. A leopard ran loose in Gane Khadpoli village of the area on December, last year. It snarled and scratched people who came too close to the animal. Two people were seriously injured in the attack.
The same was reported on Sakal. The same images were tweeted with a same narrative.