"This Election About Hindus & Muslims": Karnataka BJP MLA Defends Hate Speech
Speaking to BOOM, Patil defends his statements and blames Congress and Rahul Gandhi for dividing the people of Karnataka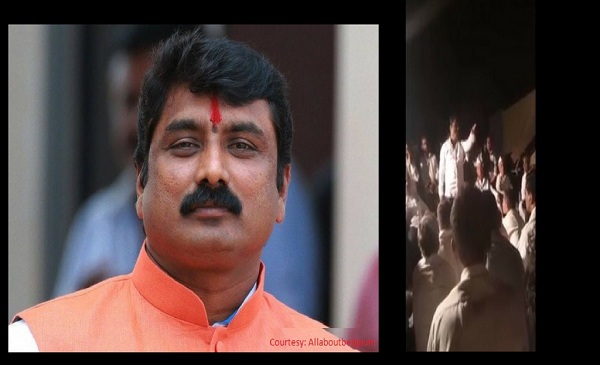 Sanjay Patil, BJP MLA from Belgavi Rural in Karnataka has said that while he stands by his statement of India being a Hindu Rashtra and that they will build a Ram Temple, his quotes have been misquoted and taken out of context. A video of Patil addressing villagers at Sulebhavi in Belgavi went viral where he can be seen saying that the upcoming election is not about development but about 'Hindus and Muslims'.
Speaking to BOOM, Patil said,
"I was talking about how Congress has divided people on the basis of caste, divided Lingayats only to be able to win the election. And why can't we also declare that this is a Hindu nation and demand for the same?"
He confirmed that he had gone to meet some villagers in Sulebhavi on Tuesday night and upon the "insistence of his followers" gave a speech. When asked about his provocative religious comments he said,
"Rahul Gandhi visits different states and declares that he follows a new religion. In Karnataka he is with the Muslims, in Kerala and Tripura he is a Christian but he also visits temples. Why can't he be firm on his religion? It is the need of the hour to do so. We are a part of Bharat desh which is a Hindu rashtra so we can and will say that we will build a Ram Mandir."
The video, which has sparked outrage starts with Patil saying, "I cross my heart and declare that this is Bharat nation, Hindu nation, the country where was Lord Ram was born. And we will do whatever it takes to build Ram Mandir in Ayodhya." He further says his opposition - Lakshmi Hebbalkar from Congress, is somebody who builds Babri Masjid. "If she (Lakshmi Hebbalkar) says she will build Ram Temple then all of you vote for her. But it is not possible for her to say so. They are the ones who will build Babri Masjid and not Ram Mandir".
Well someone wise(honourable PM) once said that development is their poll plank. His MLA says, "We will build Ram Mandir in Ayodhya at any cost." -Sanjay Patil@Hansomniac @nolanentreeo @sanjayuvacha @srivatsayb @divyaspandana pic.twitter.com/PHWbRLELNp

— Ironically Yours (@romania_red) April 19, 2018
Following this, he terms the upcoming election a very important one but not one about development or having better infrastructure but in fact about religion. "This election is not about roads, drainage systems or drinking water. This election is about Hindus and Muslims. Those who want to build Babri Masjid, celebrate Tipu Sultan Jayanti, let them vote for the Congress. But if you want Shivaji Maharaj, Sambhaji Maharaj, someone to perform puja at the Lakshmi Temple - then vote for BJP."
This is not the first time Patil has courted controversy. In September 2017, a video of Patil abusing a police officer on a street went viral. Patil was upset with the officer for trying to enforce discipline in a bike rally led by him.
In November 2017, Patil had warned of riots and bloodshed "when Hindus became aware of the injustice being done to them". Patil was booked by the Belgavi police for saying in a public rally that Chief Minister Siddaramaiah should be sent to Pakistan since he was unsure of his religious affiliation, according to The Hindu.