Fake News
The Sunday Guardian Prints Fake News On Kathua Case; Gives Bizarre Disclaimer
The Sunday Guardian article casts aspersions on the investigation while simultaneously calling its story 'fake news'.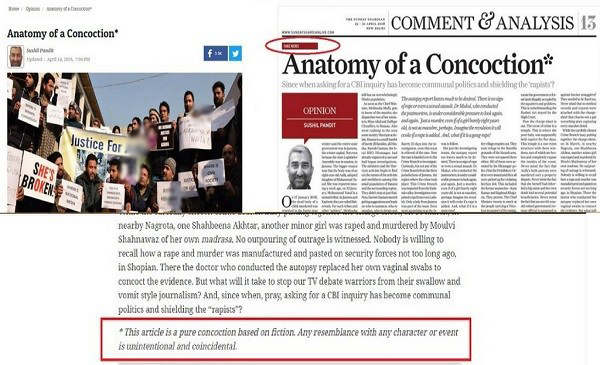 The Sunday Guardian, a Sunday newspaper, on April 14 published an opinion piece on the alleged gang rape and murder of an 8-year old girl in Jammu's Kathua district, only to hedge the story with a bizarre disclaimer that called the article a "pure concoction based on fiction." Furthermore, the print (hard copy) version of the story is published under the category 'fake news'.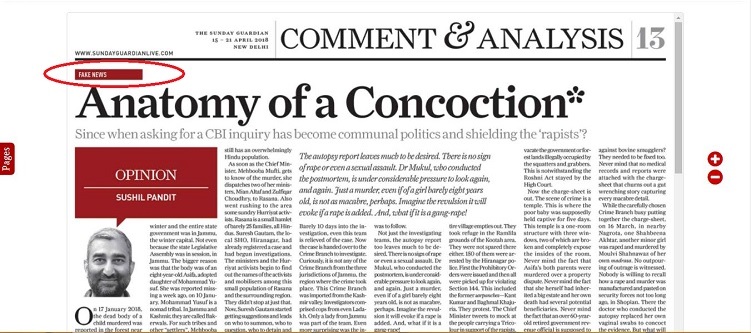 The article  'Anatomy of a concoction' by Sushil Pandit, a Kashimiri Pandit activist and founder of 'Roots in Kashmir', makes numerous references to the actual Kathua case and even uses the victim's first name. Yet its disclaimer says "Any resemblance with any character or event is unintentional and coincidental." (Read an archived version of the story here. )

The story that peddles conjecture tries to pick holes in the police's ongoing investigation while insinuating that allegations of rape and murder have been used as a pretext to harass and eventually drive away the small Hindu population in the area.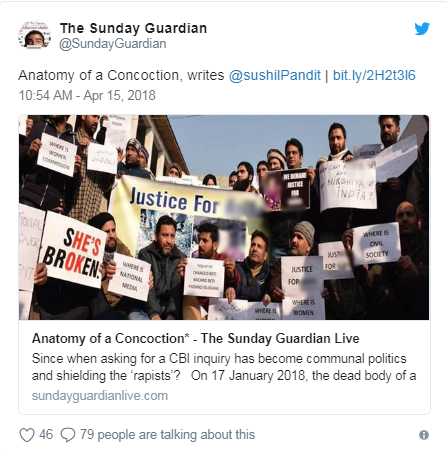 BOOM tried to contact the newspaper's Editor-In-Chief  Madhav Das Nalapat who was not in the country on Monday and asked us to speak to Editor, Joyeeta Basu.
"That is our particular newspaper style that we have where we use a 'reverse strip logo'," Basu told BOOM explaining why the 'fake news' tag was not visible on the online story.  "I mean those words that we put there, those are for the print edition. That is the reason why those words are not there in the main article (on the website). "
BOOM told Basu that several people could not tell whether the article was fact or fiction.
"Obviously they do not read English if they are sharing the article. It is clearly written at the bottom. We have made it very clear in the disclaimer and we stand by the disclaimer," Basu told BOOM.
The 'fake news' label and the disclaimer has not stopped several Twitter users with large followings, from believing the piece as factual.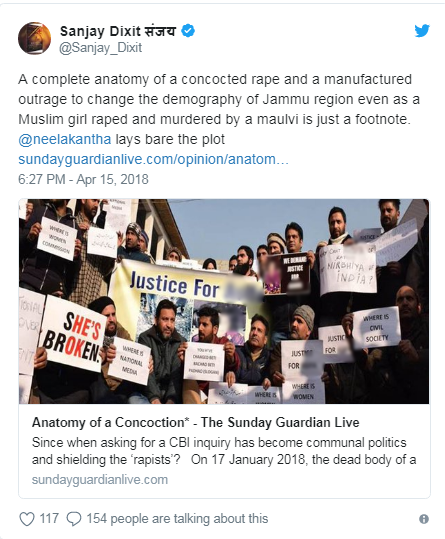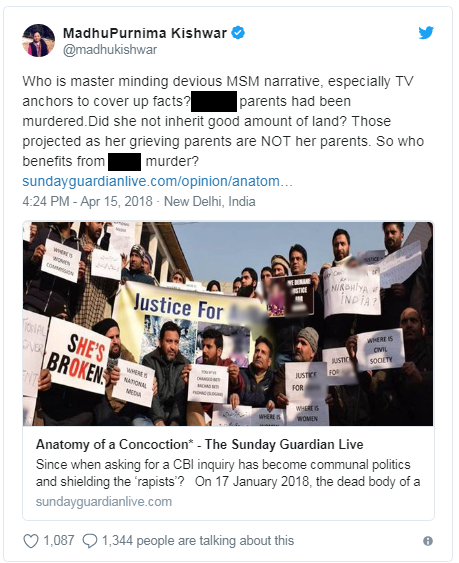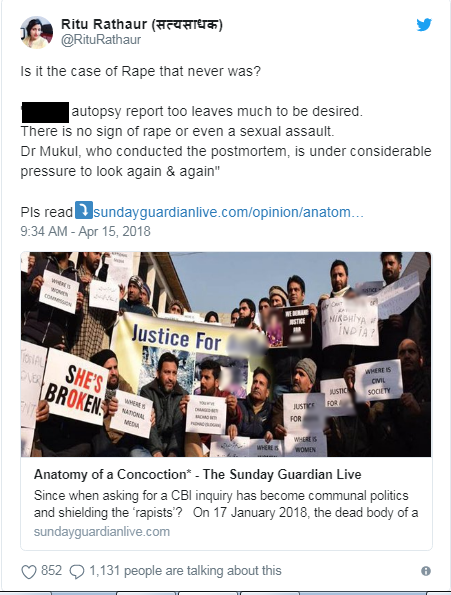 However, other Twitter users were livid.
I'm still in shock how this piece, with this timing, got published in a newspaper (@SundayGuardian). It is under 'Fake News', the title has an asterisk and there IS a disclaimer, but the names are real and timing is absolutely horrendous. And it is being shared as fact online. pic.twitter.com/pOkAcHI3Jf

— Karthik (@beastoftraal) April 16, 2018
It is important to note that the narrative described in Sushil Pandit's story finds resonance is ultra-right wing handles and serial fake news offenders such as Shankhnaad and others. The Quint has debunked Shankhnaad's claims in its story.
Sushil Pandit has retweeted the tweets sharing his story while failing to address or explain the disclaimer it carries. In the past he has appeared on news debates on television aggressively putting forth the same conjecture mentioned in his story.
I have major doubts in the ongoing investigations, says @neelakantha on Kathua rape and murder case
Watch #PeoplesCourt with @PadmajaJoshi https://t.co/KBv4r20l8W pic.twitter.com/ZCkI410ZBA

— India Today (@IndiaToday) April 12, 2018