The Rise And Fall of Fake News Site 'Viral In India': An Interview With Founder Abhishek Mishra
Boom spoke to Abhishek Mishra, founder of Viral in India, to understand his reasoning behind spreading fake news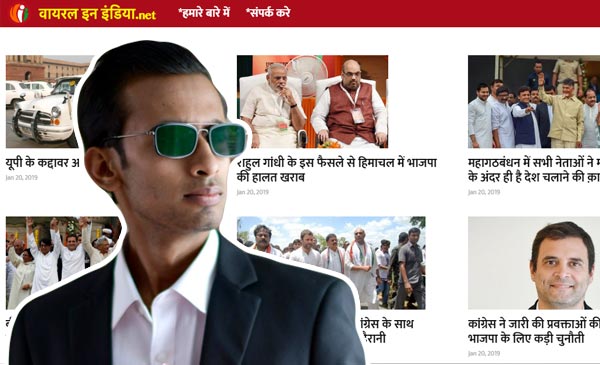 As the national elections in May 2019 draw closer, websites claiming to provide 'authentic news' are mushrooming, treading a very thin line between propaganda and outright fake news. Over the last several months, BOOM closely tracked one such website 'Viral In India' and found them pushing out unverified information which were blatantly false. Here are the 10 Viral In India stories fact checked by BOOM in Hindi and English.
Interestingly, Viral In India's website has been taken down on Wednesday with a message displayed, "Services permanently suspended due to abuse report". The website's founder Abhishek Mishra was also taken in to custody by the crime branch unit of the Delhi police from Bhopal on January 22, ruffling several feathers in Madhya Pradesh as the local police were not informed about the arrest.
Mishra is said to have been released on bail on Tuesday. When BOOM tried to contact the officials concerned with his arrest, we were told by highly placed sources in Delhi police, on condition of anonymity: "Mishra was arrested based on a complaint made by an individual. The case was registered after the complainant alleged Mishra had hurt religious sentiments with his posts on his social media accounts and his website."
A few days before his arrest, BOOM spoke to Mishra through several telephonic conversations to understand the motive behind running a site that only published pro-Congress propaganda. Here's his unapologetic take on fake news, or what he prefers calling 'news that mainstream media houses avoid airing.'
And unapologetic because despite the Supreme Court stepping in to order the 'Centre and the States to take immediate steps to stop dissemination of fake news or stories on social media, which has tendency to whip up a mob frenzy,' Mishra defends the articles published on his website in the most brazen retort. Read The Hindu's report on Supreme Court's take on fake news.
Here are excerpts of BOOM's conversation with Abhishek Mishra.
A little background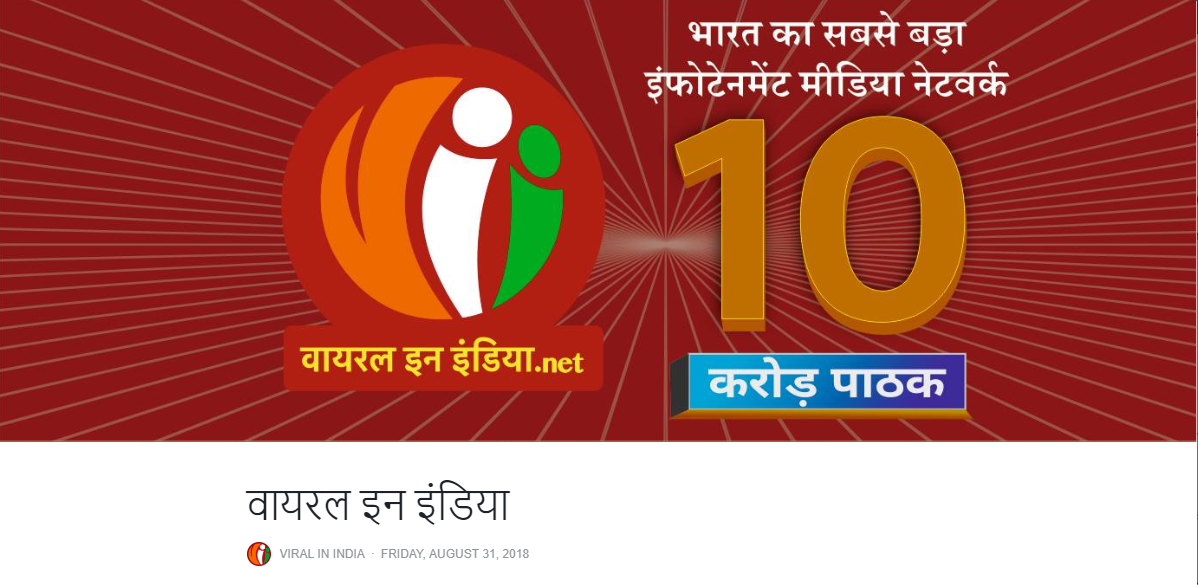 Bhopal-based Mishra is the admin of the Facebook page Viral In India, and as the name the suggests, with over one million followers, the page is indeed viral in India. The 'About us' section of the page claims that Amazon Alexa has ranked the site 3181 globally and 273 in India.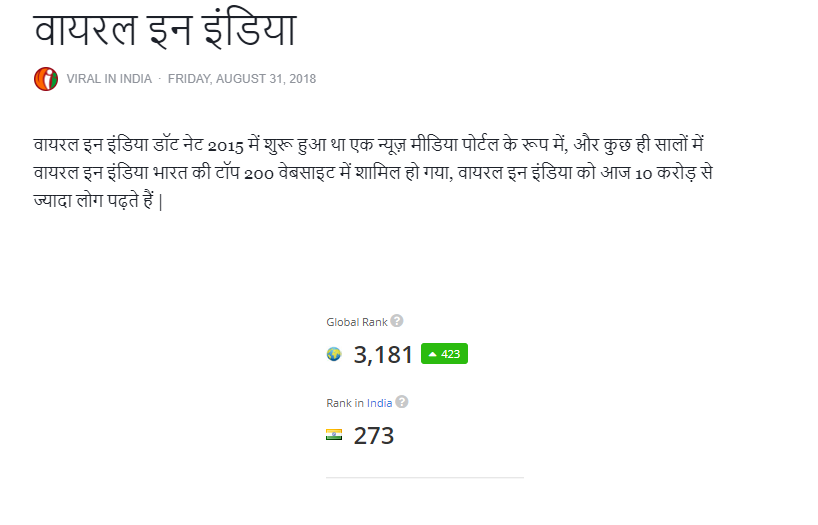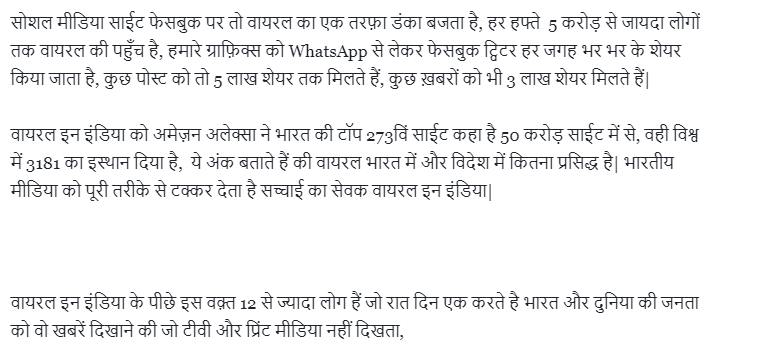 Mishra, a civil engineer, started this page in 2015. When BOOM asked him what was the driving force behind the site, he said, "Our first and last aim was to bring before the public what print and broadcast media generally hides from them. And the public loved us for our reportage. We were also listed in the top 100 websites in the country briefly."
How does Viral In India function?
A click on any post on Viral In India Facebook page directs the user to Viralinindia.net, a web page claiming to publish news. While the Facebook page usually has click-bait headlines, the portal contains what Mishra claims is the 'news that matters.'
However, not only BOOM but other fact-checking websites have also debunked several of these 'news that matters' updated on Mishra's website.
Viral in India's Facebook page also shares a lot of memes with images of political figures to lend credibility to them. In almost all the cases, they turn out to be fake.
"We have seven to eight people working for us. They create the content and upload it. We work as a unit," Mishra said.
Political leaning
While scrolling down their official Facebook page, one can easily make out that the page has a pro-Congress leaning. Most of the memes and articles shared on the page clearly target the Narendra Modi-led Bharatiya Janta Party government.
However, Mishra, on record, said that neither he nor others working for Viral in India, have any political leanings. "I am politically neutral," he said. When we asked him about several of his pictures where he is seen sharing space with Congress leaders, he said, "I keep meeting several leaders. Once in a while we get pictures clicked. It has nothing to do with political leaning."
Mishra also claims that the 8-10 employees who work for him are all 'mature' and don't operate with a political leaning. "They dedicate their services to Viral... free of cost. We don't pay them and neither is this page a business model," Mishra said. He refuted claims of the site being funded by the Congress and claimed that they generate revenue by working for corporate clients and create digital media content.
Incidentally, Mishra, who claims to have completed his civil engineering from Bhopal in 2012, used to make YouTube videos before founding Viral In India . Mishra has a YouTube page with 136,335 subscribers.
Mishra on denial mode
Over the past few months, BOOM had debunked several of the 'reports' carried on his web page. So, as we quizzed him on those fakes with facts. Here's how he responded to some of them.
राहुल गाँधी क्या दुबई के 'फाइटर प्लेन' से वापस आये भारत ?
The report, which was debunked on January 14, 2019 by BoomHindi, had claimed in its headline that Rahul Gandhi was being sent back by a fighter jet by the UAE government. It may be mentioned here that Gandhi was on a two-day trip to Dubai and Abu Dhabi earlier this year, and this had given both, pro and anti-right wing pages a chance to churn out fake news in dozens.
Responding to this report debunked by BoomHindi, Mishra said that only the headline said it was a fighter plane, but in the story, the Viral in India team had mentioned that it was a special Emirates flight. When we asked why was the headline misleading, Misha snapped and said, "Why did you not care to cross check this with me over the phone?"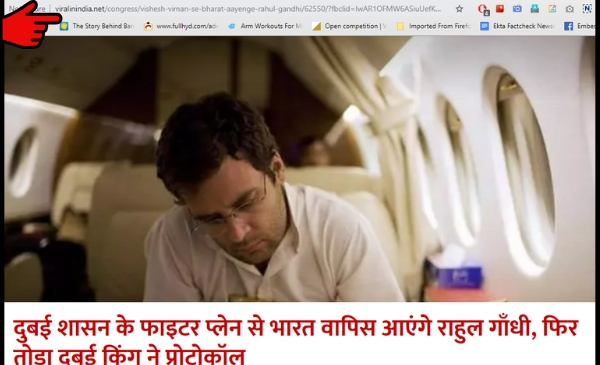 We also questioned him on the following report.
क्या आरबीआई के पूर्व गवर्नर उर्जित पटेल ने कहा भारत के प्रधानमंत्री को निकम्मा ?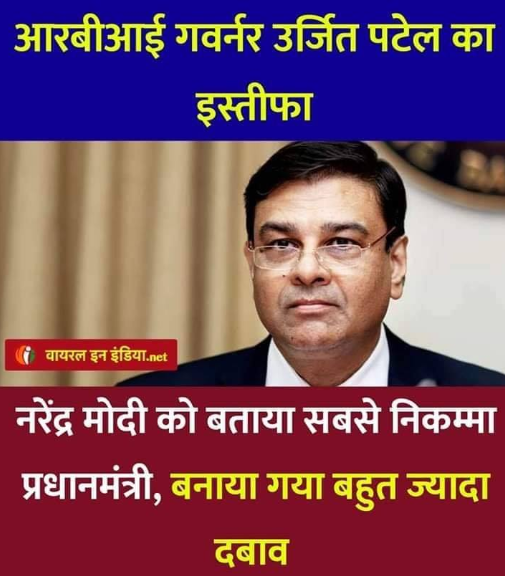 The post was shared widely on an Instagram handle which goes by the name Viral in India. When we shared the picture on the Instagram handle with Mishra, he outrightly denied any instagram page owned by Viral... . Interestingly, a couple of days later, the image was removed from the Insta handle and we were returned to an empty page.
We questioned him about another story which once again involved Urjit Patel. A poster with Viral... logo and Urjit Patel's photo was made viral along with a statement in Hindi, which translates to: "RBI Governor Urjit Patel's mega attack on Modi government. When I was silent on demonetisation and other wrong decisions, I was government's favourite, the moment I came out in the open with all of this, they started threatening to sack me."
क्या आर.बी.आई गवर्नर उर्जित पटेल ने नोटबंदी पर सरकार की पोल खोलने की बात कही ?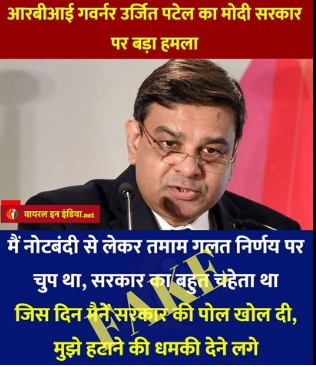 Mishra ducked this question.
Another fake item that was shared prominently on Viral in India pages was a photograph of Prime Minister Narendra Modi and other BJP leaders including Amit Shah, Shivraj Singh Chauhan, Nitin Gadkari. The claim made in this post was that after Chouhan had lost Madhya Pradesh, he was being treated badly by the party's Central leadership.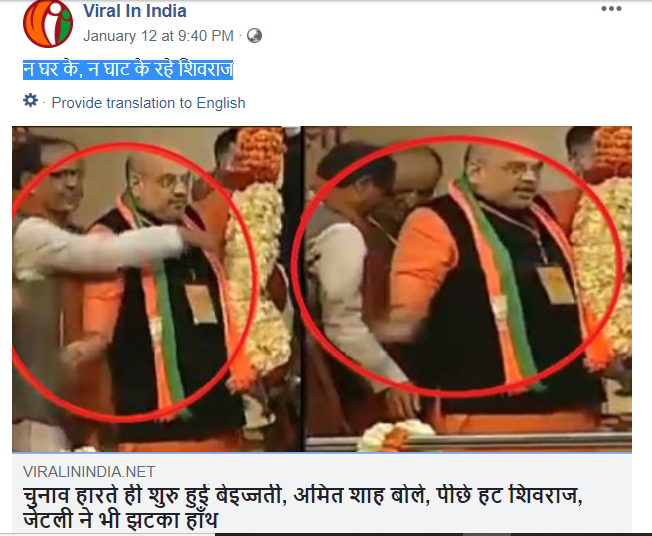 Mishra diverted our query on this one too.
However, the most bizzare response we got from Mishra was on an article that was debunked by fact-checking website Alt News. The article, which claimed that former CBI director Alok Verma had called Prime Minister Narendra Modi as a corrupt person, was quite viral on social media. However, the report was debunked and Mishra was called out.
When we told him that we hadn't read any article on Verma criticising Modi, and asked him who his source was, Mishra very confidently, said: "Mr Verma had talked to me directly."
On Cong-connection
While Mishra outright denied having connections with any political party, we tried to check this the other way round too. When we called Randeep Singh Surjewala, in-charge, communications, Congress party, he did not pick our call. We will update the story once we get a reply from him.
However, an office bearer of the Madhya Pradesh Congress Committee, on condition of anonymity, denied that Mishra had any connections with the party. "He is a social media activist, I guess. But he is not associated with Congress in any way," he said.
Interestingly, despite all his denials of having a pro-Congress leaning, we found Mishra sharing space with several Congress leaders in pictures shared on his Facebook page.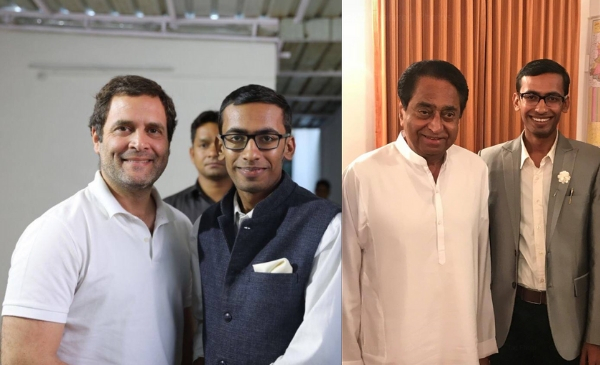 "Will Teach Fact Checkers A Lesson"
Not once or twice but three times during our conversation, Mishra who claims to champion the cause of 'true news' said that he would teach fact checkers like BOOM and AltNews a lesson.
Mishra accused fact checkers for misleading people by calling the reports published by his website, fake.
Towards the end of the interview when this fact checker asked Mishra what are his plans for the future, he said: "There are many. And one among them is to settle scores with people like you (read BOOM)."