Fact Check
The Mysterious Tale Of PAF Wing Commander Shahzaz Ud Din
Several Indian media outlets ran a story about a Wing Commander Shahzaz Ud Din being the Pakistani pilot who lost his life during the Indo-Pak aerial engagement, based on hearsay and unfounded social media claims.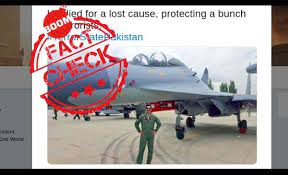 On February 27, as Wing Commander Abhinandan Varthaman parachuted on Pakistani territory, a second aircraft was also allegedly shot down, with the fate of the second pilot being a mystery that has now generated a fake story about a non-existent Wing Commander Shahzaz Ud Din.
On March 1, two days after Wing Commander (WC) Varthaman was taken captive by Pakistani Armed Forces, social media was suddenly flooded with stories about WC Shahzaz Ud Din - the alleged second pilot who's aircraft also went down.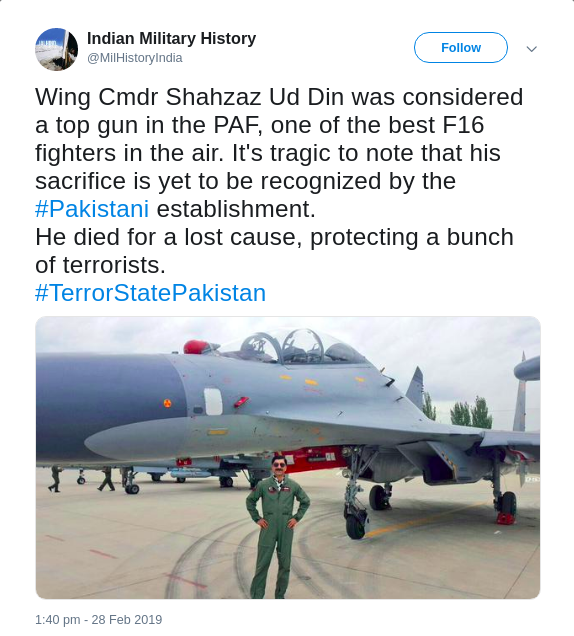 BOOM traced the origin of this narrative to a Facebook post by Khalid Umar, who has been described by Times Of India as a Pakistani-origin UK-based immigration lawyer.
Click here for an archived version of the post.
According to Umar's viral Facebook post, a wounded Shahzaz Ud Din parachuted to safety in Pakistan Occupied Kashmir, but was lynched by a mob who initially mistook him for an Indian pilot, and eventually succumbed to his injuries at a hospital.
Umar also stated that the Wing Commander was the son of Air Marshal Waseem Ud Din, drawing parallels with the story of formerly captive pilot Wing Commander Varthaman whose father was also an Air Marshal.
BOOM also spotted a number of WhatsApp messages, stating that Pakistani news outlet Dawn was suppressed from writing an article about Shahzaz Ud Din by the Inter-Services Public Relations, Pakistani Army's media wing.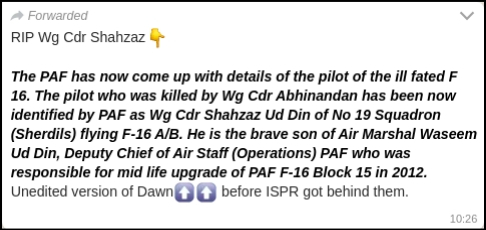 This did not go unnoticed by the Indian media, as several news outlets started running Umar's account of the fate of the second pilot.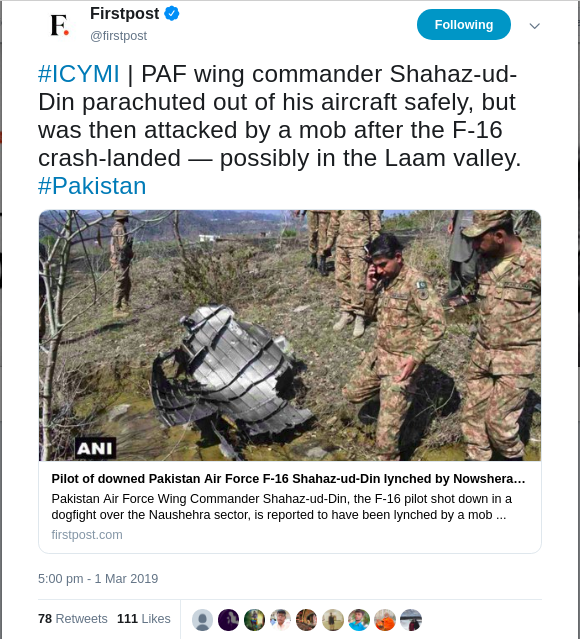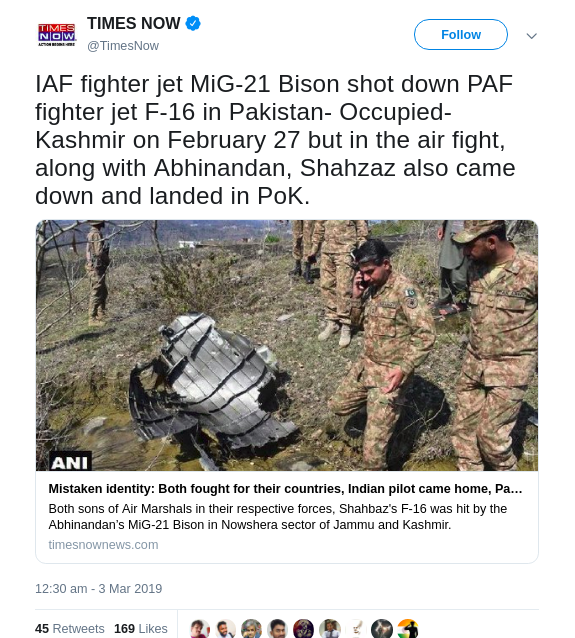 The news reports claimed that the change of statement by Pakistani Army spokesperson Asif Ghafoor from earlier stating that two pilots were arrested, to only one pilot being in custody, was an indication of cover-up by the Pakistani Armed Forced.
Umar told
Times of India
that he was informed about the identity of the second pilot being Shahzaz Ud Din through a tweet by Air Marshal Raghunath Nambiar of the Eastern Air Command of India, leading us to believe that his account was based on hearsay.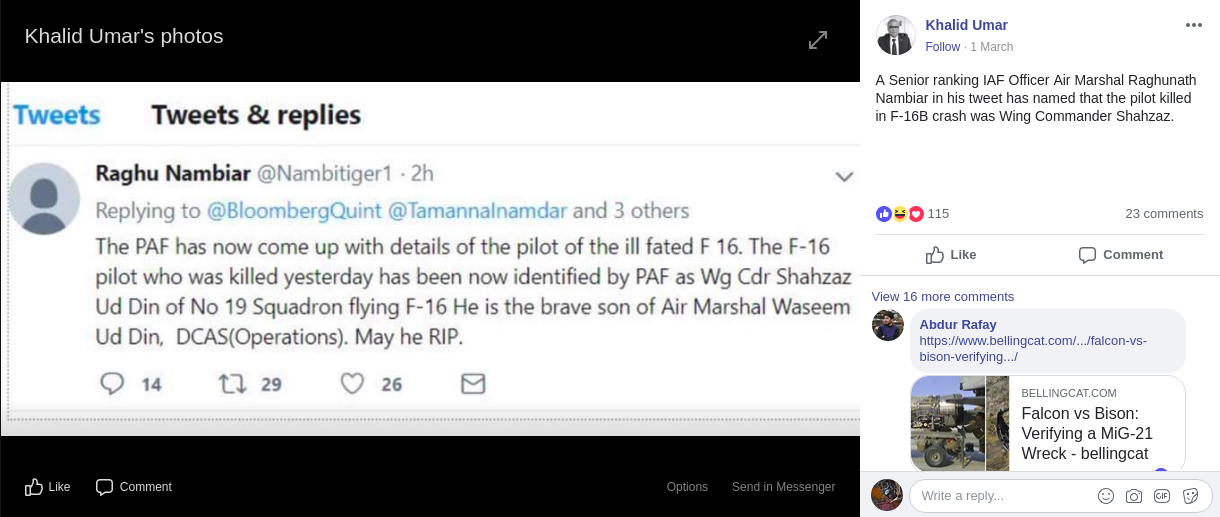 According to Air Marshal Nambiar's tweet, it was the Pakistani Armed Forces (PAF) that had provided the details about the identity of the second pilot.
However, BOOM did not find any such statement made by the PAF, as it had kept most of the details of its retaliation to the IAF air strike at Balakot confidential, including the names of those who were involved in it.
Enter Group Captain Agha Mehar
The Pakistani media soon got a whiff of this story and attempted to debunk it.
Geo News, a Pakistani news channel, accused the Indian media of running spurious reports on the person in the photo and claimed that his name was actually Group Captain Agha Mehar, and that he was alive and well.
The channel cited a tweet by renowned Pakistani journalist Wajahat Saeed Khan as its source, where Khan claims that the person in the photo is actually a friend of his, who reached out to Khan when he found out that his photo had gone viral in India with false claims.
Khan also stated that this photo is from a joint exercise with China, from 2015. BOOM reached out to Khan for a comment but was unable to reach him. The story will be updated if and when he responds.
Fact Check
BOOM got in touch with Zaffar Abbas, Chief Editor of Pakistani newspaper Dawn, to confirm whether they were stopped from publishing the story on WC Shahzaz Ud Din's death, as claimed by the viral WhatsApp messages.
Abbas rubbished the claims, saying, "I can say with authority that we at Dawn neither commissioned any such story, nor were we asked or instructed to block its publication."
BOOM found a website called China Arms, who had used the same photo on their website in a post from October 4, 2015, and had labeled the aircraft as an SU-30.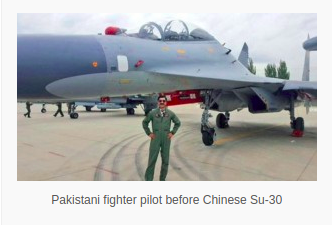 Although, the identity of the pilot in the picture was not provided, this backs Khan's claim that the photo was taken during a joint exercise with China, dating back to 2015.
Given the confidentiality maintained by India and Pakistan about the details of their operations in the past week, BOOM was unable to ascertain the exact identity of the person in the photo.
BOOM did a quick Google search with the keywords "Group Captain Agha Mehar" and "Wing Commander Shahzaz Uddin", seperately, but did not find any relevant result either.
However, we found out that there exists a retired Air Marshal Waseem Uddin of the PAF, the alleged father of Wing Commander Shahzaz Ud Din, who was seen giving a speech a the Center for Global & Strategic Studies on June 8, 2018.
His designation as the Former Deputy Chief of Air Staff (Operations), as described in the video, also matches the description of the alleged father of Wing Commander Shahzaz Ud Din, thus confirming that his identity was used as an inspiration for Khalid Umar's story.
A Twitter user who goes by the name 'h' (@HaadeaP) claimed in a tweet that she knew Air Marshal Waseem Uddin and that none of his two sons are in the forces.
She also posted a screenshot of a conversation with Aleem Uddin, who she claims is one of the sons of the retired Air Marshal.
BOOM traced the Facebook account of Aleem Uddin, who had posted pictures with his father and brother, tagged as Waseem Uddin and Waqar Uddin, respectively.
Waseem Uddin's Facebook profile states that he is a fighter pilot for the Pakistani Air Force.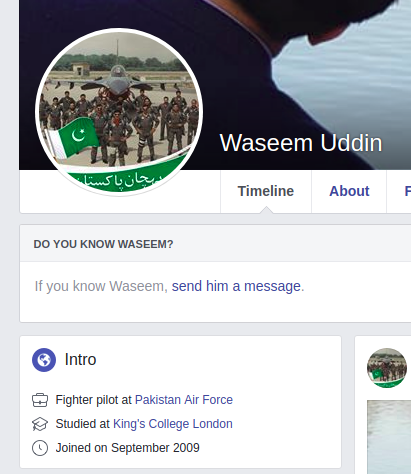 BOOM also went through the profiles of both Waqar Uddin and Waseem Uddin, and observed a number of photos of the two sons along with the father.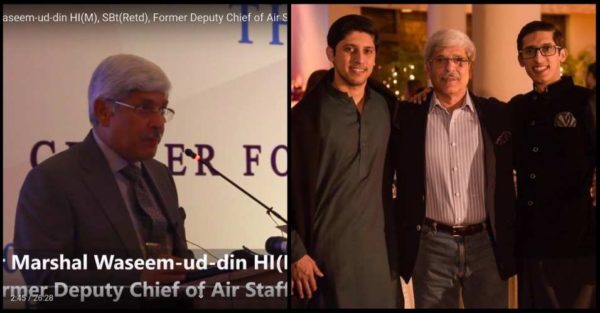 By comparing the above photo with that of the YouTube video of Air Marshal Waseem Uddin, BOOM was able to ascertain that they're the same person, and that the Facebook account tagged in the photo is actually his.
There was no photo of a third son name Shahzaz in any of the profiles.
BOOM reached out to Waseem, Aleem and Waqar Uddin through Facebook for a comment. The story will be updated if and when they respond.
Did any of the Air Marshal's sons serve in the force? A quick look through the LinkedIn profiles of Waqar and Aleem Uddin would suggest not.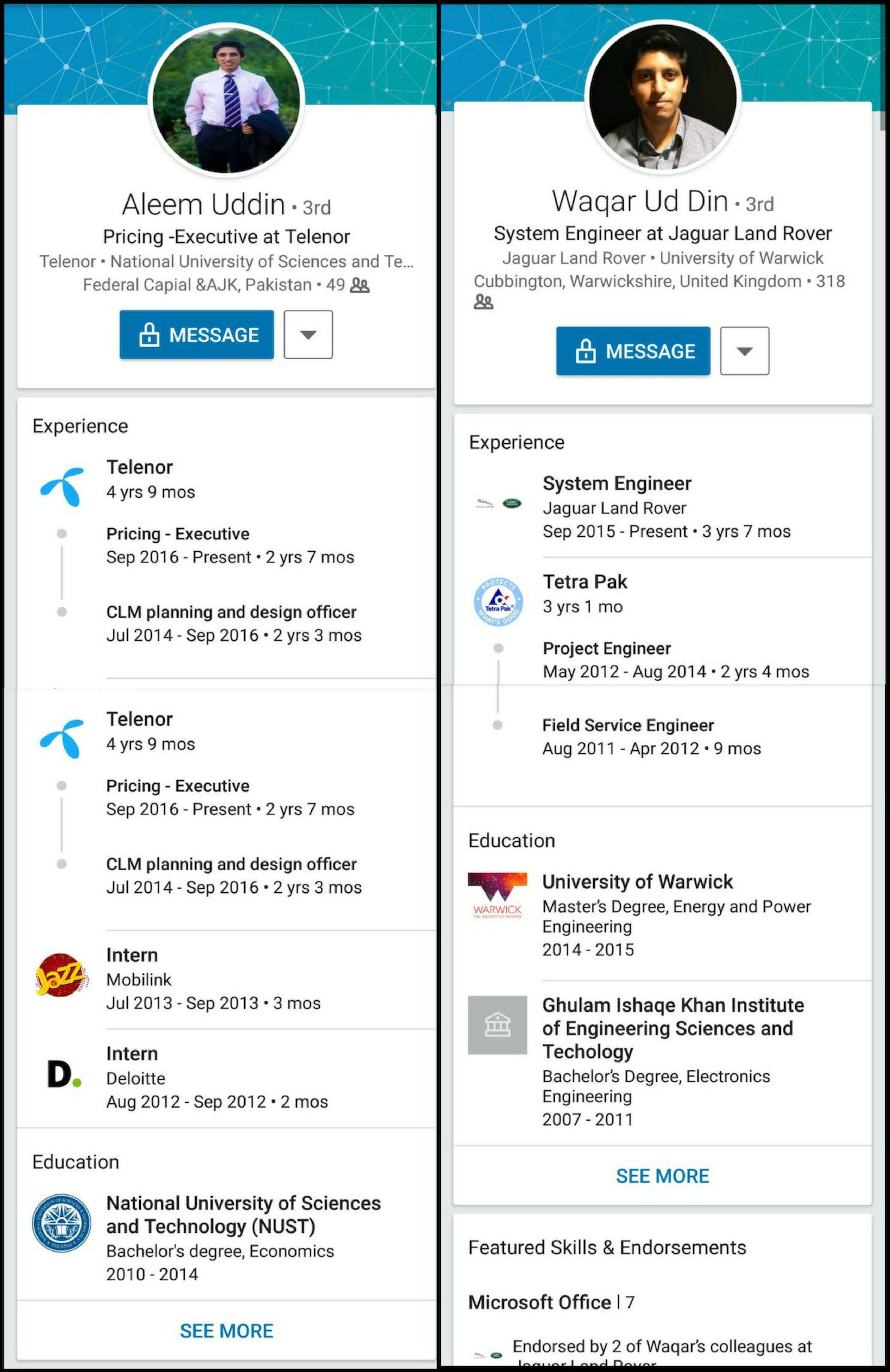 This leads us to believe that the story about a third son called Wing Commander Shahzaz Ud Din has been made up by using the identity of Air Marshal Waseem Uddin as an inspiration.
Claim :
Wing Commander Shahzaz Ud Din of Pakistani Air Force lost his life during the aerial engagement with IAF Wing Commander Varthaman
Do you always want to share the authentic news with your friends?
Subscribed Successfully...
Enter Valid Email Id