The Hindu Retracts 'Dying Woman Molested, Video Shows' Story, Apologises
The Hindu apologises for its story. Says the article about a dying woman molested in the stampede was a result of failure to adhere to journalistic norms.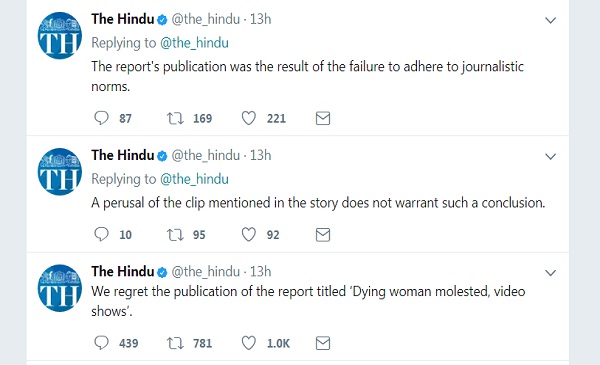 The Hindu said it had withdrawn its story 'Dying woman molested, video shows' from all online platforms of the English newspaper, in a strongly worded apology that attributed the article to the organisation's 'failure to adhere to journalistic norms'.
The article published on October 1st by journalist Vedika Chaubey stated that a mobile video clip showed a bystander molesting a women while she was breathing her last in the stampede at Elphinstone Road station in Mumbai on September 29.
The story appears to be based on an eight-second video clip that was being shared on social media. Many users on Twitter were appalled by the depravity of the alleged crime, lamenting the state of women in the country.
The Hindu's story formed the basis for similar stories reported by websites such as Firstpost, IndiaTimes, ScoopWhoop and News18 Hindi.
BOOM was able to find a cached version of the page.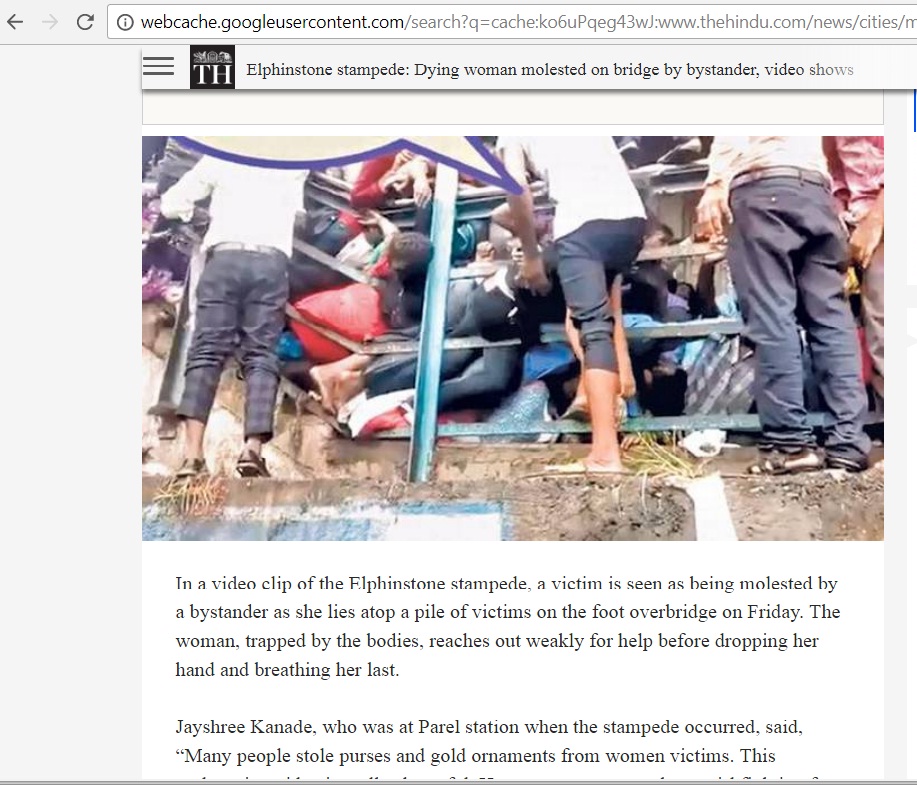 Screenshot of the cached version of Hindu's story
The article sparked outraged among netizens who were already angry at the apathy of authorities in ignoring repeated warnings from commuters about the Elphinstone-Parel overhead footbridge where the tragedy claiming 23 lives occurred.
However, many questioned the veracity of the story itself and shared videos taken from a different angle where the man in question can be seen trying to rescue the woman.
Same guy shared by @vedikachaubey ?

— Fidus Achates (@Sohni_Bose) October 1, 2017
An article by the Indian Express published on October 3rd citing Mumbai police said officials found allegations of molestation to be untrue.
"The victim got stuck in between the railing of the bridge. The commuter tried to drag her out. He rested her body on his foot and was trying to pull her and grabbed her by her chest. His intention was to save her and not molest her," the Indian Express reported citing an official.
The Hindu too did its own story - Stampede victim not molested: police
The newspaper tweeted an apology on Tuesday night.
We regret the publication of the report titled 'Dying woman molested, video shows'.

— The Hindu (@the_hindu) October 3, 2017
A perusal of the clip does not warrant such a conclusion. We regret the publication of this report, which was the result of the failure to adhere to journalistic norms in both reporting and editorial supervision. This story is being withdrawn from all online platforms of The Hindu.
Read The Hindu's statement here.
As with the story, the paper's apology also drew a strong but mixed reaction online. Some applauded the newspaper for owning up to its mistake.
Meanwhile others attacked 'misguided feminism' and wanted the reporter to be fired. They said that such a story would make Indian men think twice before helping women in a similar situation.
You hv already given a message to #Mumbai that a social deeds from men towards women can be easily concocted & misconstrued as #molestation.

— G-SAT (@gauravsatle) October 3, 2017
(Updates headline, adds details)