Tamil Nadu, Kerala Lead Surge In Financial Inclusion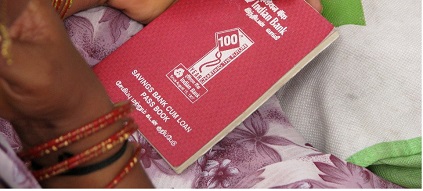 As many as 45 of India's top 50 districts that offer affordable, formal financial services are in four south Indian states—with 30 concentrated in Tamil Nadu and Kerala—according to CRISIL Inclusix, a measure of financial inclusion.
The top five states/union territories are Puducherry, Kerala, Tamil Nadu, Goa and Chandigarh.
These states drove a surge in India's financial inclusion index, which improved to 50.1 (of a possible 100) at the end of 2013 from 42.8 at the end of 2012.
The index does not take into account the Prime Minister's Jan Dhan Yojana (People's Wealth Scheme). With over 140 million new bank accounts opened since August 2014, the index will likely be boosted further in 2015.
CRISIL, a Mumbai-based ratings agency, defines financial inclusion as "the extent of access by all sections of society to formal financial services such as credit, deposit, insurance and pension services".
CRISIL's Inclusix is a relative index that combines three parameters of basic financial services—branch penetration, deposit penetration and credit penetration. A score of 100 indicates the ideal state for each of the three parameters.
CRISIL has included district-wise data from micro-finance institutions (MFIs) to calculate the index for the first time, covering 652 districts in 35 states and union territories.

Bank Services Are Spreading
As many as 117 million savings bank accounts were opened in the financial year 2013, almost 50% more than the 79 million that opened the previous year. The total operative bank accounts in the country at the end of 2013 were 820 million as against 703 million in 2012, an increase of 17%, the fastest growth in four years.
However, growth in credit accounts declined due to a reduction in small-borrower accounts to 102 million in 2013 from 109 million in 2012. "The decline was primarily observed in five metro districts: Delhi, Kolkata, Mumbai, Mumbai Suburban and Bangalore Urban. This could be attributed to book-cleaning exercises by banks and closure of dormant credit-card accounts," the report said.
South leads; North-East at bottom but moves ahead
With an increase of 40% in bank credit accounts, the northern state of Jammu & Kashmir saw its Inclusix score improve to 45.2. The state also saw high deposit and branch scores of 61.6 and 56.3, respectively.
The presence of a large number of MFIs, including the largest of them, Bandhan Financial Services that will soon become a bank, saw West Bengal improve its Inclusix score to 46.6.
The presence of MFIs also saw the north-east improve its Inclusix score to 39.7.
Only 255 or a third of 652 districts have scored more than the all-India score of 50.1.
Of 107 districts in South India, 104 have an Inclusix score more than the all-India average.
Nine districts hit the maximum Inclusix score of 100. All are from the south. Six are from Kerala: Pathanamthitta, Alappuzha, Ernakulam, Kottayam, Thiruvananthapuram, and Thrissur; two are from Puducherry: Karaikal and Mahe;  and the last is from Tamil Nadu: Coimbatore.
As many as 27 of the bottom 50 districts belong to the north-east, mainly in Manipur, Arunachal Pradesh and Nagaland.
"The limited presence of MFIs in states like Uttar Pradesh, Bihar and Manipur leads to a low level of credit availability for small borrowers," according to Pawan Agrawal, chief analytical officer, CRISIL Ratings.
The Inclusix score of 50.1 shows that a large part of India's population does not have access to formal financial services but this is before taking into account the boost from Jan Dhan Yojana.
"We expect tailwinds [for] financial inclusion from policy steps taken such as the Pradhan Mantri Jan Dhan Yojana, which has not been factored in this edition of Inclusix and differentiated banking licences. Under Jan Dhan Yojana, more than 140 million new savings accounts have been opened, which will add to the Inclusix score for 2015," said Raman Uberoi, president (corporate affairs), CRISIL. ■
Parameters & Measures Used By CRISIL To Measure Financial Inclusion
Parameter
Measure
Significance
Branch Penetration
No. of branches per lakh of population in a district
Measures the ease with which people in a particular territory can access financial services
Credit Penetration
No. of loan accounts per lakh of population in a district
Measures the extent of access to loan products offered in a particular territory
No. of small-borrower loan accounts as defined by RBI per lakh of population in a district (small borrowers are borrowers with a sanctioned credit limit of up to Rs 2 lakh)
Measures access to credit for small borrowers, who typically face financial non-inclusion
No. of agricultural advances per lakh of population in a district
Measures farmers' access to credit
Deposit Penetration
No. of savings accounts per lakh of population in a district
Measures the extent of access to savings products offered by banks in a particular territory
Source: CRISIL
This article has been republished from Indiaspend.com.