Fact Check
Sudarshan News Falsely Claims Asaduddin Owaisi Danced After Kamlesh Tiwari's Murder
BOOM found that Asaduddin Owaisi did not do the dance step after the death of Kamlesh Tiwari.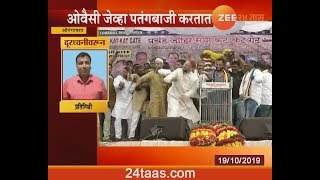 Suresh Chavhanke, of Sudarshan News, posted a video of Assaduddin Owaisi dancing in an election rally with a false claim he was celebrating the murder of Kamlesh Tiwari, Hindu Samaj leader. BOOM found that Owaisi, president of All India Majlis-e-Ittehadul Muslimeen (AIMIM) danced on October 17 a rally in Maharashtra, a day before Tiwari's murder on October 18.
Chavhanke, editor in chief of Sudarshan News made the false claim in his show, Bindaas Bol. He also tweeted a segment of the same show from his personal handle stating, "Owaisi, who mourns the death of thieves and terrorists, dances after the sacrifice of Kamlesh Tiwari. It felt as if his mission was successful." He also tagged Uttar Pradesh chief minister Yogi Adityanath, Home Minister Amit Shah and Prime Minister Narendra Modi telling him, "Don't know how many more Kamlesh Tiwari's will die if Owaisi remains outside."
(Original text in Hindi - चोरों और आतंकियो की मौत का मातम मनाने वाला ओवैसी #कमलेश_तिवारी के बलिदान के बाद झूम कर नाचा. ऐसे लगा कि जैसे इसका कोई मिशन सफ़ल हुआ हो. @myogiadityanath @AmitShah और @narendramodi जी, इसका बाहर रहना न जाने और कितने #KamleshTiwari की हत्या की वजह बनेगा)
In the 1.33 minutes clip in his tweet, Chavhanke can be heard provocatively and falsely declaring that Owaisi was spotted dancing a day after the murder of Tiwari and calling for his arrest.
चोरों और आतंकियो की मौत का मातम मनाने वाला ओवैसी #कमलेश_तिवारी के बलिदान के बाद झूम कर नाचा

ऐसे लगा कि जैसे इसका कोई मिशन सफ़ल हुआ हो.@myogiadityanath @AmitShah और @narendramodi जी, इसका बाहर रहना न जाने और कितने #KamleshTiwari
की हत्या की वजह बनेगा@aimim_national #BindasBol pic.twitter.com/bggFOvUHWU

— Suresh Chavhanke "Sudarshan News" (@SureshChavhanke) October 20, 2019
Click here to view, and here for an archive.
FACT-CHECK
BOOM looked for the original clip of Owaisi dancing and found a tweet from wire agency ANI with details that Owaisi performed the dance on October 17, 2019. We also found that media outlets reported that Tiwari died on October 18.

The ANI tweet mentions that Owaisi "performed a dance step after the end of his rally at Paithan Gate in Aurangabad". While ANI tweeted on October 18, the text on the tweet mentions that Owaisi danced on October 17.
According to news reports, Tiwari was found murdered inside his house in Lucknow on October 18, 2019.
Owaisi also spoke to mediapersons about the clip which soon went viral, and said, "he was not dancing but performing the action of flying a kite which is AIMIM party's symbol."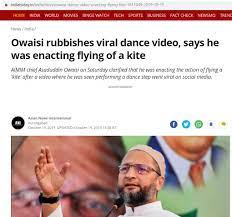 "I was pulling my party's symbol - kite, someone has put a song on the video which is wrong, I do not pay much attention to such things," said Owaisi
Owaisi also repeated the "kite flying" action in another rally held in Aurangabad as part of his campaigning for the Maharashtra elections.
Speaking to a reporter, Owaisi condemned Kamlesh Tiwari's murder.
BOOM reached out to Owaisi's office for a response, the article will be updated once a response is received.
Claim :
Asaduddin Owaisi Danced After Kamlesh Tiwari's Murder
Claimed By :
Sudarshan News
Do you always want to share the authentic news with your friends?
Subscribed Successfully...
Enter Valid Email Id