The Stinking Truth Behind Mumbai's Status As Open Defecation Free
But if such images can be so easily clicked, why did Maharashtra Chief Minister Devendra Fadnavis declare Mumbai Open Defecation Free?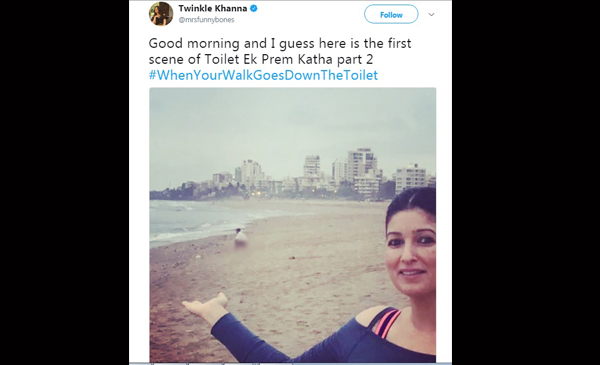 Twinkle Khanna's early morning tweet on August 19 sharing a picture of a man defecating on an open beach in Mumbai has gone viral with strong views on whether she should have shared the image. Twinkle Khanna, known for her witty humor on social media had called the image as the first scene of Toilet Ek Prem Katha part 2.
Several users wondered if the image was a publicity stunt for her husband Akshay Kumar's movie by the same name that has already crossed earnings of Rs 100 cr. Others tweeted if she would have shared the image if the person in question would have been a woman.
The govt 1st fails to provide facilities to the most vulnerable. Then privileged people like us shame them for not having access. 2/2

— Aditya Paul (@adityampaul) August 20, 2017
#mockery of men's dignity for doing cheap movie promotions/tweet. You would not have dared if it was women. #MenKiBaat

— ♂ SrinivasMRAo (@mra_srini) August 21, 2017
But @mrsfunnybones had several supporters as well who argued why the person in the image could not have used the nearby public toilet.
आपका सेल्फी लेना लोगों को जागरूक करना हैं,आपके के इस साहसिक कदम का स्वागत हैं।

देश के नागरिकों को भी अपने मर्यादा का ख्याल रखना चाहिए। pic.twitter.com/BW2LK8blu1

— ISHWAR LAL SAHU (@ISHWARLALSAHU4) August 19, 2017
But people should be awake too : they can always go to closest toilet

— pallavi ghosh (@_pallavighosh) August 19, 2017
While Twinkle Khanna's tweet may have been called insensitive, the question remains whether Mumbai will ever be able to solve its open defecation crisis?
Ironically on July 7, Maharashtra Chief Minister Devendra Fadnavis had put out a congratulatory tweet on Mumbai being revalidated as Open Defecation Free by Quality Control of India. He referred to Greater Mumbai which includes South Mumbai and the eastern and western suburbs of Mumbai. These areas are under the administration of Mumbai Corporation of Greater Mumbai (MCGM) or BMC. Greater Mumbai has a population of over 1.24 cr.
Is Mumbai Open Defecation Free? – Photos says, NO
Factchecker, through a series of photos, showed that Greater Mumbai is not yet Open Defecation Free (ODF). These included shots from different parts of city such as Sion, Kurla, Bandra Reclamation and Mahim Causeway.
'A city / ward can be notified/declared as ODF city/ ODF ward if, at any point of the day, not a single person is found defecating in the open' – according to Swachh Bharat Misson Urban Guidelines.
According to Ministry of Urban Development, following are the 'necessary infrastructure and regulatory conditions' required to be declared Open Defecation Free -
All households that have space to construct toilets, have constructed one.

All occupants of those households that do not have space to construct toilet have access to a community toilet within a distance of 500 meters.

All commercial areas have public toilets within a distance of 1 kilometer.

City has a mechanism in place through which fines are imposed fine on people found defecating in the open
The protocol is such that a city can be declared ODF, only if all its wards are declared ODF. The sub declarations required in the ward level are – 1) Every school in the ward has to declare that all its students have access to toilets both at school and home and they routinely use it. 2) All self-help groups in the ward need to declare that all residents of the ward have access and they routinely use toilets.
CAG Survey On Construction of Toilets in Mumbai
A CAG report on Local Bodies in Maharashtra dated August 2017 pointed out that Greater Mumbai faced a shortage of 20,195 toilets as of March 2016.
Mumbai Sewage Disposal Project (MSDP) under MCGM responsible for sewage management in Greater Mumbai was supposed to construct 25,992 toilets. However, only 5797 toilets were constructed as of March 2016, thus meeting only 22% of the target.
Based on census 2011, 23% (12.2 lakh) of 52.07 lakh slum population did not have access to a septic toilet. This means every 2 out of 10 slum dwellers did not have have access to septic toilets. MSDP had assessed the requirement of 25,992 toilets such that one toilet is shared by 50 persons.
Moreover, out of the 8594 toilet blocks only 30% were connected to the sewer lines and had electricity and only 75% had water connection. Instead of maintaining a 1:50 ratio (toilet/ persons), a toilet was used by 11 to 417 persons.
Thus, the report says – 'The objective of the MSDP for reducing open defecation was not achieved'.
Parameters met but what about reality?
While Greater Mumbai may have met all the parameters to be called open defecation free, the actual problems faced by those who have to rely on public toilets are often not captured. This article relates the story of 23-year old Manoj who explains why despite having access to a community toilet, he is forced to defecate in the open. Clearly, not having enough toilets, the lack of hygiene, and the long queues he encounters every morning are problems no government statistic is willing to look at before declaring a city open defecation free.
(Correction: The story has been updated to correct a data point. Earlier it was wrongly mentioned, 'Only 2 out of 10 slum dwellers have access to septic toilets, while it is 'every 2 out of 10 slum dwellers did not have have access to septic toilets.' We regret the error.)