Stills From TV Series Viral As Torture Of Kashmiri Journalist
This is the latest addition to the series of misinformation on the Kashmir valley, since the abrogation of Article 370.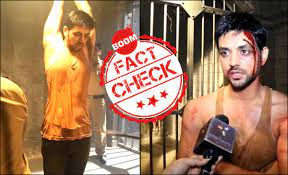 Stills from a Hindi series became viral on Twitter, after a user shared them claiming to show the Indian Army torturing a Kashmiri journalist.
This is the latest addition to the rapid spread of misinformation on the Kashmir valley, since the government's decision to abrogate Article 370 and the imposition of Section 144 in the region.
TV Show Comes Alive
On August 27, 2019, a Twitter user posted four photos, showing a man confined in jail, being beaten up by a few men in police uniform.
The caption with the photo stated: "Lat (sic) night Indian army arrested Kashmiri journalist Fahad bhat from his home. Now they are torturing him. World has time for amazon forests but not kashmiri peoples (sic).why?"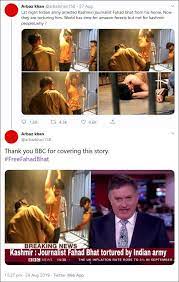 The user, who goes by the name "Arbaz khan", also added another photo along with a still of BBC Report Simon McCoy and a ticker at the bottom which purported to show that BBC was reporting on this matter.
The caption with this photo stated: "Thank you BBC for covering this story."
This comes after several international media such as BBC, Reuters and Al Jazeera came under fire from the Indian administration for conflicting the claims of "peace in the valley" by the Indian government.
"The Fake", "The News" And "The Truth"
A reverse image search of one of the images led us to a YouTube video titled "Ranveer Gets Beaten Up Brutally In The Lock Up".
Going through the comments, BOOM was able to ascertain that the person in the video is Shakti Arora. This led us to perform a Google search with keywords "shakti arora" and "ranveer" - which directed us to a Hindi TV series called "Meri Aashiqui Tumse Hi".
The video shows "behind the scenes" clips of the shooting, where Arora is seen talking to the media. This makes it clear that the scene was staged, and does not portray a real act of police brutality.
Furthermore, BOOM found that the image of BBC journalist Simon McCoy is actually a screen grab from the announcement of the third royal child of the Duke and Duchess of Cambridge. The ticker at the bottom has been doctored to show a false announcement of "torture by Indian Army on a Kashmiri journalist called Fahad Bhat".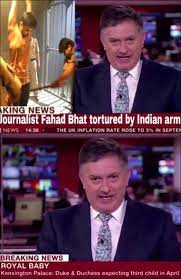 As of August 30, 2019, the valley of Kashmir has been under lock down for over 25 days, following the government's decision to abrogate Article 370. Furthermore, internet and mobile networks are still inaccessible by the people, restricting the people of the region to communicate freely with the rest of India.
During this period, BOOM has encountered massive dissemination of misleading information on Kashmir to create false narratives, while exploiting the lack of communication with Kashmiri locals.
Claim Review :
Images show Kashmiri journalist being tortured by the Indian Army