Silence Speaks: Why Manmohan Was Weak And Modi is Strategic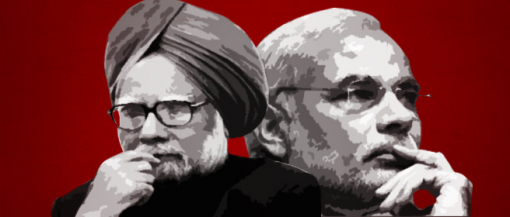 Manmohan Singh's silence on his government's corruption was perceived to be a sign of weakness, while Modi's silence on the Lalit-Sushma row is strategic. What's changed in a year?
A Quora post "What's your favourite Manmohan Singh joke?" offers more such witticism inspired by former Prime Minister Manmohan Singh's "silence" following a spate of corruption allegations against his government, the United Progressive Alliance II (UPA-II).
This one easily became the most popular and circulated:
But it wasn't just joke writers. Headline and ticker writers generated pun after pun on the former PM's name. From the celebratory "Singh is King" in 2009, after the UPA came to power for the second time, headlines by 2010 were poking fun at Singh's silence and weakness: Maun-Mohan, Mum-Mohan, Mute-Mohan and so on.
Op-ed commentators wrote reams on Singh's reluctance to speak and hence display accountability, urging him to break his silence. And it wasn't just the Indian media. There was The Washington Postarticle headlined "India's silent PM becomes a tragic figure". The Independent carried a headline calling him "Sonia Gandhi's poodle". The newspaper, though, changed the headline later.
(Picture courtesy Outlookindia.com.)
And then there was the famous Time magazine cover.
Singh did break his silence on January 3, 2014, at his last press conference as PM, where he stated that history would judge him more kindly than the contemporary media.
That evening Rajdeep Sardesai, then in CNN IBN, kicked off his 9 pm show with a "surprise surprise": "The Prime Minister spoke for as long as 75 minutes."
That prime-time debate had three journalists, Vinod Mehta, Swapan Dasgupta and N Ram discussing whether Singh will be ultimately judged as India's weakest PM. Mehta stated history would judge him as someone who was timid and an expert at passing the buck. Dasgupta stated that Singh would be judged in comparison to who follows him next as PM, but that his image as an "artful dodger" will not leave him easily.
One year into his tenure, current Prime Minister Narendra Modi is battling similar perception issues in the face of the Lalit-Sushma row, and more recently, the Vyapam scam. For a person who is seen as a practised speaker and communicator, not shy of using mediums like YouTube videos, radio shows and Twitter to engage with people, it's ironic that Modi, of all the things, is being questioned for his silence.
But there's a key difference. While Singh's silence was seen as a sign of weakness, Modi's silence is being perceived by some as tactical and a symbol of how "in-control" he is.
Dasgupta who judged Singh for being an artful dodger, in his recent column for Hindustan Times stated Modi's silences are "premeditated and born out of calculations". The column is headlined: "His Silence is Golden: Why Modi Won't Speak On Controversies".
Media reports talking about Modi's silence, too, are in a different vein. Firstpost carried a piece detailing "conspiracy theories" about Modi choosing to remain silent since there's no love lost between Shivaraj Chouhan and him. Other reports have used words like mysterious and even unsettling. But there are those who have called out Modi for not speaking up. Pratap Bhanu Mehta, president of Centre for Policy Research, in an op-ed for The Indian Express says: "In politics, it [silence] is often a sign of evasion, complicity or cowardice. The prime minister's silence, so far, on the burgeoning Lalit Modi scandal is beginning to carry the whiff of all three."
Social commentator Santosh Desai explains why there may be a difference in perception. "Singh's weakness did not come from his silence, his silence came from his weakness." He adds that Singh was already seen to be weak, with little claim to leadership.
"What do you define a leadership by? A) By what a leader can do for you; and b) what he can do to you. In Singh's case, he was perceived as someone who could neither do anything for you nor to you. So his silence became a very graphic sign of his ineffectiveness," he says.
Desai says there's little doubt about what Modi could do to you, but the jury is still out on what he can do for you.
Dilip Cherian, image and management guru, says the comparison tends to be disadvantageous to Singh because he comes from a tradition of not speaking. Modi, on the other hand, comes from a tradition of being garrulous and never short of words. "Modi has crafted the perception of a convenient communicator. Be it Chai Pe Charcha or his social media interactions, he chooses his time and reaches out." In that sense, Singh was seen as naturally reclusive, while Modi has used his silence strategically choosing when to speak and when not to.
Columnist and professor Shiv Vishvanathan agrees and says Modi's silence is calculating, strategic, and waiting for a time to strike.
There is much divided opinion on why Modi has chosen to maintain silence in the midst of one scam after another hitting his government and party. While it may be convenient for the current dispensation to call his silence strategic, there is much to learn politically from how the larger narrative around his predecessor's unwillingness to speak was given different colours. And Modi may find that happening to him already.
This article has been republished from Newslaundry.com.