Sasikala Nailed: Why Tamil Nadu Should Be Greatful To The SC
The conviction of Sasikala means she is out of reckoning in politics for at least ten years. Time for Tamil Nadu to shun autocratic form of governance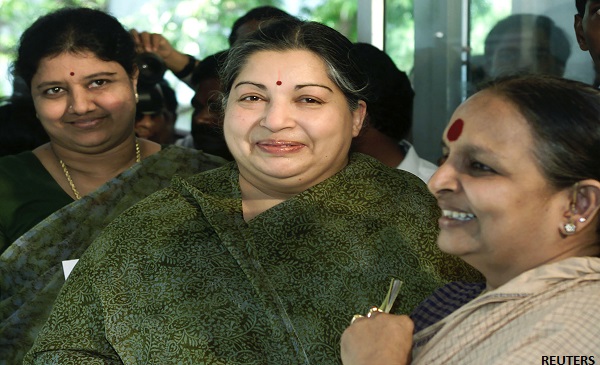 The verdict of the Supreme Court putting VK Sasikala behind bars has certainly reiterated that however powerful the accused may be, the law of the land is strong enough to get you punished.
Nevertheless, it also exposes the same rot in the judicial system, reflected in the earlier acquittal of both Jayalalithaa and Sasikala by the Karnataka High Court last year. Strangely, that judgment committed several miscalculations to perhaps ensure that the volume of the alleged disproportionate wealth did not warrant a jail term.
But for the people of Tamil Nadu, this judgment comes as a shot in the arm. Had it been otherwise it could have opened the gates to a 'free for all' misrule where one family, the infamous 'Manargudi family' would have run the government as one of its own notorious Benami companies.
Not that the AIADMK sans Sasikala is a temple of virtue.
But certainly the state machinery is saved from falling in to the direct control of the dreaded 'Mannargudi Mafia'. Knowingly or unknowingly the Supreme Court also seemed to have become party to the #SaveTamilNadu , #tnsaysnotosasi brigade which is an ever growing one and a clear offshoot of the Jalikkattu protests that rocked the state a month ago.
Perhaps we would never know whether the average Tamilian on the streets of Chennai or Madurai would have come out in protest had Sasikala been anointed the Chief Minister. But the huge protest that was gathering momentum against her were sure telling signs that she was never a choice of the masses.
Talking of choices, though Jayalalithaa failed to declare a successor for her, it is a well documented fact that Sasikala was never an option that Jayalalithaa would have picked to even head the AIADMK, forget becoming the Chief Minister of the state.
Infact this was the one and only condition that was taken in writing from Sasikala before she was allowed re-entry in to Poes Gardens in 2012 by Amma after being unceremoniously shunted out of her residence to reportedly trying to usurp her place in the party.
So then, what makes Sasikala the dreaded one?
Sasikala's story is a very peculiar one. Here is a woman born in a middle class Thevar family in Mannargudi in Thanjavur district with no political lineage whatsoever. Her only credentials was running a video cassette rental service through which she came in close proximity with Jayalalithaa, then a rising star in the AIADMK.
Sasikala's talent behind the camera while covering AIADMK rallies impressed Jaya and soon after M G Ramachandran's death, Sasikala became her friend and confidant.
But inside Poes Gardens, Sasikala was weaving a web around Jaya herself. Every aspect of the residence were under her control, so much so that there was a time when government officials could not meet Jayalalithaa without first going through Chinnamma, as she started to be known then.
But in December 2011, Jayalalithaa removed her from the Poes Gardens after she got credible proof that Sasikala and her husband M Natarajan who had by then become politically and economically powerful were conspiring to replace her if she had got convicted in the same Disproportionate Assets Case that saw Sasikala's downfall on Tuesday.
This time Jayalalithaa also asked the cadre to stay away from Sasikala and 11 of her family members who have been accused in a number of economic and criminal cases.
Six months down the lane, Sasikala was back in Poes Gardens. This time she was alone without any of her family members and on the strength of a letter of apology written to Jaya which promised that for ever she would stay away from politics.
Jayalalithaa might have had her own reasons or rather she was prey to her own weakness while taking Sasikala back.
But Sasikala was perhaps not the one to keep her promises. She had infact grown so powerful inside the party that most of the MLAs and district secretaries were either somehow related to her or were selected by the Mannargudi family. It was clearly foolish to even think that she would shun politics once she had tasted power.
While she was consolidating her position in the party, her family members from brothers, to nephews to son-in-laws were building their business empire and running in to the wrong side of law.
Sasikala's husband Natrajan was arrested in 2012 for land grabbing and criminal intimidation in Thanjavur. Her brother Divakaran was arrested twice for various criminal offences. Her nephew Dinakran who was a former Member of Parliament has FERA and money laundering cases against him. Dinakaran's brother Divakaran had been arrested in a cheating case in 2013.
Last but not the least is Ravanan, a close relative and aide of Sasikala who was arrested in Coimbatore on charges of abduction for ransom and extortion.
This is the recorded list of persons in Sasikala's family and coterie who have criminal cases pending against them and who still hope to reap the dividends if Chinnamma comes to power in Tamil Nadu. As of now three FERA cases still remain, one even against Sasikala at the Madras High court.
There are over 30 benami companies run by the family ranging from architecture to mining to alcohol production to transport services.
Amidst all this emerged the more damaging theory that Sasikala was slow poisoning Jayalalithaa and was even denying her proper medicines for her diabetes. Though this was first reported in a Tehelka expose way back in 2012, it was only after OPS revolted, that he and his faction has revisited the issue.
The acting Chief Minister's declaration of a judicial enquiry in to the causes and events that led to Jayalalithaa's death also perhaps gives testimony to the fact that Sasikala's hands are not fully clean and that perhaps more revelations are just round the corner. That explains the Sasikala faction's desperate move to appoint their own man as chief minister before she lands behind bars for four years.
The next few days will be crucial for Tamil Nadu as the Governor makes his final decision.
Sasikala's verdict and denial of the Chief Minister's chair by the apex court should be seen as an opportunity for Tamil Nadu to get out of the decades old 'autocratic' and 'one person-centric' rule to a much more free and democratic governance that the people very well deserve.