#Banking
Rs 12 Lakh Cr Via Demonetisation: Did The Modi Government Get It Horribly Wrong?
Enthusiastic response by depositors to put banned notes back in the banking system seem to be suggesting that the government used the nuclear option of demonetisation to tackle black money in haste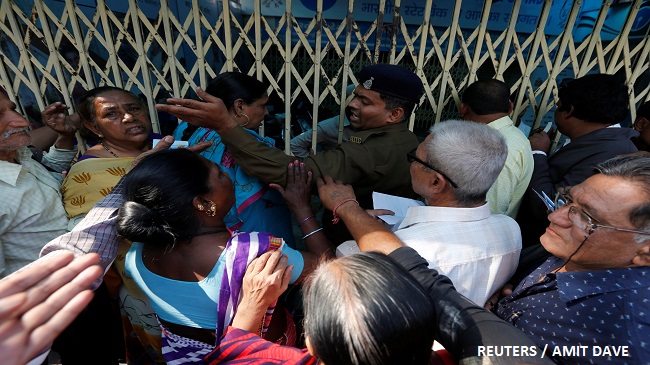 A policeman asks people to form a queue as they wait to withdraw cash and deposit their old high denomination banknotes in Ahmedabad, India, December 2, 2016.
The demonetisation story is getting interesting day by day. On 8th November, when Prime Minister Narendra Modi shocked the country with his address announcing ban of 500 and 1000 rupee notes, it was hailed as a 'surgical strike' on black money hoarders. This was due to calculation by those in support of the move that a large number of the nearly Rs 15 lakh crore in circulation will be unaccounted and hence shall not return to the banking system- the estimates ranging from Rs 4-5 lakh crore.
But the worst fears of those not in support of demonetisation seem to be coming true. RBI Deputy Governor R Gandhi revealed that the total deposits back in the system now accounts for Rs 11.5 lakh crore. With more than 20 days to go for the December 30 deadline, it is expected that this number will rise further and not more than Rs 1.5 - 2 lakh crore will remain unaccounted.
So have the government, RBI and its set of economists they consulted got it completely wrong?
Mahesh Vyas of the Centre of Monitoring Indian Economy (CMIE) argues in this article that there is also a transaction cost of demonetisation that has to be taken into account while calculating any benefit. Vyas estimates this transaction cost to be around Rs 1.28 lakh crore, which means that even the much reduced unaccounted cash will not yield any benefit to the economy when the transaction cost is added.
Transaction Cost Of Demonetisation
| | | |
| --- | --- | --- |
| Entities Bearing Cost | Cost (Rupees in billion) | Percentage of Cost Borne |
| Households | 150 | 12 |
| Banks | 351 | 27 |
| Government & RBI | 168 | 13 |
| Enterprise | 615 | 48 |
| | 1,284 ie 1.28 lakh crore | |
Source : Centre for Monitoring Indian Economy Pvt. Ltd.
Cost calculated based on forgone wages, printing of currencies and its transportations and loss of business during 50 day period
Supporters of demonetisation also speculated that any unaccounted cash means reduced liability for RBI and hence those gains that sit on the books of RBI can be passed back to the government in form of dividend. On being asked to clarify, RBI Governor Urjit Patel made it clear on Wednesday that no such proposal is under consideration and he sees no impact on the RBI balance sheet due to the demonetisation process. This means no cash bonanza for the government over and above what they budgeted for that could have gone into rewarding the poor who hold Jan Dhan accounts and investment in infrastructure projects that would have given a boost to the economy.
Between November 10 to November 27, by way of cash exchange and deposits, the banks received Rs 8.44 lakh cr. This rose to Rs 11.55 lakh cr over the next 9 days – which means Rs 3.11 lakh cr came into the system during this period, an average of over Rs 34,500 cr each day.
Prime Minister Narendra Modi sought to deflect attention from this enthusiastic response by suggesting that over 19 crore Jan Dhan accounts held by the poor were misused by the black money hoarders. But the calculations do not add up there either. Between November 10 when 19.88 crore bank accounts held Rs 45,636 crore, the amount rose to Rs 74,321 crore. This shows a jump of Rs 28, 684 cr in deposits that can be attributed to demonetisation. Break it down further and it shows that the average deposit per active account holder will amount to roughly Rs 1442.
So while it cannot be denied that there will be accounts which could have been misused, it will be difficult to nail them down as those responsible for laundering them would have figured out how to reply to possible Income tax notices in future.
PM Modi went a step further suggesting to the poor that they should not return the money deposited in their accounts. It may not have occurred to the PM that the act in itself of allowing your account to be misused is illegal and should not be encouraged or else he is hoping that the poor will defend themselves against thugs who will use violent strong arm tactics to get their money back. Several of those account holders explain here why the PM's suggestion (illegal under law) is not practical and cannot be followed.
As expected, the RBI said that they had considered all aspects of the 'transient impact' of demonetisation and it was not a decision taken in haste. But their own policy review statement has lowered the FY17 GDP growth forecast by 50 basis points to 7.1 per cent from 7.6 per cent. Economists outside RBI have estimated a bigger hit considering the impact non-availability of cash is having on businesses and consumption across the country. Former Prime Minister Manmohan Singh (who is rarely known to speak out of turn in public) estimates the hit on GDP to be at least 2 per cent and he states that it is a conservative view and can be worse.
RBI Governor Urjit Patel while facing some tough questions from reporters made a valiant effort to deflect the attention from the huge disruption over the last one month and the lack of clarity on the benefits of using a nuclear option such as demonetization to battle black money. He said that in the long run demonetization will result in "more transparency, better tax compliance, public finances can improve."
Probably more 'transparency' at the decision and planning stage would have helped the government and RBI better before pushing the entire country into such an unprecedented crisis.
Do you always want to share the authentic news with your friends?
Subscribed Successfully...
Enter Valid Email Id