Red Sanders Case: Aftermath Of The Shooting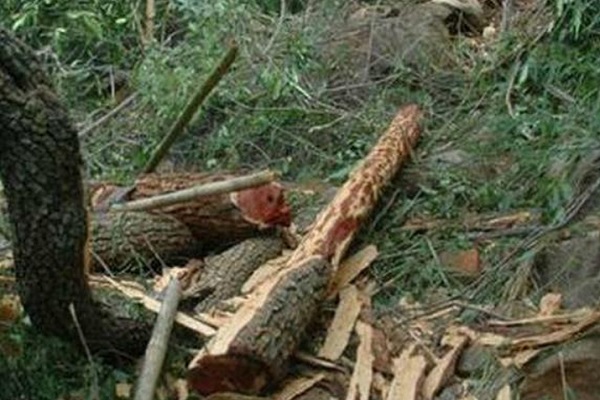 The killing of 20 woodcutters for allegedly smuggling red sandalwood has caused a nation-wide uproar. The National Human Right Commission has taken cognizance and will investigate if there was an "excessive use of lethal force."
The Red Sanders Anti-Smuggling Task Force (RSASTF), a branch of the Andhra Pradesh police was set up by the state government to tackle smuggling and felling of red sandalwood trees.
During an encounter in Seshachalam hills in Andhra Pradesh's Chittoor district, 20 woodcutters were killed, the highest toll in a single encounter in the history of red sandalwood smuggling.
According to the RSASTF, its members found more than 100 woodcutters engaged in the task of felling trees in the area and when they asked the woodcutters to surrender, the men allegedly rained stones and hurled sickles at them.
This prompted the Task Force, which according to a government order is equipped with "the necessary arms and ammunition and other equipment for commando operations shall be provided by the Police Department", to "open fire in self-defence" and kill the men.
The encounter has raised inter-state tensions as the 20 killed are migrant workers from Tamil Nadu. Eight of the slain woodcutters were believed to be from Namiyambattu village in Tiruvannamalai district, eight from Sankarapuram in Villupuram district and four from Vellore district of Tamil Nadu.
The killings have caused a national as well as international uproar as political leaders and social activists have condemned the police action as heavy handed.
Chief Minister N. Chandrababu Naidu held a high-level review meeting with Ministers and top officials after news came in of the encounter and also spoke over the phone with Union Home Minister Rajnath Singh.
The National Human Rights Commission has taken suo moto cognizance of the incident and asked for reports from the Andhra Pradesh chief secretary and police chief .
The encounter was reported in the international media as it made headlines on BBC and Aljazeera.
Human rights advocacy group Amnesty International has condemned the killing and called for an independent probe into the incident.