Rats Destroy Notes In SBI ATM In Assam, HDFC Bank Says 'Not Our ATM'
An SBI official confirms to BOOM that it was their ATM but being a brown-label machine, the liability will be on the third-party company managing it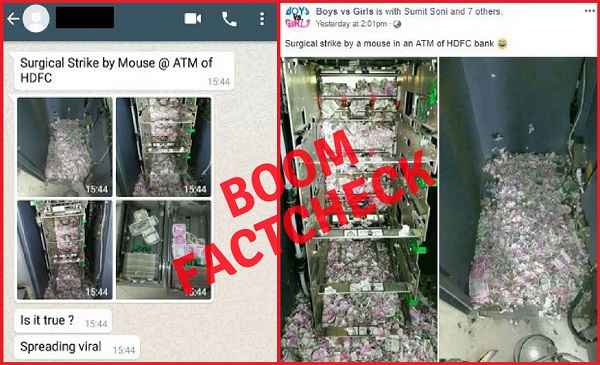 A few images of shredded currency notes from inside an ATM machine have been going viral on WhatsApp and other social media platforms claiming that this is the work of rats.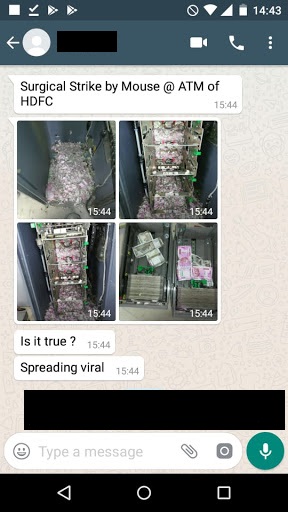 The posts on social media also claimed that this happened inside an HDFC ATM, calling it as a surgical strike.
As the bank fielded several calls from customers and the media, HDFC Bank through its Twitter handle clarified that this is not their ATM. It is not clear how the bank's name got associated with the images as no branding suggesting the same could be seen in the images.
#FakeNews Pls note this is NOT an HDFC Bank ATM. The below photograph has been doing rounds on social media for sometime. Like we have said earlier, this isn't an HDFC Bank ATM. This seems like a prank but unfortunately showing our bank in bad light. Please do not believe in it. pic.twitter.com/eoLVl3S5HW

— HDFC Bank (@HDFCBank_Cares) June 19, 2018
We found an article by the Indian Express stating that the incident happened in Assam's Tinsukia district where mice allegedly tore to shreds notes worth Rs 12 Lakhs in an ATM belonging to the State Bank Of India (SBI). The ATM is run by a Guwahati-based financial company FIS: Global Business Solutions.
Nandan Pratim Sharma Bordoloi, a journalist of Guwahati based news channel News Live also put out a video which confirmed the location of the ATM.
Really Size doesn't matter!! What a rat this is! Rat-bitten bank notes worth Rs 12 lakh 38 thousand. Torn notes and dead rat found inside ATM in Tinsukia Assam. Rat found dead before little one could bite remaining Rs 17 lakh 10 thousand. pic.twitter.com/3Omns7gAZH

— Nandan Pratim Sharma Bordoloi 🇮🇳 (@NANDANPRATIM) June 18, 2018
Speaking to BOOM, an SBI official said, "Yes, the incident happened in Assam. But the ATM is a brown-label ATM where SBI has just given the branding for the ATM and does not manage the cash. The loss that has happened due to the incident is to be borne by the third party that is the FIS."
Brown-label ATM machines are those owned and branded by banks, but could be operated and maintained by third party operators.
An FIR was also lodged in this regard with Tinsukia Police to probe the incident.
While this is probably the first time reports of mice chewing currencies in an ATM in India have come out in the public domain, it is not an uncommon incident. Earlier this year in January, a pair of mice snuck into an ATM in the Kazakh capital Astana, hiding from a snow storm. Bank workers were surprised when they discovered the tiny intruders and the ruined notes they had munched on during their stay, reported Russian news network Russia Today.