Rajeev Chandrasekhar Deletes Misleading Video After Twitter Users Call Out Fake
Twitter users fact check Rajya Sabha MP Rajeev Chandrasekhar's tweet on Ashok Gehlot.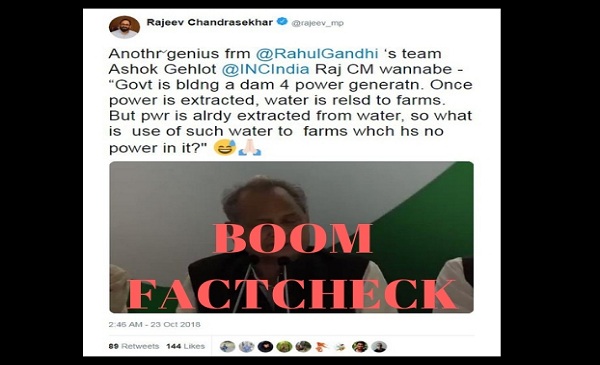 Bharatiya Janata Party (BJP) MP Rajeev Chandrasekhar deleted a misleading video he tweeted of senior Congress leader Ashok Gehlot's comments on constructing a dam for irrigation and power generation, after being called out by Twitter users on Tuesday. Taking a dig at Gehlot, Chandrasekhar tweeted, "Anothr genius frm
@
RahulGandhi
's team Ashok Gehlot
@
INCIndia
Raj CM wannabe - "Govt is bldng a dam 4 power generatn. Once power is extracted, water is relsd to farms. But pwr is alrdy extracted from water, so what is use of such water to farms whch hs no power in it?" However, a longer clip of the video shows that the former chief minister of Rajasthan was speaking about how the BJP in its earlier avatar as the Jan Sangh opposed Jawaharlal Nehru on building dams. The complete statement made by Gehlot translates to, "I remember when during my childhood, when they (BJP) used to be the Jan Sangh, the Bhakra dam was built. The Jan Sangh party members used to ask if Nehru had lost his mind, he's building a dam for electricity generation. If the water is being used for electricity generation, it will lose all its power in that process, and will render it useless for agricultural purposes." Rajeev Chandrasekhar deleted his tweet after a barrage of replies on his post calling the video fake and misleading. Click
here
to view an archived version of the tweet. The cropped video was viral in June this year and trended on Twitter as
#ScientistGehlot.
Gehlot, general secretary of the AICC, had also tweeted a longer clip of the video at the time.
ये इनकी असलियत है और इनकी फितरत में है कि मुझ जैसे साधारण इंसान को भी #ScientistGehlot का दर्जा दे देते हैं। This is the original, which was edited.. pic.twitter.com/KGygG7RPMn

— Ashok Gehlot (@ashokgehlot51) June 5, 2018