Rahul Gandhi's Fuzzy History Of Coca-Cola's Origin & Founder
No, Coca-Cola's founder John Pemberton was neither a lemonade seller nor was his invention a product of America's entrepreneurial environment of the late 1800s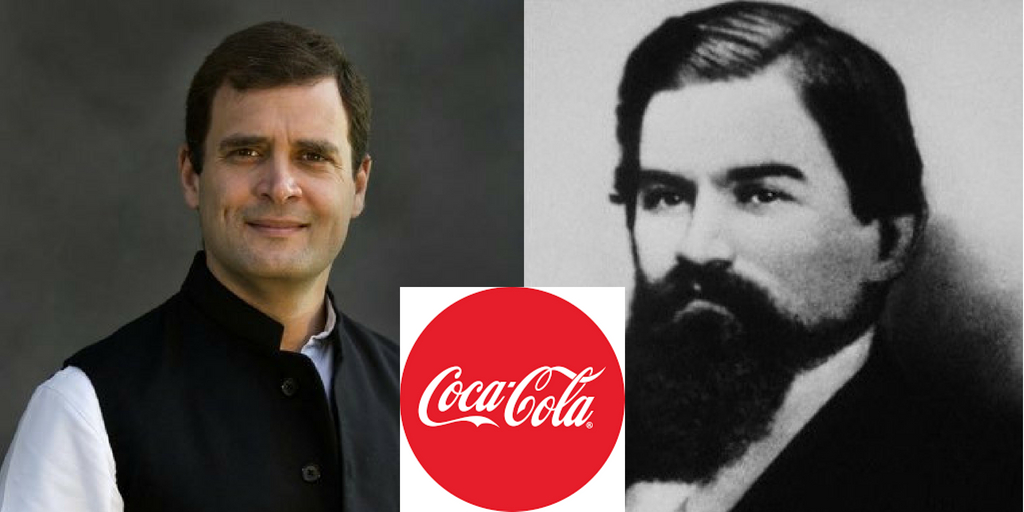 Rahul Gandhi & John Pemberton, founder, Coca-Cola
In a fresh attack on Prime Minister Narendra Modi, Congress President Rahul Gandhi said that people who have skills are not rewarded in India. Gandhi was addressing party workers belonging to the Other Backward Class or the OBC community during a public meeting at Delhi's Talkatora Stadium.
To establish this point, Gandhi had this to say -
"Aap mujhe batao Coca-Cola ko kisne shuru kiya? Kaun tha ye, koi jaanta hai? Main aapko batata hoon, kaun tha. Coca-Cola company ko shuru karne wala ek shikanji bechne wala vyakti tha. Wo America mein shikanji bechta tha, paani mein cheeni milata tha. Uske experience ka aadar hua, hunar ka aadar hua, paisa mila, coca-cola company bani,"
#WATCH Congress President Rahul Gandhi talks about origins of the Coca-Cola & McDonald's company, says, "Coca-Cola company ko shuru karne wala ek shikanji bechne wala vyakti tha..." #Delhi pic.twitter.com/MATnaR734J

— ANI (@ANI) June 11, 2018
Shikanji is a close cousin of the humble neembu paani and is a staple drink during the summers in North India. Shikanji can be made at home using lemon or lime juice, ginger juice, salt, jeera powder, ice and water.
But did the founder of Coca-Cola start as a lemonade salesman? History does not support that claim going by details of how the beverage was invented when the company was founded in the 1880s with the product going through several changes that initially had alcohol and even small doses of cocaine in the original formulation.
The founder of Coca-Cola John Pemberton was a pharmacist who had emerged from the Civil War with a morphine addiction. The Coca-Cola history documentary available on Youtube calls him a failed pharmacist who tried his hand at making various products since 1870 but never managed to make a success of any of them.
According to Time magazine, Pemberton hoping to cure his ailment created Pemberton's French Wine Coca, a brew that included kola nut and coca wine. But in 1886, as Atlanta passed prohibition legislation, he reformulated the drink without alcohol, renamed it Coca-Cola, and began selling it in Georgia pharmacies like Jacobs Pharmacy, who at that point sold soda drinks as well.
While the company's own historians have sanitised the original formulation's experimentation with alcohol and cocaine, several reports over the century have documented that Pemberton replaced the wine in the formula with sugar syrup but kept coca. His new product debuted in 1886: "Coca-Cola: The temperance drink." keeping it in line with the changing regulations in Atlanta that frowned on alcohol consumption.
Coca-Cola was also marketed as a nerve tonic that relieves exhaustion when it was first launched in 1886 according to advertisements published that year.
So while Pemberton was making different formulations and in search of his money spinner, it was his accountant Frank M. Robinson, a brilliant advertising brain, who suggested the name and penned the now famous trademark "Coca-Cola" in his unique script.
Unlike Rahul Gandhi who wanted his followers to believe that the lemonade seller thrived when he formed the company and made money, in the first year of operation Coca-Cola sold only 25 gallons of Coca-Cola syrup and made $50 while incurring expenses of $76. Subsequently, Pemberton's health confined him to the bed due to severe stomach ailments and the company made serious losses. John Pemberton died a disappointed man at the age of 57 in August 1888.
This account is also confirmed in an article published in 2012 in the history section of Coca-Cola's website.
"Dr. Pemberton never realized the potential of the beverage he created. He gradually sold portions of his business to various partners and, just prior to his death in 1888, sold his remaining interest in Coca-Cola to Asa G. Candler. An Atlantan with great business acumen, Mr. Candler proceeded to buy additional rights and acquire complete control."
With Pemberton's untimely death within a short time after he created the product, it was left to a smart businessman Asa Candler, who began to acquire The Coca‐Cola Company in 1888 and incorporated The Coca‐Cola Company as a Georgia Corporation.
While modern America would not have had a success story called Coca-Cola without Pemberton, Phillip Mooney, the company's own Archivist has been dismissive of his contribution to the 125-year old company's success.
"Pemberton was just one of those guys who was always trying to get the golden ring. And he just didn't make it. He had no history of success. There is a good argument that suggests that had Pemberton remained the person behind the product, the product would have never achieved the successes it has achieved," said Mooney in an interview in the Coca-Cola's History Documentary.
Rahul Gandhi may have used the term Shikanji to make his point of a small entrepreneur making it big in America. But the example of Coca-Cola's humble origins appears misplaced as John Pemberton never managed to see his invention become a global behemoth decades later.
The events of the mid-1880s also show that far from America's pro-entrepreneur policies, it was the 'Temperance movement' in Atlanta that encouraged Pemberton to reformulate his original product to make it a successful soda drink as it is known today, irrespective of what the company's own historians may now want the world to believe.
If you value our work, we have an ask:
Our journalists work with TruthSeekers like you to publish fact-checks, explainers, ground reports and media literacy content. Much of this work involves using investigative methods and forensic tools. Our work is resource-intensive, and we rely on our readers to fund our work. Support us so we can continue our work of decluttering the information landscape.
BECOME A MEMBER