'Rahul Gandhi Not A Hindu': Did Mahatma Gandhi's Great Grandson Say This?
A letter in the name of Mahatma Gandhi's great grandson is doing rounds on social media which says that Rahul Gandhi is not Hindu. What is the truth?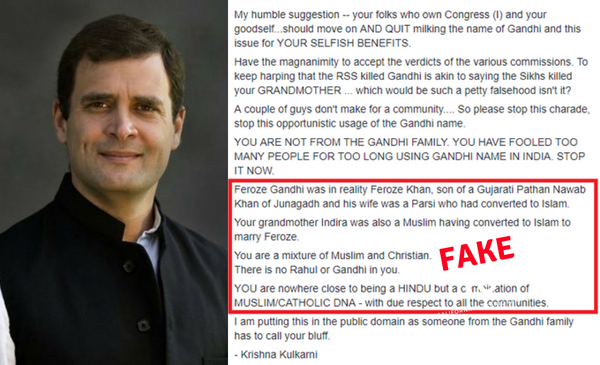 An open letter to Rahul Gandhi by Shrikrishna Kulkarni, who claims to be the great grandson of Mahatma Gandhi is being widely shared on social media. In the letter, Kulkarni asks Rahul Gandhi to stop implicating RSS in Mahatma Gandhi's assassination and also criticises him for using the surname 'Gandhi'. The letter also goes on to claim that Rahul Gandhi is not a Hindu but a 'mixture of Muslim and Christian'.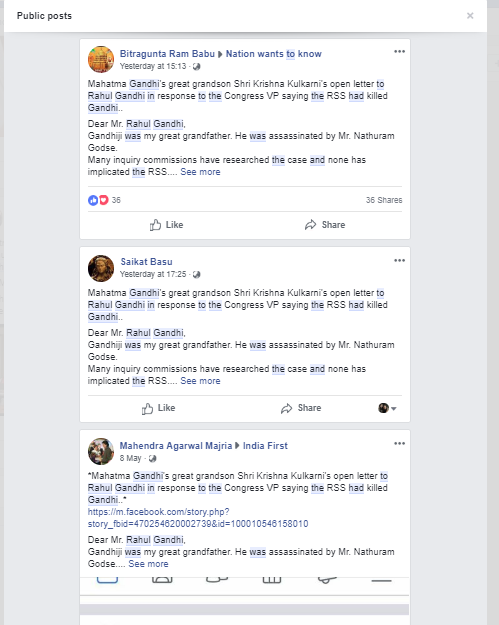 However, BOOM found that the letter that is getting circulated is a manipulated version of the original letter written by Kulkarni on March 8, 2014. It is being shared with 4 additional lines that were not in the original letter.
Feroze Gandhi was in reality Feroze Khan, son of a Gujarati Pathan Nawab Khan of Junagadh and his wife was a Parsi who had converted to Islam.

Your grandmother Indira was also a Muslim having converted to Islam to marry Feroze.

You are a mixture of Muslim and Christian. There is no Rahul or Gandhi in you.

YOU are nowhere close to being a HINDU but a combination of MUSLIM/CATHOLIC DNA - with due respect to all the communities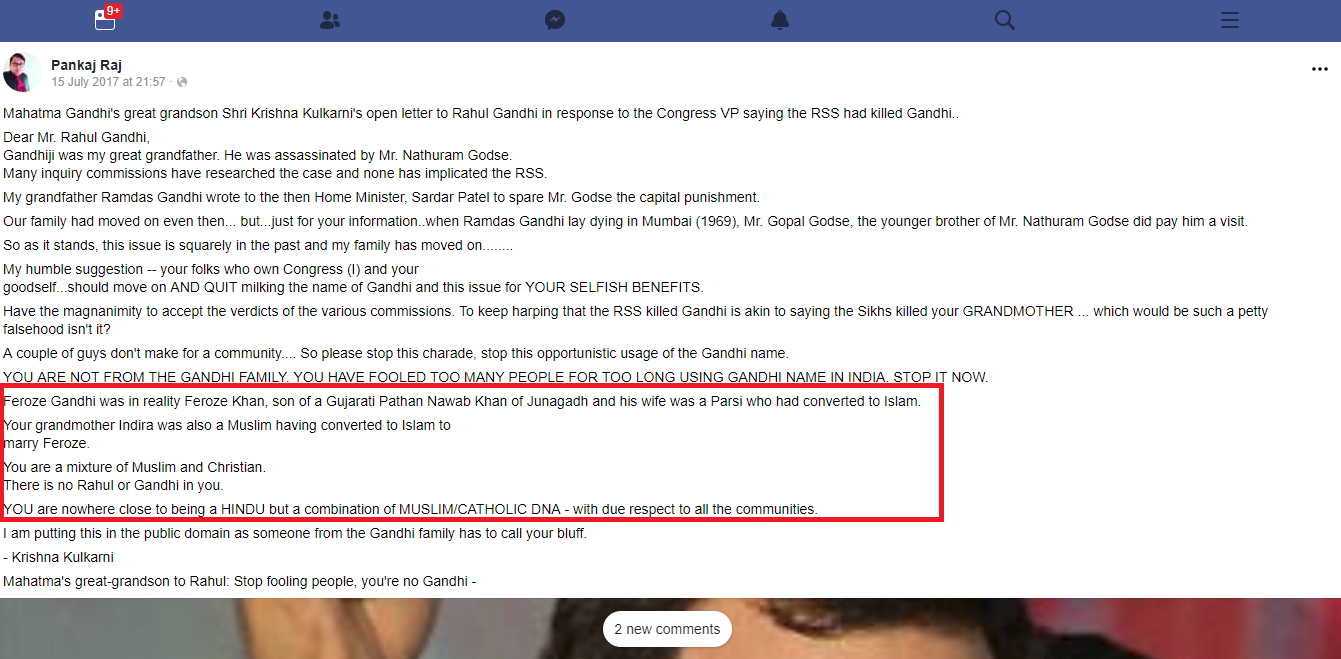 Click here for post link.
BOOM reached out to Shrikrishna Kulkarni who forwarded us a clarification that he posted on Facebook on May 8, 2016. In the post he clearly stated that he did not write these lines and for him people from all religions are humans.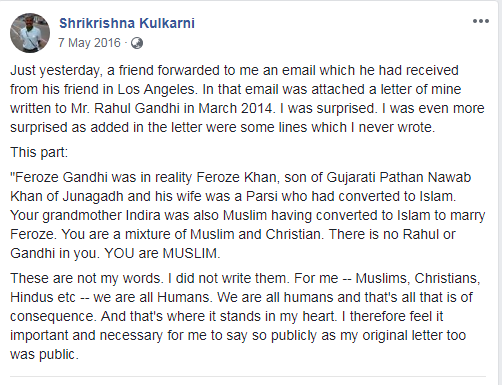 Click here for the post link.
This manipulated letter seems to have originated sometime in 2016 and have once again gained momentum in June 2018.
The original letter was posted by Kulkarni on Facebook in 2014 which gained much attention and responses from the Congress party. Kulkarni was reacting to then Congress Vice President Rahul Gandhi's statement in 2014, "RSS people killed Gandhiji and today their people (BJP) talk of him...They opposed Sardar Patel and Gandhiji'.
This statement had got Rahul Gandhi into legal trouble as a defamation case was filed against him by RSS activist Rajesh Kunte. The latest hearing of this case was held on June 12, 2018 which explains why the letter is back on social media.
Though Kulkarni had criticized Rahul Gandhi and his family for 'milking the name Gandhi' and stated that he did not belong to the Gandhi family, his letter did not mention anything about Rahul Gandhi being Muslim or Christian. Below is the original letter.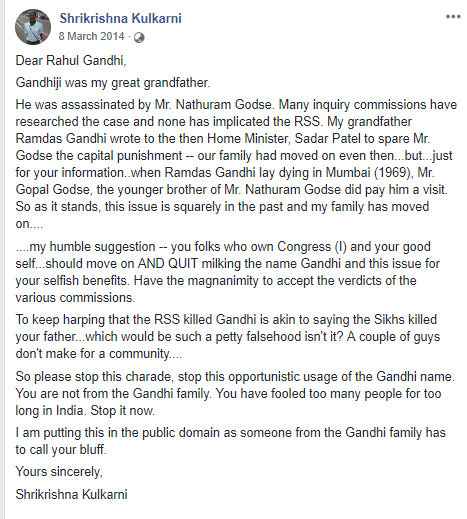 Click here for the post link.
Where did the surname 'Gandhi' originate from? Was Feroze Gandhi a Muslim?
This is not the first time that Feroze Gandhi's last name or his religion has been questioned. There are 'theories' about how Feroze got his surname 'Gandhi'. One claims that his Parsi parents converted to Islam while another claims that his parents were Muslim. And, that he adopted the surname 'Gandhi' at the suggestion of Mahatma Gandhi as his Muslim roots stood as an obstacle to his marriage to Jawaharlal Nehru's daughter Indira. The rumours claim that he changed his name in London and married Indira in a Muslim ceremony.
However, a Swedish journalist Bertil Falk in his book, 'Feroze: The Forgotten Gandhi' says that this is a 'bizarre rumour'. According to Falk's biographical account, Feroze's father was Jehangir Faredoon Gandhi, a marine engineer who belonged to the Parsi community from Bharuch, Gujarat and his mother was Rattimai Commissariat from Surat. However, he was adopted by his aunt Shirin Commissariat and was brought up in Allahabad.
Falk further contests the rumour by citing news paper reports dating back to1933, that was before Feroze had gone to London in 1935. He cites a headline in Leader, an Allahabad based newspaper which existed between 1909 to 1967, that said 'Mr Feroze Gandhi arrested' and was also referred to as 'Mr Feroze Gandhi, a well-know local Congress worker'.
However, as seen in the viral messages floating on social media, the rumours have taken its own shape over time.
https://www.sharethefacts.co/share/24dffc7b-9f20-479f-bcf2-c6752d5bf05e
Claim Review :
Mahatma Gandhi's Great Grandson Says Rahul Gandhi Is A Mixture Of Muslim & Christian
Claimed By :
Facebook Posts