Punjab, Haryana Lead The Charge On Better Sex Ratio, But North East Disappoints
India's sex ratio at birth has improved from 914 to 919 over 10 years.Punjab & Haryana have led the change, but majority of North East show a steep decline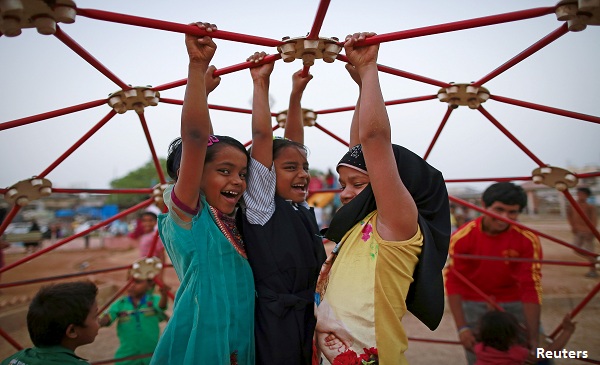 For the first time, India has seen a reversing trend from the decline of its sex ratio over decades as revealed by National Family and Health Survey 2015-16 (NFHS -4) released on February 2017. NFHS is conducted every ten years by the International Institute of Population Sciences, Mumbai as designated by the Ministry of Health and Family Welfare, Government of India.
Though the sex ratio of the total population has declined from 1000 to 991 between 2005 -06 and 2015-16, the sex ratio at birth for children between 0-6 age group has increased from 914 to 919 over ten years.
The sex ratio at birth (SRB) is 'the number of live female births per 1000 male live births'. It is a better indicator of the recent trends of gender preferences in the society and shows the 'relative male or female deficits at birth'.
However, as per the World Health Organization, there tends to be a bias against females in the natural sex ratio at birth. On an average, 105 males are born for every 100 females which translate to 950 females to 1000 males. Anything below the natural level of 950 is considered a skewed sex ratio at birth.
Though India's sex ratio at birth (SRB) is below 950, it is commendable that the country has reversed the decreasing trend seen in the past few decades. However, the urban ratio (899) lags behind the rural ratio (927) by 30% which indicates the existence of a higher preference for male child in urban India than in rural India.
By looking at state data, only 9 states have sex ratio at birth (SRB) above the natural SRB (950). These include states like Kerala ( 1047), Meghalaya (1009), Chattisgarh (977) and so on. (Data of Uttar Pradesh is not released yet)
Punjab which had the lowest SRB (734) in the previous NHFS 2005-06, has shown a drastic improvement with an 18% increase to 860. Though still below the natural level (950), policy efforts aimed at reversing the trend of male preference in the state seemed to have worked. Even Haryana has shown a 10% increase in SRB from 762 in 2005-06 to 836 in 2015-16.
Positive Trends

Source: National Family Health Survey 2015 -16
Note : SRB refers to Sex Ratio at Birth
Worrying Trends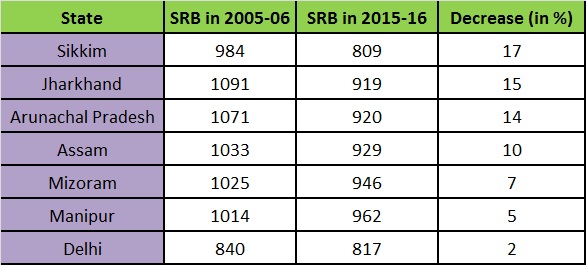 Source: National Family Health Survey 2015 -16
It is surprising that North Eastern States which had the highest sex ratios at birth in the country have shown a drastic decline. Five of the North Eastern States except for Tripura and Meghalaya have shown a decrease in their sex ratios. Sikkim, Assam and Arunachal Pradesh have fallen way below the natural sex ratio at birth (950). The data also show that Sikkim to be the state with the lowest sex ratio (809), a decline of 17%. This steep decline needs to be further investigated. The National Capital, Delhi (817), also has one of the worst sex ratios in the country.