"Public Welfare, To Global Welfare": PM Modi's UNGA Address At New York
Modi cited government data to demonstrate the "success points" of the various welfare schemes and programmes run by his administration.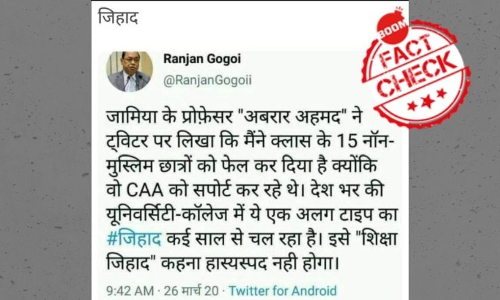 On September 27, 2019, Prime Minister Modi highlighted India's strive for global welfare during his address at the United Nations General Assembly at New York.
In his 18-minute long address, Modi focused on India's efforts in providing healthcare, welfare, sanitation, digital identification and renewable energy to its citizens, while stressing on the increasing need for a global outlook.
BOOM fact-checked six claims made by Modi in his speech at the UN GA. Read below
1. Swachh Bharat Abhiyan
Claim: "In 5 years, 11 crore (110 million) toilets were built as a part of the world's biggest cleanliness programme (Swachh Bharat Abhiyan)"
Status: True
Fact: At the end of financial year 2019 (March 31, 2019), rural toilet coverage stood at 98.68%, with 9.1 crore toilets built. Till date, 10.05 crore toilets have been built, showing a coverage of 100%. We should expect an updated figure on October 2.
Swacch Bharat's data can be found here.

2. Ayushman Bharat
Claim: "Every year 50 crore get benefits of health insurance to the tune of Rs. 5 lakh"
Status: Partially True
Fact: BOOM could not ascertain the exact number of beneficiaries of the Ayushman Bharat - Pradhan Mantri Jan Arogya Yojana (Modi's flagship health coverage scheme) using government or third party data. AB-PMJAY was launched on September 23, 2018.
According to a press release by the National Health Authority dated September 14, 2019, "Ayushman Bharat – Pradhan Mantri Jan Arogya Yojana (AB‐PMJAY) is the flagship scheme of Government of India that provides a cover of up to Rs. 5 lakhs per family per year, for secondary and tertiary care hospitalisation to over 10.74 crore vulnerable entitled families (approximately 50 crore beneficiaries)."
While according to the press release 50 crore people are eligible under this scheme, the first year of Ayushman Bharat has seen only around 4.5 million people availing of it.
3. Jan Dhan Yojana
Claim: "37 crore new bank accounts were added in the past 5 years under the world's biggest financial inclusion programme run in India."
Status: True
Fact: As of September 18, 2019, the total number of beneficiaries of the Pradhan Mantri Jan Dhan Yojana (Modi's financial inclusion programme) stands at 37.05 crore.
4. CO2 Emissions
Claim: "India has had traditionally low levels of carbon emission per capita."
Status: True
Fact: Latest available data from the International Energy Agency shows India's per capita CO2 emissions standing at 1.61 tonnes as of 2017, compared to Saudi Arabia's 16.16 tonnes, 14.61 of the US and 6.68 of China.
The data is available here.
5. Aadhaar
Claim: "India has saved around $20 billion by digitising the public database."
Status: Unknown
Fact: BOOM could not independently ascertain this claim using government data.
In October, 2017, Infosys co-founder Nandan Nilekani stated that Aadhaar has saved India "$9 billion in fraud and wastage for the government". In July, 2018, the chairman of Unique Identification Authority of India (UIDAI) stated that Aadhar has saved the country Rs. 90 crore ($12.7 billion).
6. UN Peace Keeping
Claim: "India has lost the highest number of troops in UNPKF (UN Peace Keeping Forces)."
Status: True
Fact: India's has lost a total of 166 troops out of total UNPKF fatalities of 3,877 since 1948. These figures are available here.