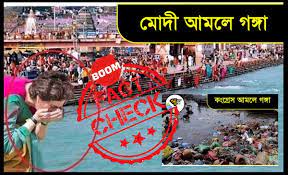 A set of two old and unrelated photographs purported to compare the condition of river Ganga during the Congress and BJP rule in the country respectively, have gone viral on Facebook.
Several pages have shared the collage of the two images - one of which has been edited with a morphed photograph of Priyanka Gandhi Vadra drinking water from a clean river. 'Ganga during Modi's rule', is written on the photograph in Bangla.
The first image (see below) represents a polluted Ganges, strewn with waste floating on the water and 'Ganga during the Congress rule' is written on it in Bangla.
At the time of writing this article, the post had been shared more than 5000 times.
The posts can be viewed here and here. And the archived versions here and here.
Fact Check
BOOM ran a reverse image search on both the images used in the collage and found that both had been shot before the BJP government came to power in May 2014.
BOOM cropped the image which portrays a cleaner Ganga into two parts and ran two separate searches.
While doing a reverse image search on the clean Ganga image, the time period was reset to 'before 2014' when Narendra Modi came to power.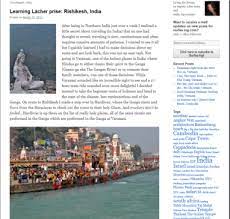 We were directed to a website of Jodi Surfas, a Colorado-based travel writer, who had documented her Rishikesh visit on March, 2012. A larger and original size of the same photograph is there in Surfas' travel writing about Rishikesh.
BOOM found that the image had later been used as representative for several news articles.
Meanwhile, Priyanka Gandhi Vadra's poorly photoshopped image that had been placed on the picture, is originally from 2019, when the Congress leader visited Sangam on March 18, this year.
Image Showing Ganga During Congress Rule
BOOM ran a reverse image search and found that the image is originally from 2009. It has been uploaded in international stock photo website, Getty, by photographer Prakash Singh.