Pragya Thakur Was Not 4-Years-Old At The Time Of Babri Masjid Demolition
Viral posts falsely claim Thakur was born in 1988 and was just four years old when the Babri Mosque was demolished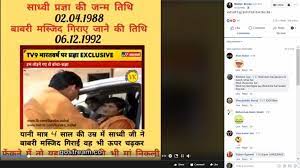 A video of Sadhvi Pragya Thakur speaking to a reporter about building the Ram temple in Ayodhya and her role in the demolition of the Babri mosque in 1992 at the disputed site, is being shared on Facebook with a false claim that Thakur was only four-years old at the time.
The caption with the video suggests Thakur is lying about her involvement in the destruction of the Babri Masjid on December 6, 1992.
The post claims Pragya Thakur was born on April 2, 1988 and therefore would have been only 4 when the mosque was brought down.
The text accompanying the video has misspelt her name and translates to, 'In lying, Sadhvi 'Prachi' leaves even PM Modi behind'.
(Hindi: साध्वी प्राची ने झूट बोलने में मोदी जी को किया पीछे ।)
(Hindi: साध्वी प्रज्ञा की जन्मतिथि: 02/04/1988
बाबरी मस्जिद गिराए जाने की तिथि: 06/12/1992
यानि मात्र चार साल की उम्र ने साध्वी जी ने बाबरी मस्जिद गिरायी, वो भी ऊपर चढ़ कर
फेंकने में तो यह मोदीजी की भी माँ निकली )
In the 30-second-long video, the female monk tells the reporter: "No, no, Ram mandir will be constructed. We will construct it. A big one. We will tell (you) when will it be built. And we will construct it, after all we razed it (Babri)."
When the reporter asks her whether she was involved in the demolition of Babri Masjid and whether she was proud of it, she says, "Of course, I went. I stood atop the structure and brought it down, and I am proud of it."
The video can be viewed here and its archived version can be accessed here.
The post, now viral on Facebook, has been shared prominently from a page Master Stroke.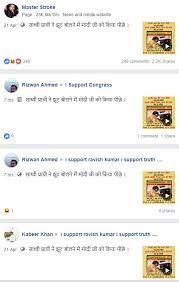 Even verified Twitter handles seem to have fallen for the claim and tweeted it.
Sadhvi Pragya Thakur is an accused in the 2008 Malegaon (Maharashtra) bomb blast. She was arrested in 2008 and granted bail by the Bombay High Court in 2017. Thakur is now contesting Lok Sabha elections from Bhopal on a Bharatiya Janta Party ticket
Fact Check
BOOM looked up Pragya Thakur's affidavit for the Lok Sabha elections 2019 where her age is stated as 49 years. This means, at the time of Babri Mosque demolition i.e. 1992, Sadhvi Pragya Thakur would have been around 22 years old.
Click here to view her affidavit.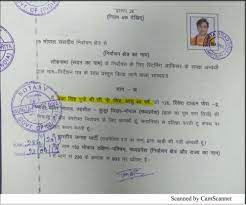 Public Documents Show Discrepancy In Age
BOOM also found out Thakur's bail appeal filed in the Bombay High Court in 2016, which mentioned her age as 44 years which would make her 20 years old in 1992.
If Thakur was 44 years old in 2016, over the next three years she should have been 47. However, the affidavit filed by Thakur ahead of elections in April 2019 mentions her age as 49.
Either way, the claim of her being 4 years old in 1992, does not hold.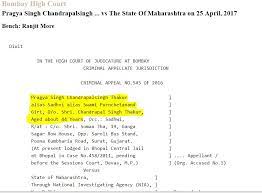 Claim Review :
Sadhvi Pragya Thakur was four years old at the time of Babri Mosque demolition
Claimed By :
Social media pages