Fact Check
Picture Of Defunct '108' Ambulances Is From Andhra Pradesh Not Uttar Pradesh
Congress's Digvijay Singh and FB page 'I am with Ravish Kumar' use image from Andhra Pradesh to lament about UP's shortage of ambulances.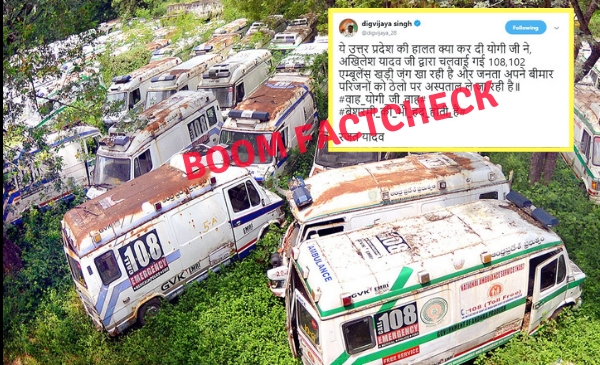 An image of several defunct 108 ambulances from Andhra Pradesh is being widely shared as that from Uttar Pradesh (UP) on social media.
Lamenting the condition of state, the viral social media posts claim that these 108 ambulances introduced by the former Chief Minister Akhilesh Yadav has been in the junk yard under the current Adityanath government in UP.
However, the image is from Andhra Pradesh and not Uttar Pradesh, a fact-check revealed.
Among those who shared the photo with the inaccurate claim was Congress's Digvijaya Singh. While accusing the Yogi government of discarding the ambulances, Singh said that patients in UP now go to hospitals in hand carts. He was referring to recent incidents in Uttar Pradesh of patients carried in carts to the hospital due to unavailability of ambulances (Read about it here and here).
ये उत्तर प्रदेश की हालत क्या कर दी योगी जी ने, अखिलेश यादव जी द्वारा चलवाई गई 108,102 एम्बूलेंस खड़ी जंग खा रही है और जनता अपने बीमार परिजनों को ठेलो पर अस्पताल ले जा रही है॥

#वाह_योगी_जी_वाह#

#बेशरमी_की_भी_हद_होती_है#

रजत यादव pic.twitter.com/zWJr8CugHY

— digvijaya singh (@digvijaya_28) October 3, 2018
A Facebook page named 'I am with Ravish Kumar' with about 3.5 lakh followers had shared the image with the caption, ये मेरे प्रदेश की हालत क्या कर दी योगी जी अखिलेश यादव जी द्वारा चलवाई गई 108,102 एम्बूलेंस खड़ी जंग खा रही है जनता ठेलों पर मरीज ले जा रही है। The post got around 30,000 shares.
Another Facebook page called 'Arvind Kejriwal Fans' also shared the image and its post got over 500 shares.
BOOM did a Google reverse image search and found that Telugu news portal Sakshi.com featured the image on September 22. The caption ఆపత్కాల వరదాయిని 108 అటకెక్కింది..! (ఫొటో: కిశోర్‌, విజయవాడ) translates to "The 108 Emergency Response Service went up the attic (Photo: Kishore, Vijayawada)".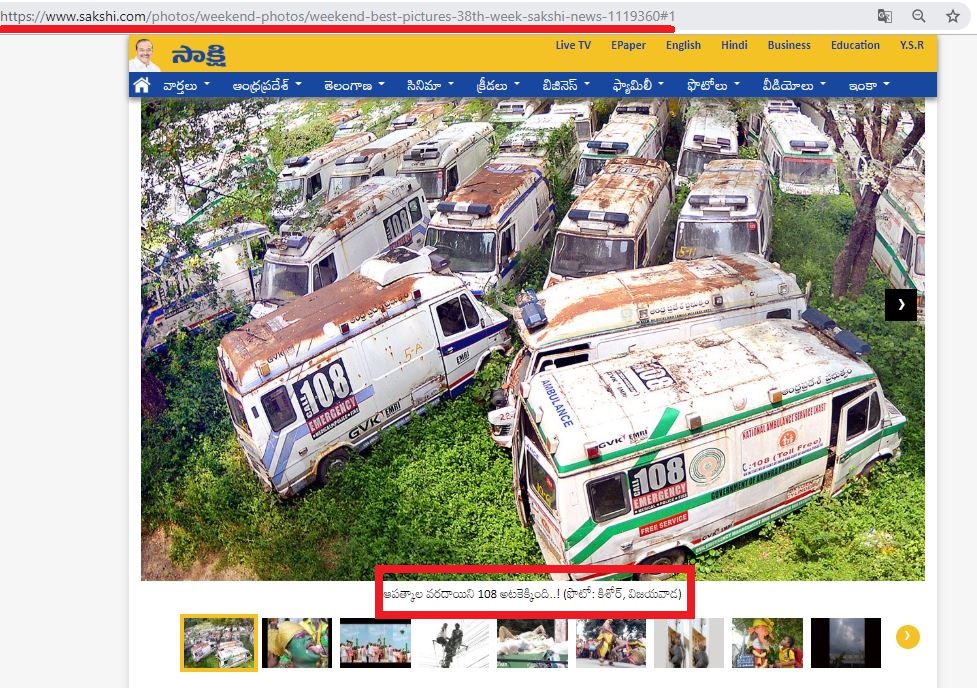 Moreover, upon zooming in the image one can see 'Government of Andhra Pradesh' written on the first vehicle.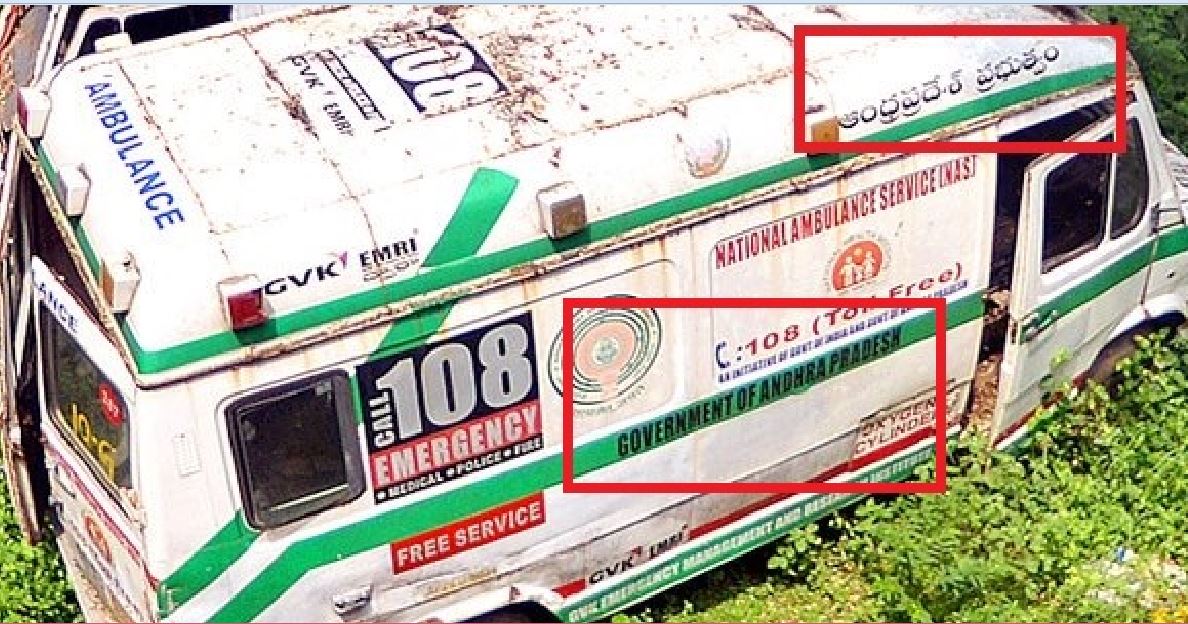 The words "Andhra Pradesh Government" in Telugu can also be seen on the roof of the vehicles.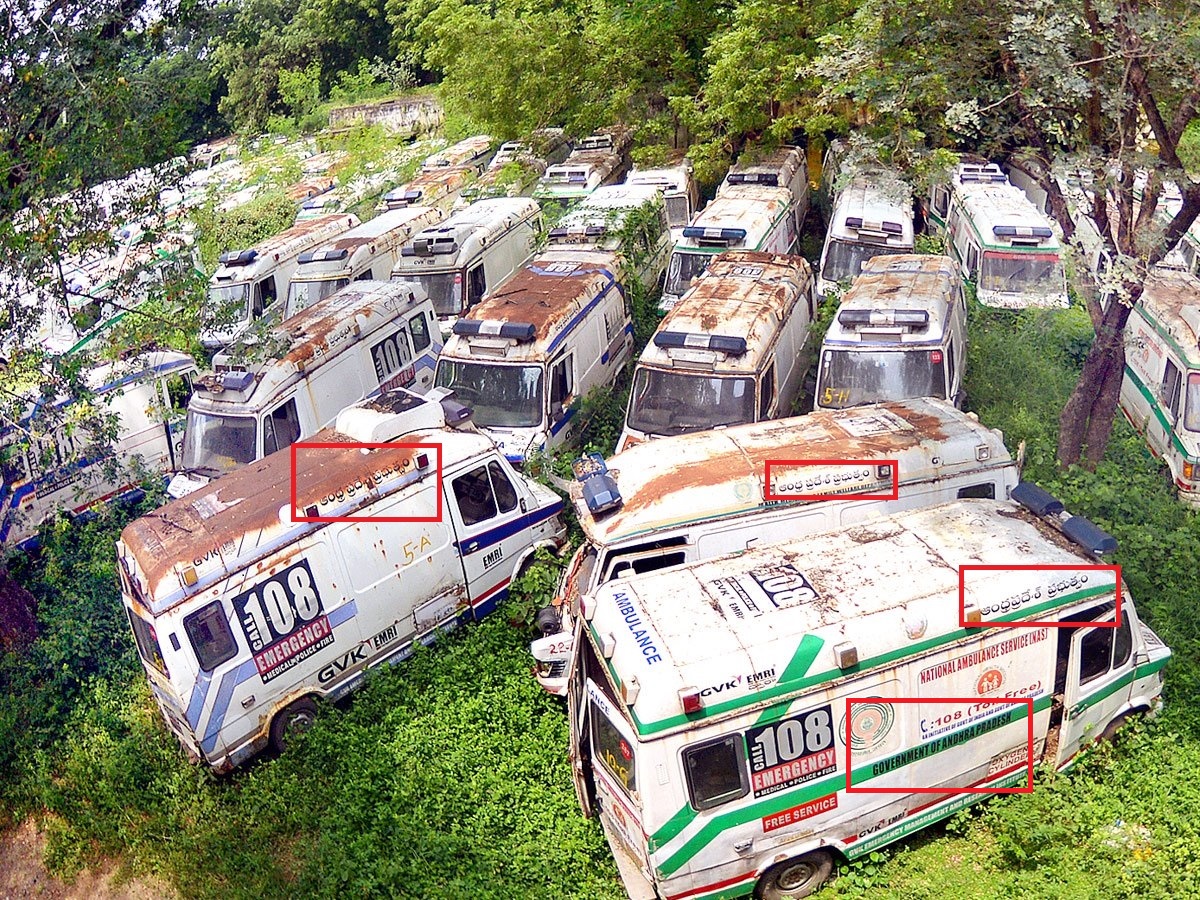 Last year GVK Emergency Management Research lost the bid to run the emergency 108 ambulance services in the state to BVG India-UK Specialist Ambulance Services (UKSAS) consortium. The High Court also upheld the decision of the government.
Claim :
Uttar Pradesh's Yogi Adityanath Government Discarding Defunct 108 Ambulances
Claimed By :
Digvijay Singh
Do you always want to share the authentic news with your friends?
Subscribed Successfully...
Enter Valid Email Id