Photo Of Prakash Raj's Visit To A Church Shared With Misleading Context
Posts claiming actor-turned-politician Prakash Raj is a Christian go viral on social media, as pictures of him in a church get widely shared.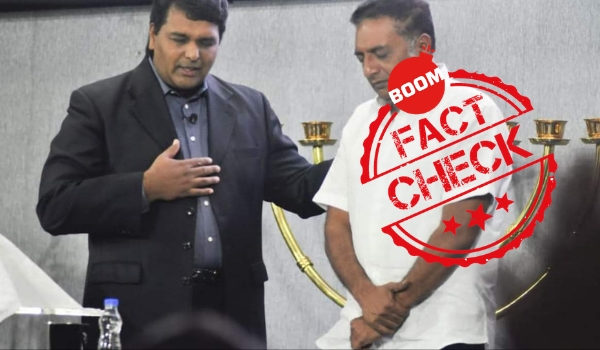 Actor-turned-politician Prakash Raj faced scrutiny on social media, as pictures of him in a church were circulated with one of the claims saying that he has become a Christian.
Other posts said that this was hypocritical on his part due to reports of him stating earlier that he does not believe that Ayyappa is god.
Fact:

Raj visited the Bethel AG church in Bengaluru on Sunday, as part of his outreach towards various religious communities.

But contrary to social media claims, his visits to religious places of worship were not just limited to a church. Raj had also visited a temple, a mosque and a gurudwara, which he claims he did, to promote religious inclusivity.

However, his visit to the church was taken out of context by many, who believed that this signified he was a Christian.

BOOM also found the footage of the incident which inspired the conspiracy claiming that Raj did not believe Ayyappa to be a god.

In the footage, he is heard saying that any god that forbids women to worship is not considered a god by him, in order to extend solidarity towards women protesting for the right to enter the Sabarimala temple.

Claim Review :
Actor Prakash Raj Is A Christian
Claimed By :
Facebook User