Media
Peddling Hindutva For Money?: Cobrapost Stings Media Houses In Operation 136
Cobrapost alleges it stung executives of 36 media houses who agreed to peddle Hindutva and target specific politicians for money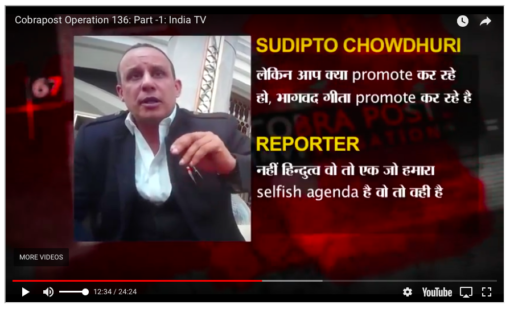 Investigative news portal Cobrapost has alleged through its latest report called Operation 136 of having found evidence of paid political campaigns running on Indian news channels, newspapers and websites. Airing a two-hour-long sting operation at a press conference in Delhi, Cobrapost said that it stung 3 dozen media houses and found that all these companies agreed to peddle Hindutva agenda in exchange for cash.
In this investigation, journalist Pushp Sharma met owners or personnel of more than 3 dozen media houses, many marquee names, who are in decision-making positions. #Cobrapost, #Operation136

— Cobrapost (@cobrapost) March 26, 2018
Posing as a representative of a fictitious organisation Shrimad Bhagvad Gita Prachar Samiti, journalist Pushp Sharma told the media representatives that he was on a mission, a gupt vyavastha (secret arrangement), at the behest of the "Sangathan" to bolster the prospects of the party in power in coming elections. Cobrapost has released excerpts of interactions that Sharma had with India TV, Dainik Jagran, Hindi Khabar, SAB TV, DNA (Daily News and Analysis), Amar Ujala, UNI, 9X Tashan, Samachar Plus, HNN 24*7, Punjab Kesari, Swatantra Bharat, ScoopWhoop, Rediff.com, IndiaWatch, Aj and Sadhna Prime News in the first part of the expose.
The portal said that Operation 136 derived its name from the World Press Freedom Index for 2017 where India slipped three positions to 136, highlighting slipping press freedom in the country.
Here are some of the tweets that Cobrapost put out that explained what they found when they stung these officials.
"…Emotional connect hai…vichardhara milti hee hai": ideologically-aligned MD of SAB TV and Governance Now magazine ready to plug Hindutva politics with news for cash #cobrapostExpose #operation136

— Cobrapost (@cobrapost) March 26, 2018
Owner of right-wing social media channel agrees to run communal propaganda and derogatory content despite Election Commission ruling #cobrapostExpose #operation136

— Cobrapost (@cobrapost) March 26, 2018
Editor and business head of Hindi daily laments he can only contribute to Hindutva cause through plugging content #cobrapostExpose #operation136

— Cobrapost (@cobrapost) March 26, 2018
Planting communal stories? How many jacket ads do you want in this (https://t.co/ztNaCaLdRu) Hindi daily? #cobrapostExpose #operation136

— Cobrapost (@cobrapost) March 26, 2018
Editor-in-chief started his own Hindi news channel to run his Bhagwa propaganda. Political rival-bashing welcome for 60:40 payment ratio #cobrapostExpose #operation136https://t.co/wrpmghNflM

— Cobrapost (@cobrapost) March 26, 2018
Character assassination through content is fine. But, sales head of Hindi news channel torn over whether cash (black) component of payment should be 50% or 60%. #cobrapostExpose #operation136https://t.co/4DHkgt2HqD

— Cobrapost (@cobrapost) March 26, 2018
Undercover reporter manages to get this TV news channel to plant stories for promise of cash. Watch how it works: https://t.co/BwFXuk0CI7, #cobrapostExpose #operation136

— Cobrapost (@cobrapost) March 26, 2018
"Payment cash se bhi le lenge": Tope Hindi news daily marketing exec recorded by hidden cam ready to accept cash to promote Hindutva agenda before election #cobrapostExpose #operation136 https://t.co/POdSfoEhqA

— Cobrapost (@cobrapost) March 26, 2018
The portal claims that the officials showed a lot of interest in their proposal to peddle Hindutva agenda when the journalist sugar-coated his dirty proposition with offers ranging anything between Rs. 6 crore and Rs. 50 crore. Sharma suggested a phase wise campaign which first involved "soft Hindutva" agenda through advertisement spots that promoted mythology and Indian gods while the next phase of the campaign would involve targeting Rahul Gandhi and Mayawati.
The plan also involved targeting some of the senior BJP leaders like Arun Jaitley and Maneka Gandhi, her son Varun Gandhi, BJP allies like Anupriya Patel, Om Prakash Rajbhar and Upendra Kushwaha. Other targets also included legal luminaries fighting for civil liberties and rights, who Cobrapost claims are an eyesore for the establishment, such as the likes of Prashant Bhushan, Dushyant Dave, Kamini Jaiswal and Indira Jaisingh.
BOOM looked at the 24-minute sting operation where three officials of leading Hindi news channel India TV were featured.
Sharma first met Jitender Kumar, who is working with India TV as its Deputy Vice President (Sales), and Manager (Ad Sales) Gaurav Tyagi. Cobrapost claims that Kumar showed his eagerness to run the campaign after their reporter briefed the duo about the campaign. The discussion started around how to position the campaign.
While Sharma said that the first phase would involve pushing out 'soft-Hindutva' advertisements, Kumar expressed concern that it may seem to be political to outsiders. But as Sharma informs that Rs 3 crore is the budget for this campaign on India TV, the officials are seen on camera agreeing to the proposal provided Rs 1.5 crore is released in the month of March itself as they have financial year-end deadlines to meet. They will adjust the payment in later months, the officials assure Sharma.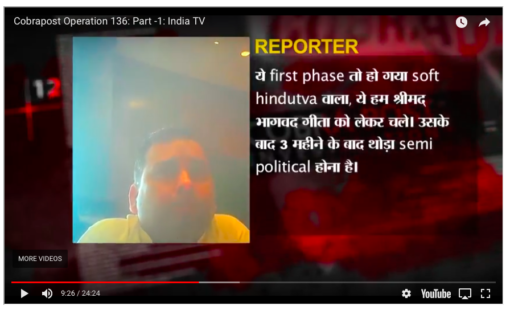 Screenshot of Pushp Sharma speaking to India TV officials
Sharma is also seen asking Jitender Kumar to assure him of not compromising on the Hindutva agenda. The video shows Kumar assuring Sharma that it will be done. Kumar is also seen assuring Sharma at several moments that "India TV is the right platform."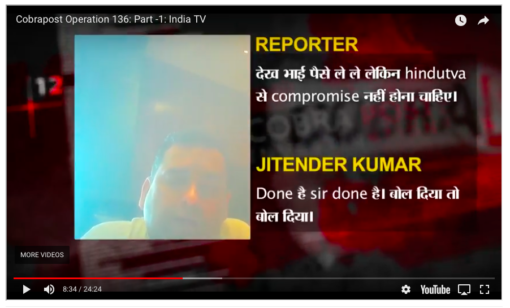 So what were these soft-Hindutva videos about? Pushp informs them that for the first three months, the 90-second ad spots would talk good things about Lord Krishna and no individual will be targeted. The video will also provide sponsorship courtesy to Shrimad Bhagvad Gita Prachar Samiti.
In the second phase, Sharma proposed the channel should attack political opponents using their nicknames like Pappu. The journalist asks them to repeat Pappu so often in the campaign that their objective of character assassination is effectively achieved.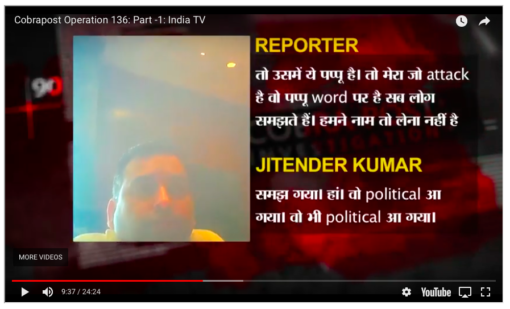 But when Sharma met Sudipto Chaudhuri, Executive President, India TV, the senior official had some modifications in the original plan. He told Sharma that the legal team had some issues with the soft-Hindutva campaign as followers of other religions could also seek ad spots which the channel was not inclined to give. But Chaudhuri suggested two modifications to keep the legal team happy - a contact number on the screen and legal document indemnifying the channel from any future legal hassles.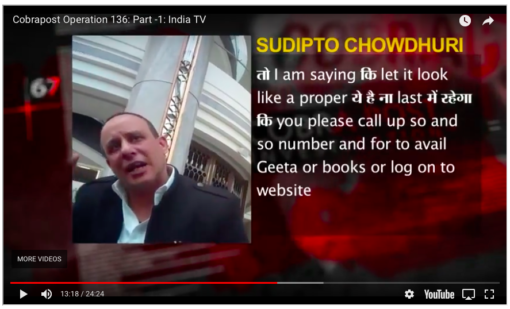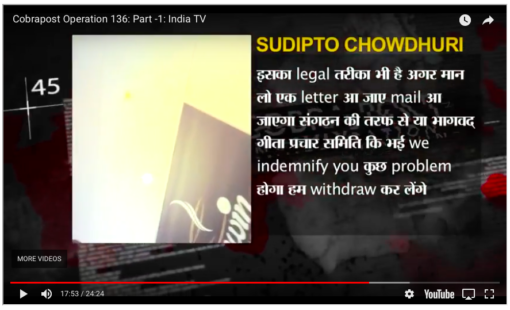 The officials are seen at several portions in the video assuring the reporter that they have got the relevant approvals from the owners of the channel - Rajat Sharma and Ritu Dhawan. But at no stage are either of the owners seen in the video endorsing the campaign.
BOOM contacted Rajat Sharma for his reaction to the sting operation. He directed us to his Executive Assistant Sapna Soni who said she did not have any comments to offer at that moment. The channel later sent us a statement which we are reproducing in its entirety.
The story titled "Operation 136" published by Cobrapost on 26.03.2018 contains imagery showing my team member, Mr. Jitender Kumar and me during a sales meeting with a person we were led to believe was one Mr. Acharya Chhatrapal Atal. I categorically state that none of the proposals discussed or put forward by this Mr. Acharya Chhatrapal Atal were accepted by the Company and were in fact entirely turned down by the editorial and legal teams of India TV. No employee of India TV accepted any consideration from Mr. Acharya Chhatrapal Atal and none of the material shared by him was ever aired on India TV. The allegations made in the offending footage are emphatically denied. I state that the footage in the offending video is doctored and important/relevant portions of the same have been edited. The video footage selectively shows my team member agreeing to consider an advertisement proposal put forward by the said Mr. Acharya Chhatrapal Atal. It is pertinent to state that Cobrapost has, to their advantage, concealed important aspects of the discussion only to sensationalize the story and for their self-serving interests. India TV will be taking appropriate legal action to seek redressal for the same - Mr. Sudipto Chowdhery, President – Sales, India TV
BOOM has not been able to independently verify Cobrapost's findings or conversations with the officials of the media houses or whether the tapes were doctored as alleged by India TV.
Cobrapost has claimed that they will be returning soon with bigger revelations in the second part of Operation 136.
Do you always want to share the authentic news with your friends?
Subscribed Successfully...
Enter Valid Email Id