War of Tweets As Govt's Premium Status For Jio Institute Divides Social Media
A Twitter handle @Jiolnstitute trolls the yet to be launched university and the government. Copy paste tweets supports Jio Institute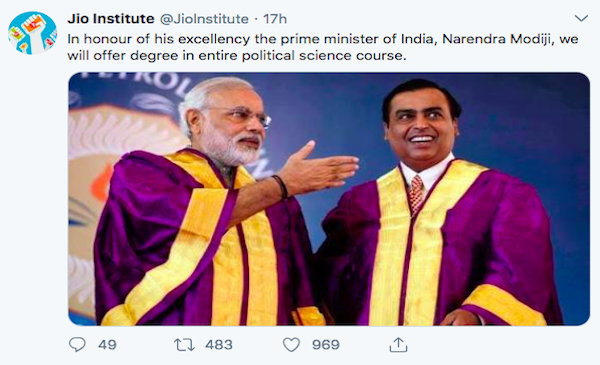 Reliance-owned Jio Institute came into the public eye when Union HRD minister Prakesh Jawdekar mentioned its name on Twitter as one of the greenfield university projects to be awarded the "Institutions of Eminence" status. Jawdekar's tweet on Monday attracted a lot of anger from twitteratis who wondered how a proposed university who does not even have a website showing up on Google search be awarded such an important  tag by the government.
So no official Twitter account of jio institute and no website…. It's look like by mistake you put your sponsor in wrong list😂😂 there must be other list "Sponsor of Eminence"

— Zad Khan (@ZadkhanZk) July 9, 2018
Its a digital university without building…. #digitalindia

— Periakaruppan (@evolvingperi) July 9, 2018
Jio institute? Is that Whatsapp University?

— Prem (@inc_prem) July 9, 2018
But a parody twitter handle @Jiolnstitute has taken the lead in tweeting videos and images dripping in sarcasm ever since the announcement was made. The handle has used images of Mukesh Ambani, Narendra Modi and even actor Akshay Kumar to tweet about the potential achievements of Jio Institute.
Data is Free, Not Education.

— Jio lnstitute (@Jiolnstitute) July 9, 2018
Students of Jio Institute working on a Prototype bike which runs on a single wheel and without fuel. pic.twitter.com/GgCvg1V3tr

— Jio lnstitute (@Jiolnstitute) July 10, 2018
We have many tie-ups with trained faculty from other countries for betterment of Indian students. Here is our Martial arts teacher from Canada. pic.twitter.com/NAEMxdylF9

— Jio lnstitute (@Jiolnstitute) July 10, 2018
In honour of his excellency the prime minister of India, Narendra Modiji, we will offer degree in entire political science course. pic.twitter.com/UUkOqmKqkF

— Jio lnstitute (@Jiolnstitute) July 9, 2018

The handle Jio Institute came into existence in May 13, 2017. While the old tweets have been deleted, we found that the handle was earlier known as Honest Hindutva
Meanwhile, another hashtag #DivyaLiability aimed at Congress social media chief Divya Spandana started trending with those tweeting using the hashtag praising the government for accepting Jio's application.
But it didn't take much time to notice a trend that has been seen in the past – copycat tweets. A twitter handle @TrollABhakt who calls him the Fake Trend hunter pointed out that nearly 50% of the tweets using the hashtag were copy paste tweets.
(Interesting) Fake Trend Alert : #DivyaLiability

Trending at 2nd position with less than 500 tweets nearly 50% of which copy-pasted.

The content supports Jio Institute, but the hashtag seems to target an individual, presumably @divyaspandana pic.twitter.com/FngdBlGzLM

— Fake Trend Hunter (@trollabhakt) July 10, 2018

The Jio Institute is a greenfield project yet to begun its operations. The private university is likely to begin operations after a period of three years. The institute will be run by the Reliance Foundation.
The HRD ministry also tweeted its clarification answering questions related to the inclusion of Jio.
In response to some misinformation campaign in social media regarding "Institutes of Eminence", please find herewith clarifications on commonly raised questions #InstituteofEminence pic.twitter.com/K6IB5ILpfb

— Ministry of HRD (@HRDMinistry) July 9, 2018