Old Video Of Children in Jammu Singing 'Hindustan Hamara Hai' Shared As Celebrations In Kashmir
The video is from a BJP event held in Jammu in April this year.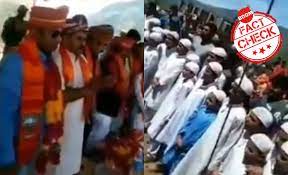 A video from April showing children in Jammu singing 'Hindustan hamara hai' at a Bharatiya Janata Party event is being falsely shared as kids in Kashmir chanting pro-India slogans and welcoming the abrogation of Article 370. BOOM found that the video was shot in April this year in Jammu.
The video is being shared in light of the recent decision to abrogate Arricle 370 and revoke the special status granted to Jammu and Kashmir. Following an order from the central government, the region remains in a state of complete lockdown with communication lines down.
The video clip was shared by a Twitter user Geetika Swami with a caption,
"#KashmirWelcomesChange The children in Kashmir singing 'Hindustan Hamara hai' While the seculars are sulking the abrogation of Article 370, an average Kashmiri is celebrating the integration with Mighty India!"
In the viral video children wearing skull caps can be heard singing 'Hindustan, Hindustan, Hindustan hamara hai' .
You can see the tweet below and its archived version can be accessed here.
The video has also been shared on Facebook with the same caption.
FACT CHECK
A Google search for 'Children singing Hindustan Hamara hai in Kashmir' showed results for a video uploaded by the BJP's Jammu and Kashmir wing on their official YouTube channel. The video was uploaded April 15, 2019 with the title, "Kids Chanting Song Yeah Hindustan Hamara Hai at Challar, Inderwal in Kishtwar during BJP rally."
BOOM looked up Kishtwar and found that it is in Jammu and not Kashmir.
The official Twitter handle of BJP Jammu and Kashmir posted the same video on April 15.
The same video was shared on Facebook by Munish Sharma, a local BJP leader in Jammu. Sharma had shared the video as a Facebook Live with the caption, " See the change of wind in the nation. We are at Challar Inderwal a far off place of J&K. In BJP rally Children from Madrasa singing a song Yeah Hindustan Hamara Hai. This area was Militancy affected. But now terrorism has been wiped off. Jai Hind."
Claim Review :
Children singing Hindustan humara hai to celebrate abrogation of Art 370
Claimed By :
Social media accounts