Old Video Of A Man Caught Wearing A Burkha Shared In Wake Of Sri Lanka Serial Bombings
BOOM found that it was an old video uploaded in August 2018 by a Sri Lankan Radio Station.
A 2018 video of a man caught wearing a burkha, by Sri Lankan police is being falsely shared as a Buddhist man apprehended in wake of the serial bombings in Sri Lanka on April 21, 2019.
Serial bombings carried out at churches and hotels on Easter Sunday by Islamic militants killed over 350 people in the worst terrorist attack the island nation has seen. Sri Lanka said Islamist group National Thowheed Jamath carried out the attacks. Earlier this week terror group Islamic State claimed responsibility for the attacks.
The misleading message along with the video is viral on WhatsApp and social media.
The viral message reads, "A Buddhist dressed as a Muslim woman was caught by the Sri Lankan Police. He os one of the rouges who bombed the Sri Lankan Church."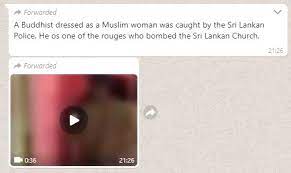 In the video, Sri Lankan police personnel surround a man as he removes a burkha. The man is also seen wearing a white bra underneath.
BOOM had received this message on its WhatsApp helpline number (7700906111) and did a Facebook search and found that it was viral.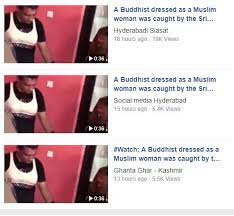 A Facebook page named 'Hyderabadi Siasat' also shared the same clip with the caption, "A Buddhist dressed as a Muslim woman was caught by the Sri Lankan Police. He is one of the rouges who bombed the Sri Lankan Church. Still wonder how come all the terrorist activities are claimed by an unknown organization with names representing muslims...? "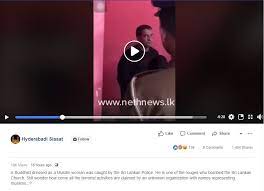 Click here to view the post, and here for an archive.
The post has gained around 19,000 views and 1,404 shares as of writing this article.
FACT-CHECK

Using InVid, a video verification software, BOOM broke down the video in key frames and performed a reverse image search.
The search results threw up a video uploaded by Neth FM, a Sri Lankan Radio station on August 29, 2018.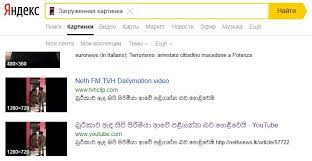 Click here to view the video.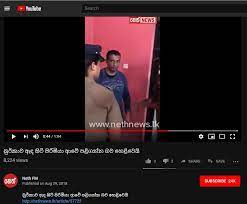 BOOM contacted Neth FM who confirmed it was an old video circulating and said that according to their report, the man arrested in a burkha by the police in Welikada Plaza shopping mall at Rajagiriya In Colombo.
According to the Neth FM report, he was on his way to stab a bank manager because of a conflict regarding a loan when he was arrested near the shopping mall.
Someone had tipped off the police about the man because of his suspicious behavior.
The identity of the accused is not clear from the article.
The video of the incident was recorded inside the police station after the man was arrested.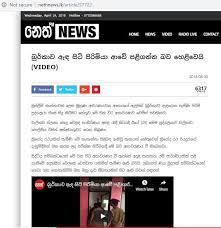 Claim Review :
Video Shows Buddhist Dressed As A Muslim Woman Was Caught By The Sri Lankan Police
Claimed By :
Facebook posts, WhatsApp