Old Video Falsely Shared As Jharkhand Lynching Victim's Funeral Procession
Viral posts try to pass off a year-old funeral procession of one Tabrez Alam, a henchman killed in Bihar last year, as that of Tabrez Ansari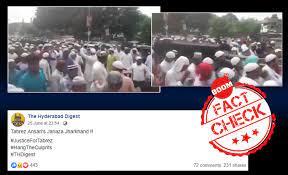 An eight-month-old funeral video of Tabrez Alam, a sharpshooter from Bihar, is being passed as that of Tabrez Ansari who was tied to an electric pole and beaten to death by a frenzied mob in Jharkhand on June 18, 2019.
Tabrez Ansari was attacked by a mob in Saraikela Kharsawan district of Jharkhand on June 18 on the suspicion of theft.
He was tied to an electric pole, beaten for four hours and forced to chant 'Jai Shri Ram' and 'Jai Hanuman' before police took him into judicial custody on the charges of theft. He died four days later on June 22.
The disturbing video of the people hitting Tabrez with a stick and forcing him to chant 'Jai Shri Ram' and 'Jai Hanuman' has been viral ever since.
However, an unrelated video showing a large crowd at a funeral procession is being shared as that of Ansari's funeral.

A caption with the viral video reads 'Tabrez Ansari's funeral. #JusticeForTabrez #HangTheCulprits'.
(Hindi: तबरेज़ अंसारी का जनाज़ा |)
The viral post can be viewed here and its archived version can be accessed here.
This, and another video of the same funeral shot from a different angle, has been widely shared on Twitter and Facebook in the past 24 hours.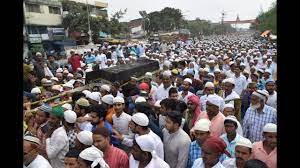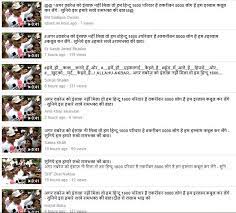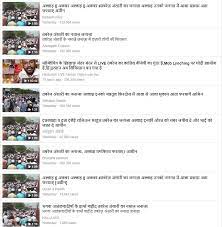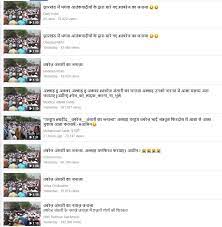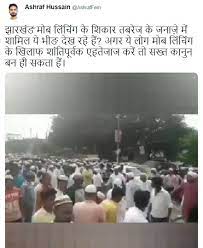 Fact Check
BOOM ran a reverse image search on one of the viral videos and found that the same video had been uploaded to YouTube on September 22, 2018. The caption with the video read 'thousands gather at Tabrez's funeral'.
(Hindi: तबरेज के जनाजे में जुटी हजारों की भीड़ |)
The video, shared on ETV Bharat, also has an EenaduIndia watermark.
The Hindi caption with the video provided more details about the incident.
'Jehanabad: The body of Tabrez Alam, sharp shooter of RJD's former MP Shahabuddin reached his native home in Garedia Khand colony. The funeral prayers were recited at the eidgah. Thousands of people turned up for Tabrez's funeral.)
(Hindi: जहानाबाद: आरजेडी के पूर्व बाहूबली सांसद शहाबुद्दीन के शार्प शूटर तबरेज आलम उर्फ तब्बू का शव उसके पैतृक घर गरेड़िया खंड मोहल्ला पहुंचा. जहां ईदगाह में जनाजे की नमाज अदा की गई. तबरेज के जनाजे में हिस्सा लेने के लिए हजारों की संख्या में लोग पहुंचे. )
Another video of the same funeral procession, shot from a different angle, is also viral with a caption 'funeral procession of Tabrez Ansari. May Allah grant him heaven, Amen'.
(Hindi: तबरेज अंसारी का जनाज़ा अल्लाह इनको जन्नतुल फिरदौस में आला से आला मकाम आता फरमाये | आमीन |)
The archived version of the video can be viewed here.
BOOM was able to trace this video to YouTube. A similar video was uploaded on YouTube channel Jehanabad News on September 23.
Who Was Tabrez Alam?
Tabrez Alam was reportedly an ex-sharp shooter of politician Shabuddin Ansari.
Alam was killed on September 21st, 2018 when two bike borne assailants shot at him from a close range after he stepped out of a mosque.
The murder was a fallout of a land dispute, local police told journalists.
You can watch this video where Manu Mahraj, then SSP Patna, briefs the media on Tabrez Alam murder case.
BOOM also spoke to Saraikela superintendent of police who told us that the Jharkhand lynching victim -Tabrez Ansari's funeral was conducted on June 22.
Claim :
Funeral procession of Tabrez Ansari
Claimed By :
Facebook pages and Twitter handles
If you value our work, we have an ask:
Our journalists work with TruthSeekers like you to publish fact-checks, explainers, ground reports and media literacy content. Much of this work involves using investigative methods and forensic tools. Our work is resource-intensive, and we rely on our readers to fund our work. Support us so we can continue our work of decluttering the information landscape.
BECOME A MEMBER