Old Photos Being Shared As Photos Of Cop Who Died During Bharat Bandh Protests
While sub-inspector Mahendra Choudhary passed away this week, three photos on social media are of an old and unrelated incident.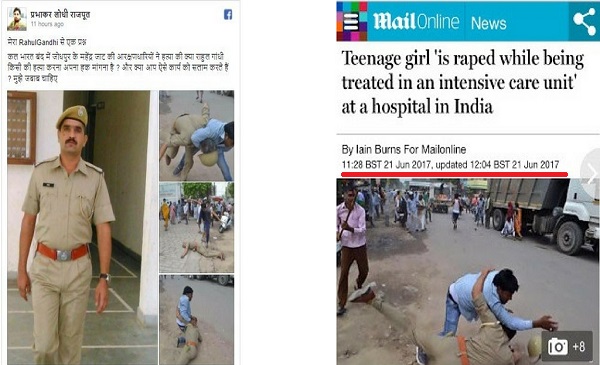 Several old photographs on social media are being projected as those of a police officer who died during the recent Bharat Bandh clashes this week.
Of the four images shared on Twitter and Facebook, one is of a policeman standing, while the other two images show a man dressed in a striped blue shirt and jeans gripping a policeman's neck in a chokehold. The fourth image shows a man about to stomp over and kick a policeman lying on the street.
The photos are being shared with text in Hindi that roughly translates as, "I have a question for @RahulGandhi.
Yesterday, during the Bharat Bandh protests, Mahendra Jaat was murdered by those supporting reservations. Is it okay, Rahul Gandhi to kill someone to ask for your right? Do you salute/ support such work? I want answers."
" मेरा @RahulGandhi से एक प्रश्न कल भारत बंद में जोधपुर के महेंद्र जाट की आरक्षणधारियों ने हत्या की क्या राहुल गांधी किसी की हत्या करना अपना हक मांगना है ? और क्या आप ऐसे कार्य को सलाम करते हैं ? मुझे जबाब चाहिए"
Posts with the exact same text are being shared by many on Facebook and Twitter.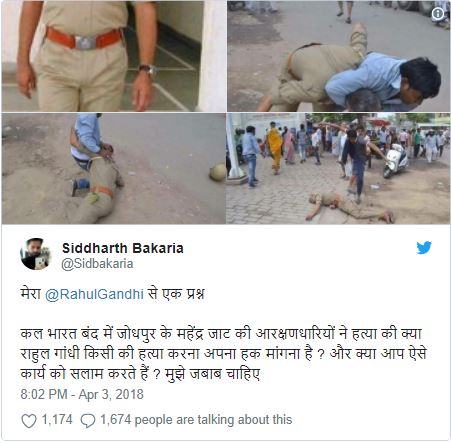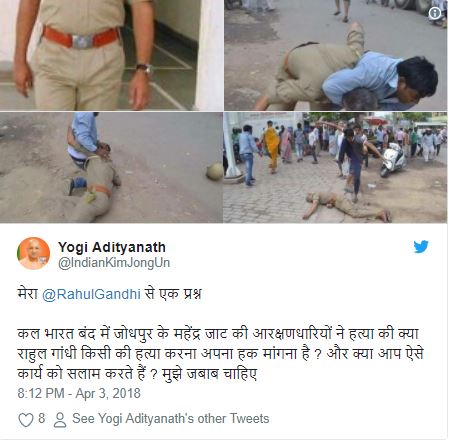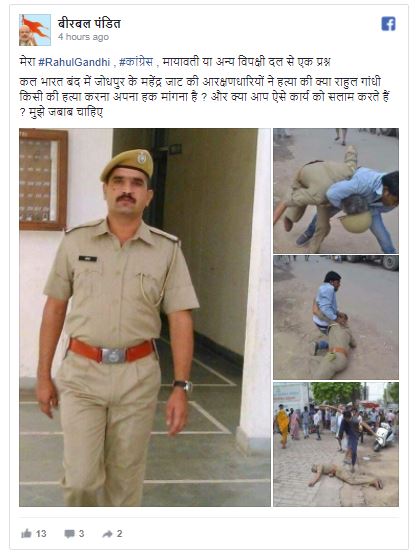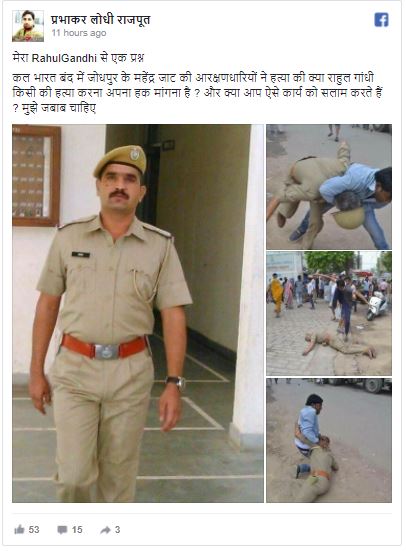 Fact-checker SM Hoax Slayer debunked the three images and said they were from a separate incident in 2017.
Three Photos of beating Cop is wrong. It's from June 2017, where mob was demonstrating against a rape of 16 year old.

Sub Inspector Mahendra Chaudhary in Photo (standing) was critically injured in Dalit protest Violence and died of Cardiac Arrest. Check Reply for proofs https://t.co/PBnLPdUHY7

— SM Hoax Slayer (@SMHoaxSlayer) April 4, 2018
The three photographs were traced back to a news report from June 2017 by UK's Daily Mail. The incident took place when protesters rioted outside Jagriti Hospital in Kanpur, Uttar Pradesh after a teenage girl was allegedly drugged and raped by a ward boy in the hospital's Intensive Care Unit. An angry mob attacked police officers who tried to bring protests under control. (Click here to read Daily Mail's story)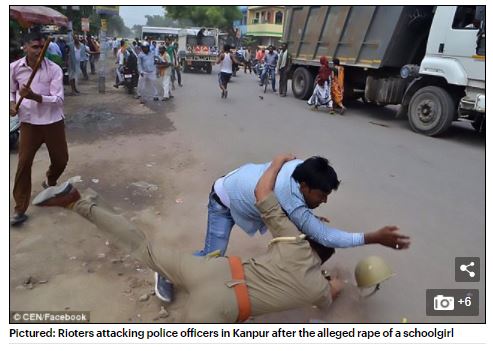 The photograph of a policeman standing is that of sub-inspector Mahendra Choudhary from Jodhpur who collapsed on duty on Monday.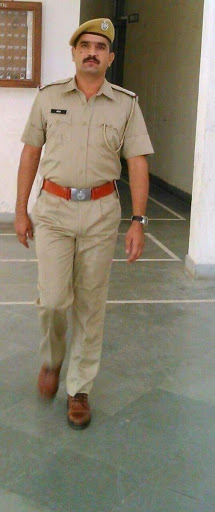 "36-year-old police officer Mahesh Choudhary, who had sustained a severe heart attack during a tiff with Bandh supporters in Jodhpur, succumbed while he was taken to Ahmedabad for treatment. With an already weak heart and diabetes, his condition was critical during treatment in Jodhpur," the Times of India reported. "With an already weak heart and diabetes, his condition was critical during treatment in Jodhpur," the newspaper wrote adding that he had suffered three heart attacks since Monday.
BOOM got in touch with Amandeep Singh Kapoor, DCP (East), Jodhpur who refuted details that Choudhary died as a result of a clash with a protester. "The statement that Mahendra had a heart attack after the tiff is pure hearsay and a rumour but the fact that he died on duty is true," he told BOOM. Kapoor also said that Choudhary died a day later in hospital.
At least 10 people have lost their lives in protests that rocked Rajasthan, Uttar Pradesh and Madhya Pradesh on Monday as many took to the streets to protest against the alleged "dilution" of SC-ST Act by India's Supreme Court