Old Photo Of PM Modi And Bihar CM Nitish Kumar Shared With Misleading Claims
A photo from a BJP campaign rally at Bihar from 2015 is being shared to falsely show Modi and Kumar sharing a laugh while paying tribute to martyred soldiers of the Pulwama attack.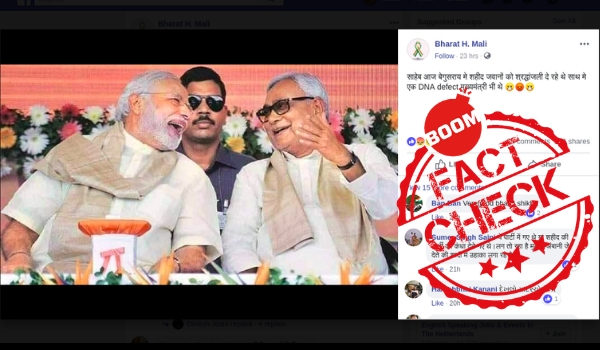 A nearly four-year-old photo of Prime Minister Narendra Modi and Bihar Chief Minister Nitish Kumar is being shared to falsely show the two sharing a laugh while paying tribute to one of the martyred soldiers of the Pulwama attack.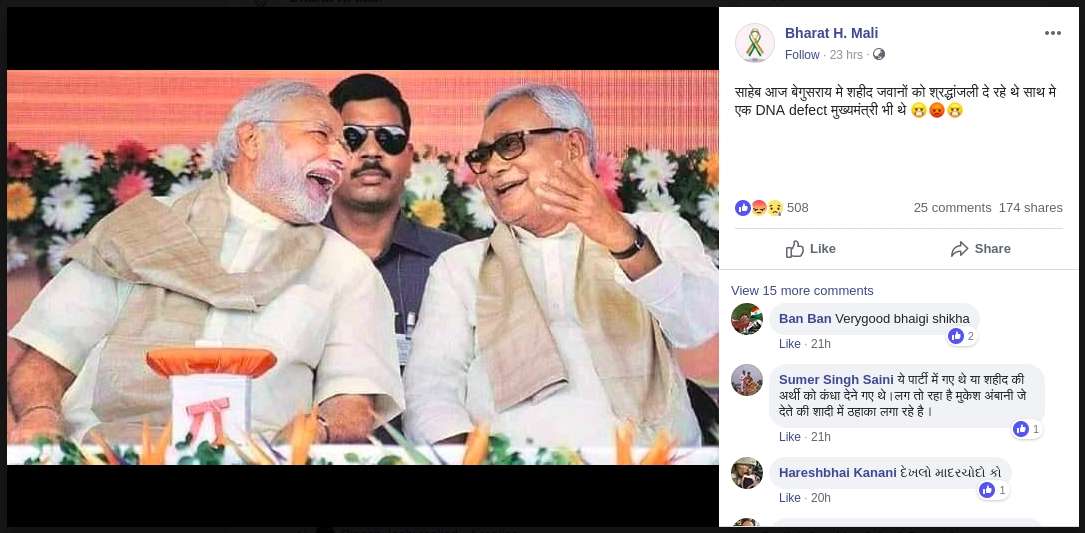 You can access an archived version of the post here.
It was shared with the following caption:

| | |
| --- | --- |
| Original Hindi text | English translation |
| साहेब आज बेगुसराय मे शहीद जवानों को श्रद्धांजली दे रहे थे साथ मे एक DNA defect मुख्यमंत्री भी थे | Today, Mister (Modi) is paying tribute to martyred soldiers with a DNA defect Chief Minister (Kumar) |
The photo was also shared by activist Kavita Krishnan and the official Twitter handle of Youth Congress.
For an archived version of the Tweet, click here
FACT CHECK
BOOM ran a reverse image search and found that the photo has been in circulation since 2015.
After scrutinising the results, we found that the photo originated from a BJP campaign rally in Bihar on July 25, 2015. During the rally, Modi launched an offensive against Kumar and his allies in Bihar, hours after sharing stage with him.
We found the same image being used in an article by the Indian Express, dating back to July 26, 2015.
Another article by LiveMint also used a similar photo, attributing it to an event in Bihar in 2015, in the caption.
We also found a video coverage of the July 2015 event at Bihar, where you can see Modi and Kumar sitting next to each other in the exact same setting as seen in the viral photo.
It is therefore certain that the photo has not been taken while paying tribute to the martyrs of the Pulwama attack.
Modi and Kumar laughs again
Coincidentally, Modi was in Bihar on February 17 and was joined by Kumar while inaugurating development projects at Barauni in Begusarai district. Modi also paid tribute to the two CRPF jawans from Bihar who lost their lives during the Pulwama attack.
Activist Kavita Krishnan, who had previously tweeted the older picture of Modi and Kumar, defended her actions by claiming that a new photo of the duo has emerged from Sunday, where they are seen sharing a laugh, just like our previous photo which has been debunked.
While further investigating her tweet, we found that Modi and Kumar did in fact 'exchange inappropriate laughter' on Sunday, according to another PTI photo used by Scroll in an article on Modi's itinerary in Bihar from February 17.
On February 14, 2019, a car bomber attacked a Central Police Reserve Force (CRPF) convoy near Pulwama, Jammu & Kashmir, claiming the life of 40 jawans.
Following this tragic event, social media was filled with fake news claiming to provide information on the attack.
To check out the other fake news being circulated around the Pulwama attack, click here.
Claim Review :
Image shows Narendra Modi and Nitish Kumar sharing a laugh while paying tribute to martyred soldiers of the Pulwama attack
Claimed By :
Social media