Old Footage Of Assault On MP Doctor Shared Amidst Doctors' Strike In West Bengal
BOOM reached out to the Chief Medical Health Officer of Madhya Pradesh's Bhind District Hospital who corroborated the events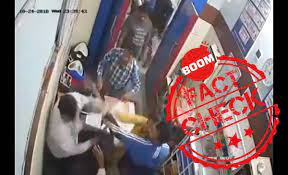 A viral video purporting to show an attack by a patient's family on a doctor in West Bengal is old and unrelated. The video, a CCTV footage of an alleged patient's family barging into a doctor's chamber and roughing him up, has been shared on multiple pages, with a false narrative.
It has been captioned as, "See, why exactly doctors are demanding safety. See the police's role. Even if there is clear CCTV footage, nobody is punished." (Bengali caption: দেখুন ঠিক কেন ডাক্তাররা নিরাপত্তা দাবি করছেন। দেখুন পুলিশের ভূমিকা। পরিষ্কার সিসি টিভি ফুটেজ থাকলেও কোন শাস্তি হয় না ।)

The video, viewed more than 50,000 times at the time of writing this article, has been shared by multiple users with a similar narrative questioning the role of cops when doctors are attacked.
Another post with the same video was shared with a caption, "Do students study medicine to be beaten up like this? See how the cop is providing security to the on-duty doctor here. Those who feel that the medical strike is because of the doctors, shame on you. May be, even you encourage beating up the doctors. (Caption in Bengali: এইরকম "চোরের মার" খাবার জন্য ছেলে মেয়েরা ডাক্তারি পড়ে? পুলিশের ভূমিকাটা দেখুন। কি নিদারুণ সুরক্ষা দিচ্ছেন কর্তব্যরত ডাক্তার কে!!! যারা এই আন্দোলনের দায় ডাক্তারদের দিচ্ছেন তাদের ধিক্কার।। আপনারাও এইরকম ভাবে ডাক্তার পেটাতে উৎসাহিত বোধ করেন নিশ্চই!!)
Fact Check
BOOM found that the video is old and not related to the ongoing strikes by the medical fraternity in West Bengal. The CCTV footage shows that the video was shot on October 24, 2018. BOOM then ran a keyword search on Google, with a custom ranged timeline and was directed to a news report by medicalreportertoday.com.
The incident happened in Madhya Pradesh's Bhind District Hospital when an on-duty doctor was beaten up for a patient's death due to medical negligence.
We also reached out to Dr Jagpal Kushwah, CMHO, Bhind, who corroborated the events. "Duty doctor Rajan Kumar Agarwal was beaten up by a deceased's family last year, alleging negligence in treatment," he said.
The same video was uploaded on the Medicos United Facebook page, a social media platform for medical practitioners of the country.
Several doctors had expressed their anguish at the role of the police in the attack.