Obama Takes 'Biggest Step' On US Climate Policy: Experts React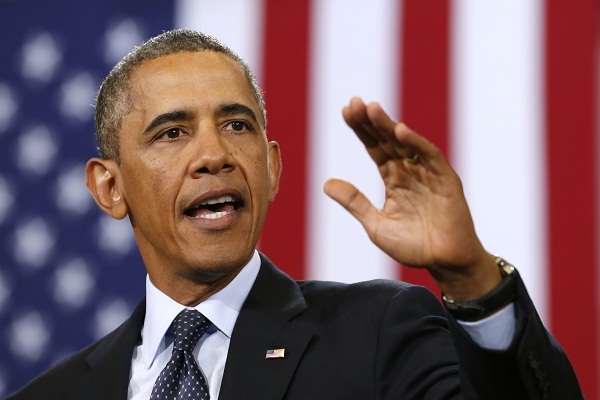 US President Barack Obama's new climate plan aims to cut greenhouse emissions from the nation's coal-dominated power sector by32% by 2030. Will it get through, and how will it affect this year's climate talks?
US President Barack Obama has unveiled what he describes as his biggest and most important climate policy yet. The Clean Power Plan, to be run by the Environmental Protection Agency, will see greenhouse emissions from US power stations cut by 32%, relative to 2005 levels, by 2030.
The policy has been hailed as a crucial step towards reducing US greenhouse emissions, around one-third of which come from electricity generation. It sends a potentially decisive signal to other nations ahead of December's United Nations climate talks in Paris.
Our experts react to the news, with more updates to follow.
The costs and benefits
John Quiggin, Professor, School of Economics, University of Queensland
The really striking feature of Obama's climate change plan is the calculation that the local environmental and health benefits of reducing the use of coal to generate electricity will far outweigh the direct economic costs, even without considering the impact on CO2 emissions. This is consistent with economic research on the subject, most notably this 2011 review, which concluded that the overall damage done by coal is potentially several times larger than the benefits.
A similar assessment is reflected in the Chinese government's decision toclose down all the coal-fired power stations in the vicinity of Beijing and other major cities.
This means we are still in the region of "no regrets" policies on climate change, in which measures to reduce CO2 emissions are beneficial even without taking climate change into account. The fact that so much can be achieved with so little downside is largely due to the availability of so much "low-hanging fruit" in energy efficiency measures, and even more to the startling reductions in the cost of renewable energy, particularly solar photovoltaics. These reductions have rapidly reached the point, where, depending on the vagaries of electricity pricing, renewables are often cheaper than new coal-fired power plants.
On the other hand, it's sobering that no national government has yet been prepared to incur any substantial economic cost (say, more than 1% of national income) in the effort to stabilize the global climate. If it were not for the fortunate availability of so many "no regrets" policies, the planet would already be facing a quite literally unmitigated disaster.
The regulations
Katherine Lake, Research Associate, Centre for Resources, Energy and Environmental Law, University of Melbourne
This is an innovative plan to tackle emissions from power stations in the United States, based on the EPA's approach to reducing other air pollutants such as mercury and sulphur through successful state and federal partnerships. It strikes a balance between setting rigid emissions limits for each state while providing flexibility in achieving those limits. It explicitly encourages market mechanisms such as emissions trading in and between states.
The legal authority for the plan is Section 111 of the Clean Air Act, a cornerstone piece of environmental regulation under which local and state governments work with the EPA to tackle air pollution.
[video type='youtube' id='4k-cNN8J6wY' height='350']
Key to the EPA's authority to regulate greenhouse gases was the Supreme Court's crucial 2007 ruling that CO2 is an air pollutant under the Act. While there will no doubt be legal challenges to the new plan, the EPA is on a strong legal footing.
The plan supports the United States' formal pledge to cut emissions by 26-28% by 2025, an ambitious commitment that encapsulates the "bottom up" approach in cutting CO2 that is emerging at the international level as well in other countries, including in Australia.
The legal hurdles
Lynette Molyneaux, Researcher, Energy Economics and Management Group, University of Queensland
Obama and the EPA may well have to run the gauntlet of many years of litigation before this can be enacted. US power station history is littered with legal challenges to environmental policy. The regulation of sulphur dioxide emissions in 1990 was only achieved after the failure of 70 pieces of legislation which sought the installation of scrubbers to reduce acid rain.
I don't see a significant impact on international coal markets as a result of Obama's plans, at least until the legislation is bedded down.
Samantha Hepburn, Professor, Faculty of Business and Law, Deakin University
The Clean Power Plan is unprecedented but is it legally sound? It requires states to cooperate with some 1,000 fossil fuel power plants across the country, effectively requiring US coal production to be significantly reduced and a new energy mix put in its place.
The plan is to be implemented via the existing Clean Air Act, a Federal Pollution Act which (thanks to the Supreme Court's ruling that greenhouse gases are pollutants) allows the EPA to set performance standards for power stations. These standards would then be used to ensure emission cuts.
The EPA sets the guidelines for these standards but they are to be implemented by the states. Next year, each state will submit a plan showing what their emissions are and how they propose to reduce them (the final deadline for these plans, after stakeholder consultation, is 2018). On the way to the 2030 target (specifically in 2022-29), states will also be required to demonstrate that CO2 emission reductions are being accomplished in line with each state's planned emissions trajectory.
The legality of the plan has been discussed extensively by the Senate's Subcommittee on Energy and Power but is yet to be tested in the courts.
Legal challenges by Republican states such as Oklahoma, Texas and West Virginia are imminent, on the basis that the new plan does not conform with the congressional regime of cooperative federalism as it expands federal authority over states' energy policies.
It has also been suggested that the EPA lacks statutory and constitutional authority to implement the provisions. Republican states have argued that section 111(d) of the Clean Air Act does not support the regulation of "existing sources" of pollution such as coal emissions, given its focus on "new sources".
But my reading of the scope of the Clean Air Act is that the plan clearly comes within the broad ambit of the legislation and that section 111 authorizes the use of many types of flexible approaches for the purpose of regulating air pollution.
The politics
Peter Christoff, Associate Professor, School of Geography, University of Melbourne
President Obama regards getting the United States to tackle climate change as one of the most important challenges of his second term in office. The US target to cut emissions by 26-28% below 2005 levels by 2025, announced by the White House last year, has been seen as a game changer in the runup to crucial UN climate negotiations in Paris later this year.
Obama's new, parallel aim is for the United States to reduce its emissions from electricity generation by 32% below 2005 levels by 2030. The Clean Power Plan will require existing power plants to meet tough new emissions standards or close within 15 years. The plan has been publicly endorsed and supported by a wide group of major US businesses.
Emissions from electricity production comprise only 32% of total US emissions, and this move is only one step towards a still-undefined national emissions goal for 2030. Given the powerful vested interests supporting fossil fuels, Obama has thrown down the gauntlet to their champions in Congress and in the national power sector and also made climate an issue in the presidential campaign.
John Mathews, Professor, Macquarie Graduate School of Management, Macquarie University
The Clean Power Plan represents a wholly positive step forward for the United States. Despite the inevitable litigation, this will send a strong signal to business that it makes sense to invest in new sources of electric power and in fossil-fuelled power plants that use cleaner sources and have lower emissions.
This step from the federal presidency has to be viewed alongside complementary steps from the states such as California's target of 50% of power generation from renewables by 2030 – the same year that Obama's new plan envisages that carbon emissions will be reduced by 32% relative to 2005 levels. I agree with John Quiggin (above) that the benefits from this move will outweigh the costs, particularly in the sphere of energy security.
The White House statement does not emphasize the point, but the reality is that promoting renewables promotes regional economic activity, employment, exports and energy security, based on the fact that renewables are products of manufacturing. The same considerations would underpin a commitment in Australia to reach a target of 50% of electric power generation to come from renewables.
This article was republished from TheConversation.com.