No, Sinéad O'Connor Has Not Converted To Hinduism Days After Converting To Islam
No, Sinead O'Connor did not convert to Hinduism after realising Muslims don't drink.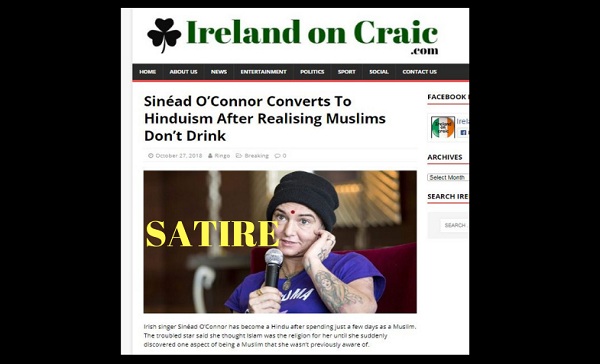 An article saying the Irish singer formerly known as Sinéad O'Connor has converted to Hinduism on finding out Muslims don't drink alcohol, is from a satire website. The satire piece by the website Ireland on Craic includes fictitious quotes attributed to the singer and photoshopped image of her sporting a red bindi on her forehead, is being shared online with many believing it to be true.
Click here to read an archived version of the satire story.
However, the website Ireland on Craic's (pronounced as 'crack') 'About Us' section clearly identifies it as a satire website. "All our stories are made up and completely untrue. If you read something on here you're not supposed to believe it," the site's disclaimer states.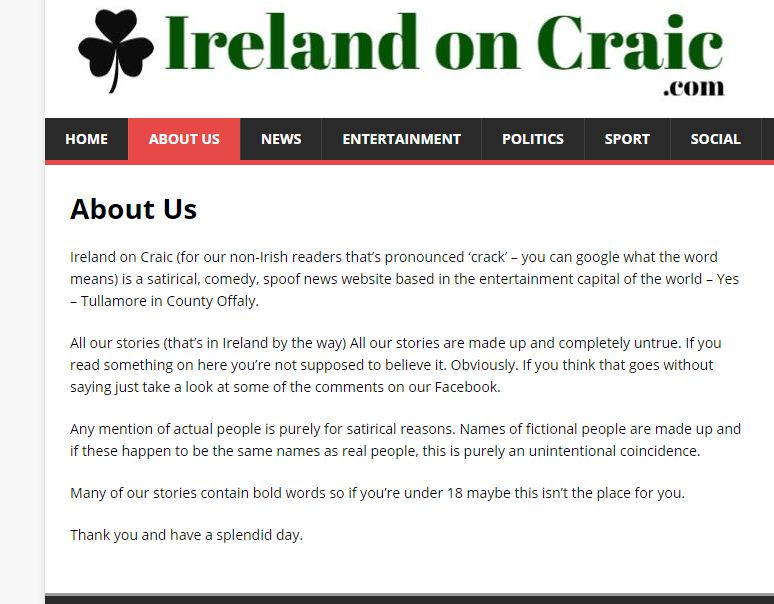 Netizens did not know how to respond to the singer's announcement earlier this month about renouncing Catholicism for Islam. The 51-year old who is no stranger to controversy has taken name of Shuhada' Davitt. (Read more about it here)
This is to announce that I am proud to have become a Muslim. This is the natural conclusion of any intelligent theologian's journey. All scripture study leads to Islam. Which makes all other scriptures redundant. I will be given (another) new name. It will be Shuhada'

— Shuhada' Davitt (@MagdaDavitt77) October 19, 2018
Sinéad O'Connor is best known for her rendition of Prince's 'Nothing Compares 2 U' in 1990. In the past, she has been outspoken about organised religion, Catholicism, women's rights and child abuse. In 1999, she was ordained as priest by the Irish Orthodox Catholic and Apostolic church, a group that is not affiliated to the Catholic church in Ireland, that does not allow women to be ordained as priests.
More recently she has documented her struggles with depression. In 2017, ishe admitted to having suicidal thoughts, in a Facebook video.
In India, her new faith became news after Shehla Rashid quote tweeted a video of the artist reciting the Azan.
Wow! Unbelievable! I first thought this is fake. Sinead O' Connor (now Shuhada Davitt) converts to Islam, recites Azan. One of my favorite singers. I've always loved ❤ her so much. Welcome to the community @MagdaDavitt77 @SineadOconnorHQ! https://t.co/1YYmobSX6t

— Shehla Rashid (@Shehla_Rashid) October 27, 2018
Rashid was trolled by some users citing the satire piece.
She has GONE to another community . pic.twitter.com/LVY1DQObKg

— Kishlaysharma (@Kishlaysharma) October 28, 2018
Tumahara to Popat ho gya🤣🤣🤣🤣🤣@Shehla_Rashid

Now welcome to our Community @SineadOconnorHQ pic.twitter.com/mqId0Caede

— SUDHANSHU DWIVEDI🇮🇳🇮🇳 (@SatyaVachanna) October 28, 2018
Claim Review :
Sinéad O'Connor Converts To Hinduism After Finding Out Muslims Don't Drink Alcohol
Claimed By :
Social Media